I have some news… pic.twitter.com/lTe3Rs0kOA

— Lisa LaFlamme (@LisaLaFlamme_) August 15, 2022
"I was blindsided, and am still shocked, and saddened by Bell Media's decision."
That was Lisa LaFlamme's message, delivered on Twitter Monday, regarding her unexpected exit after 35 years at CTV — the last 11 as Chief Anchor of the CTV National News.
LaFlamme reported that she was told June 29 that the network had made a business decision to bring her contract to a sudden close.
CTV issued a release to that effect early Friday afternoon around the same time LaFlamme's announcement went public on Twitter. The network has already named her replacement: Omar Sachedina will become the new Chief News Anchor and Senior Editor effective Monday, September 5.
LaFlamme's departure comes without a farewell to viewers from the CTV anchor desk. The change is a far cry from the classy torch-passing approach in 2011 when veteran news anchor Lloyd Robertson welcomed LaFlamme to the national anchor job in 2011.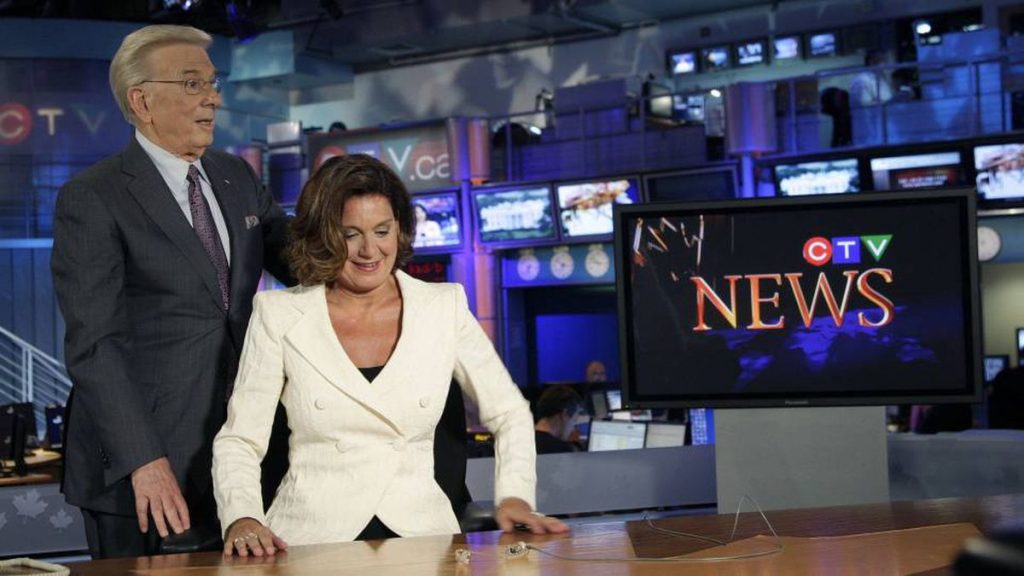 Colleague were quick to respond on Twitter:
"Oh my this is a shocker," wrote Global National anchor Dawna Friesen. "I am so sorry my friend. Since we started working together years ago at CTV I've watched you work your butt off and earn the respect of colleagues, competitors and viewers. None of us last in these jobs forever but seems to me you deserved better than this."
Added Adrienne Arsenault at CBC:
"Oh no, Lisa LaFlamme. you have always been the best of field colleagues. And such a hardworking passionate human and we have all benefited from your rigour and dedication. We have had some fantastic shoots eh? I am really really sorry to hear this."
Kevin Newman, who worked alongside LaFlamme at CTV before retiring as a news anchor, described her on Twitter as "a complete pro… She cared deeply about her obligation to her viewers, to truth and accuracy, and stood up to corporate pressure. I've had a job like hers, I know how pressure-filled it is and how by definition you can't please everyone. She deserved a much better transition than this from a company she spent her whole career with."
LaFlamme, who began her career at CKCO in Kitchener-Waterloo, was always at her level-headed best on field reports, anchoring the news from far-flung locations and war zones. Fearless? She even had the guts to let her hair go grey — and it looked sensational, and helped set a COVID fashion trend.
I spoke with her last year while preparing a feature for The Toronto Star about Canadian news anchors looking back 20 years to the events of 9/11. LaFlamme's story was among the most extraordinary: she had just been named co-anchor of Canada AM at the time and broke the news of the first tower attacks live on the air that morning. Within a few hours she found herself heading with a producer in a car towards Kingston. From there it was a border crossing to New York in order to be among the first among the Canadian media on the scene in Manhattan.
The CTV National News has been the front-runner, ratings-wise in Canadian television, for decades. Broadcast network ratings in Canada, however, as they have in the US, have been eroding steadily since the rise of streaming services. In the most-recent weekly national Numeris data release, The CTV Evening News ranked ninth overall in an estimate of Monday through Sunday total viewership in English Canada with an average of 862,000 viewers.
That's down certainly from weekly estimates of 1.2 million and 1.1 million of just a few years ago but completely on pace with the general decline of all of broadcast television, especially during the heat of summer months in Canada.
(The decline in the US is even more steep; in Canada, Numeris just announced that they will stop sharing weekly ratings reports with the public before the start of the next season in September.)
Changes in how Canadians get their news is also a significant factor in the decline of network numbers. Twenty-four-hour news channels, plus digital news on demand anytime on mobile devices has shifted viewing habits away from traditional news slots, especially for viewers under 50.
Program executives at CTV parent company Bell Media are certainly aware of those changes; in January, they named Michael Melling, formerly involved with 24-hour and digital news platforms, as the Head of CTV News.
At 58, however, having survived over two-years of COVID workplace restrictions which changed how all network services reported the news, LaFlamme has every right to feel shocked at her sudden departure. Robertson left at 77; Peter Mansbridge gave up the CBC anchor chair at 69. These jobs actually did last forever once — for men.
In April, LaFlamme won Best News Anchor at the Canadian Screen Awards. She goes out as the anchor of the No. 1 newscast in the country. What more did she need to do to keep her job?