Tonight, with a special episode, CBC celebrated the 30th season of This Hour Has 22 Minutes.
They really should have made it an hour-long special at least. Imagine trying to crunch over 600 episodes down to one 22-minute episode.
That was the task handed to Matt Charlton, who has been associated behind the scenes with 22 Minutes since Season 21. He watched 400 of the more than 600 episodes before he started taking shortcuts to meet the editing deadline.
Read my feature on the 30th anniversary of 22 Minutes in today's Toronto Star.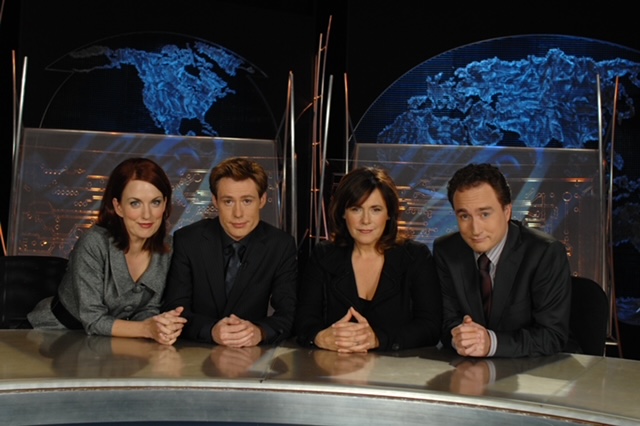 Charlton saw firsthand how much the series has changed throughout the years. Early episodes saw original players, such as Cathy Jones and Rick Mercer, draw on their groundbreaking stage roots performing one-person shows in Newfoundland and Ottawa. With wigs and makeup, Jones would transform into Bea Bennett or Mrs. Inid, aiming outdoor monologues directly to camera.
"It was a strong point of view and really fascinating to see," says Charlton. "There were a lot of Rick's rants and streeters as they were called back then that later evolved into the Rick Mercer Report. But in the early days, stylistically, it kind of fit into what 22 Minutes was."
Charlton also witnessed the creative rivalry between Mercer and series creator Mary Walsh. Both seemed to egg each other on in confrontational ambushes involving real people and politicians.
Walsh, often costumed as Marg Delahunty, would ambush then prime minister Jean Chretien, "so Rick would go to Bosnia," observed Charlton. "They just kind of had this Beatles-Beach Boys back and forth, in a creative foot race, that I think everyone really benefits from. It really expanded the foundation of what the show could be very rapidly and the result was the format of what 22 Minutes is today."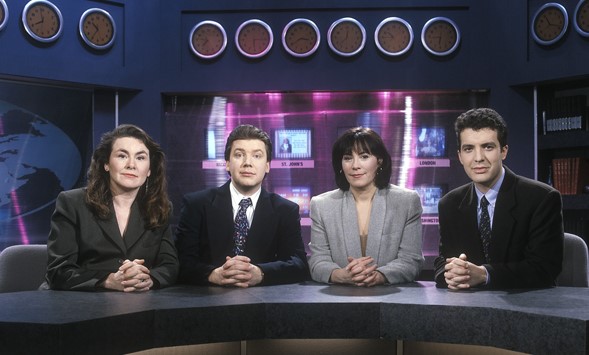 Not unlike Saturday Night Live, the Canadian sketch series has gone through some peaks and valleys, usually during key cast member turnovers. Mark Critch, the senior cast member now in his 20th year with the series, has seen a few.
"One year we had our order reduced to 13 episodes," he recalls. Then a special Christmas episode soared over a million viewers and the series was boosted to over 18 or 20 episodes again.
Says Critch, "It always seems to find its way – like a dandelion on a sidewalk."
In the streaming era, that million mark is rare for any homegrown Canadian TV series, on any broadcast network. In live viewing, a half million is a hit. How well a series does on social media is now a major yardstick, with 22 Minutes enjoying a new life on Tik Tok and other platforms.
Still, 30 years — that's a lot of tick tock.