If you're a frequent visitor here, you likely already know that I am a big fan of Ramy, the fearlessly thought-provoking, half-hour comedy from Hulu and Crave starring Ramy Youssef.
Now that I have a son-in-law named Mo, I thought it was time I caught up with the Netflix series Youssef co-created with his stand-up comedian pal Mo Amer. Amer stood out as Ramy's diner-running cousin on the first two seasons of the Hulu series.
Set in Houston, Texas, the series, which launched at the end of August, stars Amer as a Palestinian-American trying to stay under the radar until he can obtain asylum and citizenship in America. As his character says on the series, "I've never been to Palestine. I don't have citizenship there, I don't have citizenship here — I'm like a refugee free agent."
For the record, Amer was born in Kuwait and grew up in Houston. The series is semi-autobiographical. He is also a writer and a producer on the series.
Bounced from his job, Mo is reduced to selling fake watches and other bogus bling from the trunk of his 1978 Ford Torino. His gift of the gab helps him unload a lot of phony Rolexes, and not always to the most reputable customers. It's not the best way to support his mother Yusra (Farah Bsieso) or his Mexican-American girl friend Maria (Teresa Ruiz) but hustle is something he does well. Omar Elba also stars as Mo's autistic brother, with Tobe Nwigwe playing childhood friend Nick. Keen-eyed fans of LA Law and Civil Wars in the '90s may recognize Alan Rosenberg as one of Mo's elder card-playing cronies.
Cherien Dabis, a director on Only Murders in the Building, plays Mo's estranged and accomplished sister Nadia. She's married to a very white Canadian named Bob (played by Bill Dawes) who says "sorry" a lot. "Stop apologizing for everything, " Mo tells him. "You're not in Ottawa anymore."
When Mo finally pushes Bob too far at his son's softball game, Bob tells him to — hotly punctuated with several F-bombs — skedaddle.
"Take it easy Bob," says Mo, impressed. "That's a lot of toonies in the swear jar."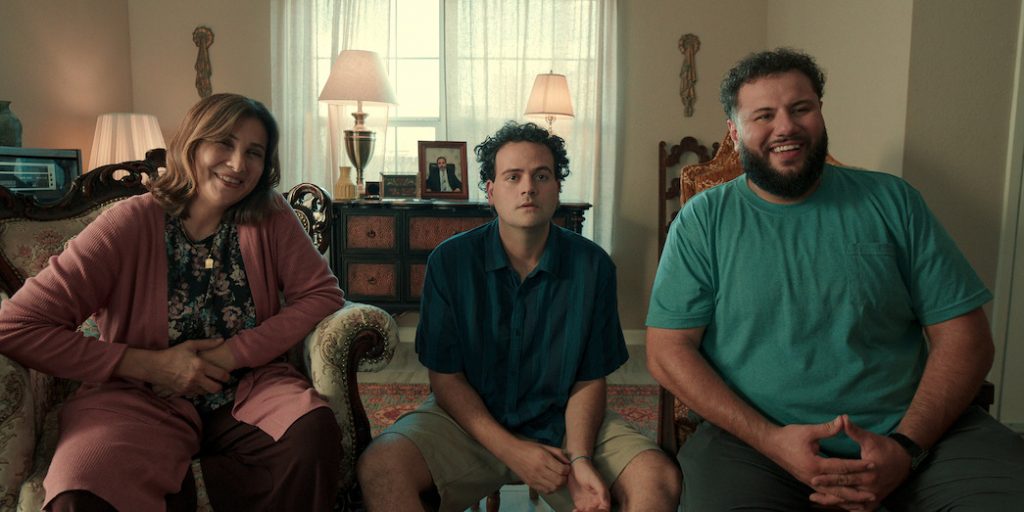 The series goes for the funny bone much faster on Mo than on Ramy. Amer's background as a well-seasoned stand-up comedian (he's opened for Dave Chappelle and played comedy venues around the world) really drives his character's sensibilities. Whereas Ramy self-destructs and freezes up after his latest awkward implosion (too much, in fact, on the third season), Mo is always ready to heckle back when cornered.
That happens a lot on Mo, a very funny and also eye-opening look at life in America from the point of view of a Palestinian refugee. Mo is Muslim, and religious believes ands differences get briskly lampooned but also lionized.
Like Ramy, the series is nuanced, has plenty of heart and a fair bit of jeopardy. It is cool that it is about a Palestinian man, who is with a Mexican woman, who are both friends with a Nigerian man. All of that seems real and not part of some TV diversity initiative. The only token character is Canadian, and for that there is no reason to say "sorry."
Just give us mo' Mo.