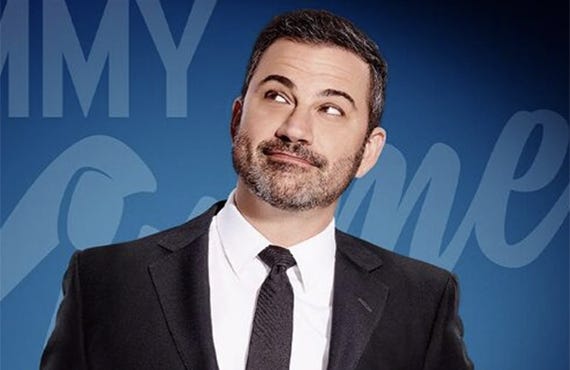 When Jimmy Kimmel Live! premiered on January 26, 2003, there was an open bar inside his Hollywood Boulevard studio for studio audience members to enjoy.
It must have seemed like a good idea as a way to launch a late night series starring one of the co-hosts of Comedy Central's The Man Show. It lasted one episode.
You won't find much mention of the bar idea in the hype leading up to Thursday night's 20th anniversary special saluting Jimmy Kimmel Live! The special episode will air in prime time Thursday at 10 p.m. ET on ABC followed by a repeat in its normal slot at 11:35 p.m. on both ABC and Citytv. It can also be streamed on Hulu.
The guests are the same headliners who were featured on that very first episode: George Clooney, Snoop Dogg and Coldplay.
I first met Kimmel a few years earlier when he and Adam Corolla came to Toronto to promote The Man Show. I had just started at The Toronto Sun and it was arranged for me to meet them at a downtown Toronto steak house. They were there alright, but I was late in arriving after I locked my keys in my new car while it was running.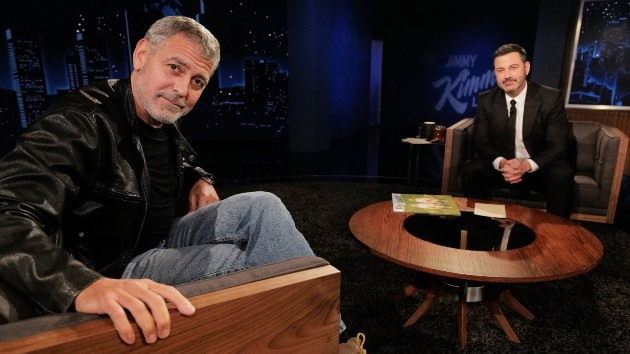 As a result, Kimmel never forgot this knuckleheaded Canuck, and, together with a couple of other late night fans who covered the Television Critics Association press tours over the years, I got to know Kimmel a little bit beyond the usual press tour scrums.
Kimmel's show started off with a daring feature: inviting one guest to remain on the couch all week long. Snoop Dogg was an early sidekick. Kimmel attempted to have a pre-medicated Mike Tyson perform the same role but, as I recall, the Champ didn't last the full week.
While he didn't start off particularly political, Kimmel showed early that he was nobody's fool. He memorably sandbagged Jay Leno during the time the NBC host took a tire iron to Conan O'Brien's Tonight Show dreams. [Leno was forced off Tonight but then accepted NBC's 10 p.m. slot leading into O'Brien and — within months — taking back The Tonight Show.] Kimmel was booked on Leno at 10 to answer 10 gag questions. Huge mistake.
Asked to name the greatest prank he ever pulled, Kimmel said, "I told a guy that five years from now I'm going to give you my show, and then when the five years came, I gave it to him, and then I took it back almost instantly."
As the Trump era lurched into living rooms, Kimmel's monologues evolved into ten minutes of unfiltered, can't miss, truth-telling off the top. Kimmel's regular guy stance made it extremely powerful. This wasn't some New York elite telling you what was wrong with North America. Instead, this was a guy from Vegas by way of Brooklyn telling you we'd all just rolled snake eyes.
And not just in America. Jimmy Kimmel Live! was where Toronto Mayor Rob Ford sat, squirmed and sweated through an electronic undoing. Kimmel had seized upon the headlines of the crack-smoking Toronto mayor and made an on-air plea to have him on his show.
Believe it or not, I had a hand in this, helping to put the mayor and Kimmel's bookers together with the help of Joe Warmington at The Toronto Sun. I knew Kimmel would show the truth of what was on display — a man in trouble. It was a career mercy killing. The last time I visited Kimmel at his studio offices, he still had a miniature statue of Rob Ford on his desk.
Later, Kimmel wore his heart on his sleeve as he railed against the state of healthcare in America in the wake of his son Billy's congenital heart condition. Little Billy is a robust five-year-old now but Kimmel and wife Molly McNearney went public with what they faced as a family in those scary early days. Kimmel's honest and emotional push back against opponents of the Obama Health Care act made him relatable to many other parents who could not get health insurance for their children because of pre-existing conditions.
The talk show host was emboldened to continue to hold political feet to fire through comedy and honesty. With every unspeakable school shooting, and especially the mass shootings at his hometown of Las Vegas, Kimmel raged against the lack of political action against gun violence in America.
Over his 20 years in late night, he also marked some impressive milestones sure to be covered on Thursday night's broadcast. That infamous "I'm F—ing Mat Damon" video with ex-girlfriend Sarah Silverman as well as Kimmel's all-star video rebuttal became viral sensations that in some ways changed the way viewers consume late night. Kimmel also hosted the Academy Awards twice. In recent years he has executive produced those amazing Live From in Front of a Studio Audience sitcom recreations with TV icon Norman Lear. He even flew up to Toronto — what, five years ago now? — to host that SCTV Cast Reunion special that someday, God willing, Martin Scorsese will remember he promised to turn into a documentary.
Kimmel is probably more surprised than anyone that he has logged 20 years in late night, making him currently the longest-serving late night talk show host in America. He has hinted many times over the years that he would have quit a long time ago if not for the fact that so many of his family members work on the show.
At 55, he's not going anywhere soon. Kimmel recently signed a three-year contract with ABC which will take the show through its 23rd season. It's hard work, comes with tremendous pressures, unrelenting demands on his time and sometimes scorn. Having met him and witnessed first hand his generosity and good nature, I can tell you — it couldn't happen to a nicer guy.