Guest stars can often add a little zing to a sitcom. Think of all the terrific people who were showcased for an episode or two on, say, Arrested Development or even The Big Bang Theory.
Adding a big name or two, however, can't turn "Ka-KA!" into gold. This week: two contrasting examples.
On Tuesday night's episode of Son of a Critch — 8:30 p.m. (9 NT) on CBC and CBC Gem — young Mark (Benjamin Evan Ainsworth) falls under the spell of a visiting hypnotist who goes under the name Hudaro (played by Mark McKinney).
The always welcome Kids in the Hall player is clearly goofing on Peter Raveen, aka "Ravine the Impossiblist," an actual Australian illusionist and hypnotist who toured all over Canada and the US for 35 years. Mark, who gets drawn on-stage as part of the act, quickly falls under Hudaro's showbiz spell. "I had found my Obi-wan!" he declares.
The incident is drawn from real life. Series co-creator Mark Critch was once called up on stage and faked his way through a similar hypnotic stunt.
The guest casting works seamlessly because McKinney plays the role absolutely straight, letting the cheesy red suit and the puffy wig do all the work.
The B- and C-storylines keep the momentum going by not getting in the way. Pops (Malcolm McDowell) decides to go pants-free after gaining a little weight. Maybe one of Hudaro's hypnotic weight-loss albums will help.
Meanwhile, Mark's school crush Fox (Sophia Powers) endures a makeover from mom in advance of the dreaded school portrait. Her family has made do up till now with hanging her watermarked sample portraits.
That the Catholic school photos are scheduled right after the ash Wednesday smudges are distributed was a dab of genius. The episode works start to finish because it is all there on the page.
Wednesday night on Run The Burbs, Kardinal Offishall returns as, well, Kardinal Offishall.
The Scarborough-born rapper and record producer is also one of the judges — along with Howie Mandel, Trish Stratus and Lilly Singh — on Canada's Got Talent, which returns March 21 on Citytv. I caught up with him before a second season taping of that series a few weeks ago in Niagara Falls, Ont. He told me how much he enjoyed working on the sitcom, which stars Andrew Phung (Kim's Convenience) as suburban family man Andrew Pham.
"What's fun is I actually get to do my episode with Jully Black — so that is double the fun," he told me. "We had a great time."
Offishall appeared last season as the coolest neighbour in the 'burb. This episode, titled, "Phamily Budget," finds Pham's wife Camille (Rakhee Morzaria) hosting a tasting dinner for Offishall and singer Black. The power couple need someone to cater their upcoming music launch.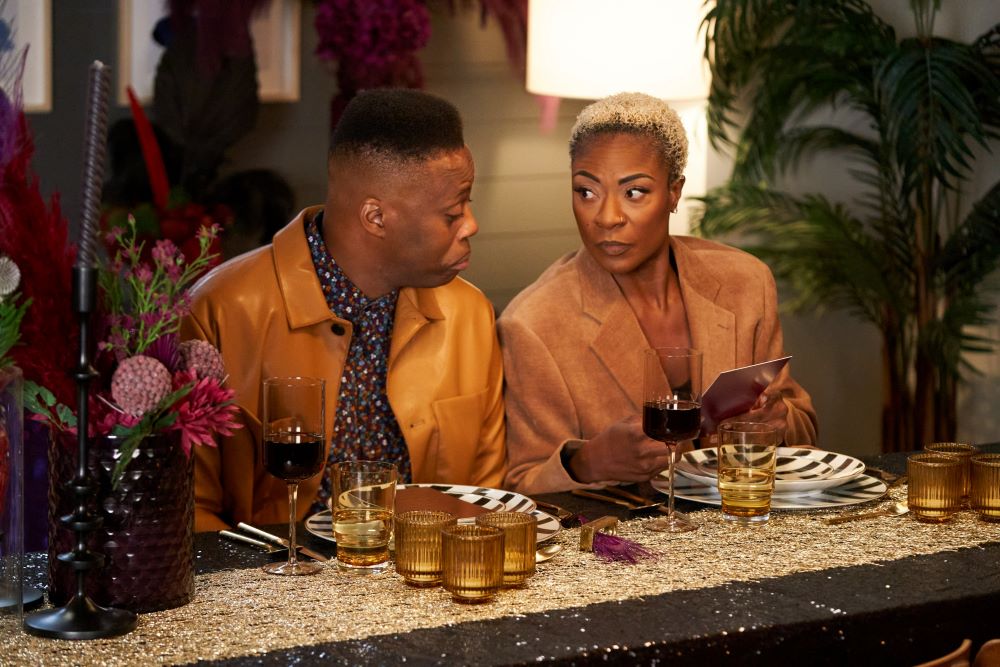 The singers, however, are feuding. Offishall wants to call the new release, "Ka-KA!" — a reference that harkens back to last season which, well, you had to be there.
Complications ensue when Pham's in-laws drop over. This leads to more loud fighting in the basement.
A C-storyline about a guy at the local diner who is wailing in sorrow as his marriage crumbles does not add to the phun.
Then there is the problem with mold.
To be fair, I'm sure that the dark-ish screener I watched was not colour corrected and the sound was far from being locked. That aside, every scene seemed less fun than the last one. Pham having to sell his pricey sneaker collection off to make ends meet should have been good for at least one good laugh.
Phung and Morzaria are engaging and you want to root for them. Run the Burbs, however, needs to be better run, starting in the writing room. The episode airs Wednesday night at 8:30 p.m. (9NT) on CBC and CBC Gem.