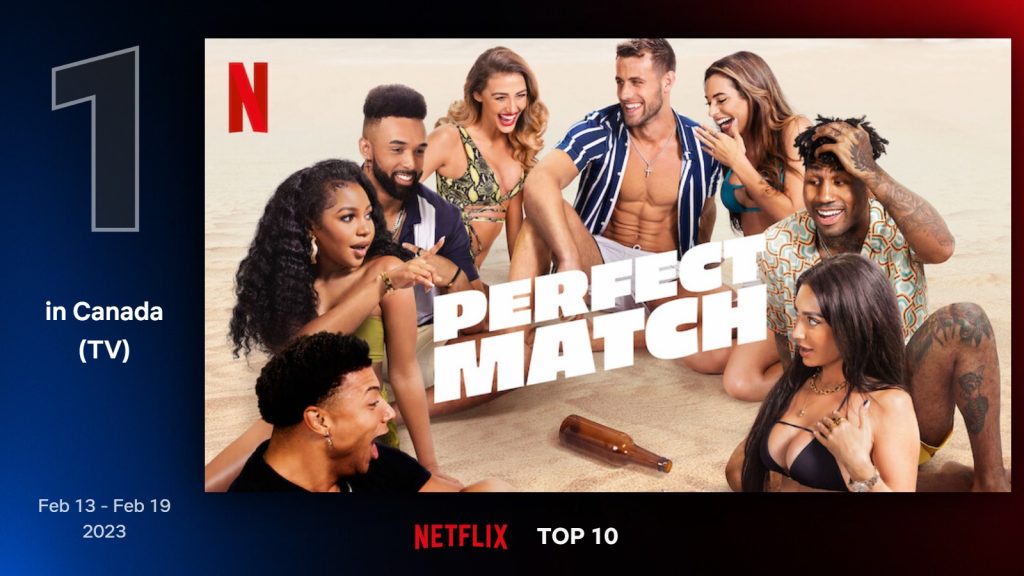 Is Netflix really going to shut down subscribers who share passwords so people can't illegally watch shows based on spin-the-bottle (see illustration, above).?
The new series Perfect Match is apparently the most-watched Netflix show in Canada this past week, so let that sink in fellow eye-rolling Canadians.
Blame Valentine's Day, I guess. The reality dating show was No. 2 on Netflix's English language most-watched list with 24.6 million hours viewed. Season 3 of Love is Blind: After the Alter was also near the top with 15.9 million hours watched. for love on Valentine's Day.
Meanwhile, the time-traveling Scotty soap Outlander weazed into seventh spot among shows watched in Canada. Seriously Netflix, you're going to need hotter shows if you're going to clamp down on password sharing.
Among feature films, the rom-com "Your Place or Mine" with Reese Witherspoon and Ashton Kutcher moved up to No. 1 while the Eddie Murphy-Joah Hill comedy "You People" slid down to No. 9. The 2008 rom-com "Forgetting Sarah Marshall" rode Cupid's arrow to 8th place.
Here is last week's Top-10 most-watched Netflix shows in Canada:
FEBRUARY 13 – FEBRUARY 19, 2023
| # | TVIN CANADA | WEEKS IN TOP 10 |
| --- | --- | --- |
| 1 | Perfect Match: Season 1 | 1 |
| 2 | You: Season 4 | 2 |
| 3 | Physical: 100: Season 1 | 4 |
| 4 | Full Swing: Season 1 | 1 |
| 5 | My Lover My Killer: Season 2 | 1 |
| 6 | Love Is Blind: Season 3 | 8 |
| 7 | Outlander: Season 6 | 2 |
| 8 | Ginny & Georgia: Season 2 | 7 |
| 9 | The Law According to Lidia Poët: Season 1 | 1 |
| 10 | You: Season 1 | 4 |