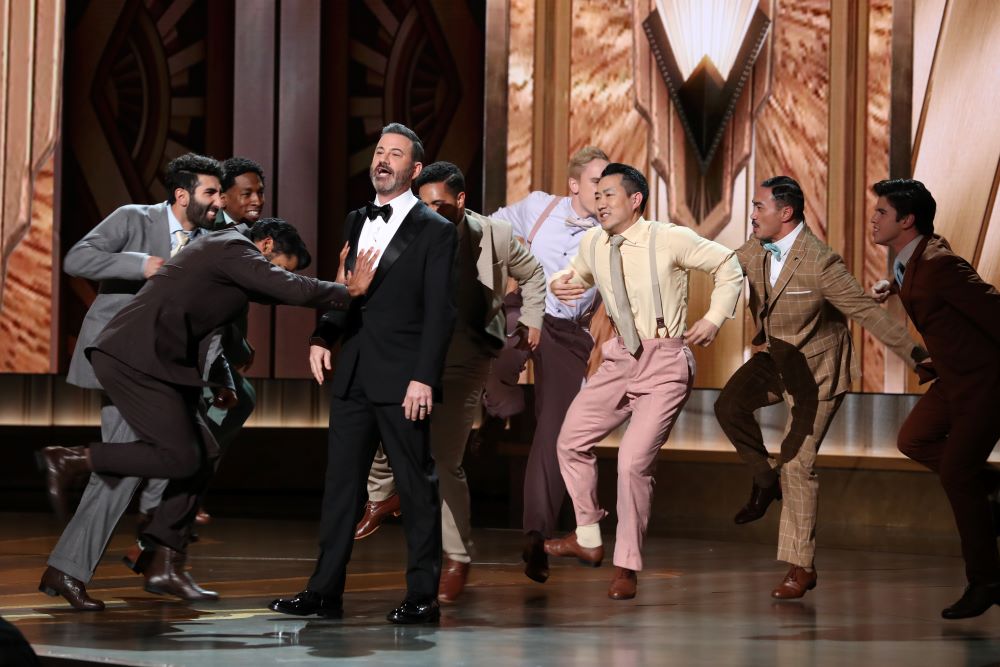 At the beginning of Sunday night's 95th Annual Oscars, Jimmy Kimmel parachuted from the rafters down onto the stage of the Dolby Theater.
The live stunt came right after the opening film montage which had Kimmel ejecting from Tom Cruise's fighter jet in a scene from one of the nominated movies, "Top Gun." But it was symbolic of what came next: Kimmel coming from above to help set a kinder, positive, more uplifting tone to a TV showcase still reeling from last year's unexpected assault.
The 55-year-old late night host was consistently funny and at ease even as the show ran way past the 11 p.m. deadline. "We now join Good Morning America, already in progress," he joked at the end.
Not once did he utter the words, "Will Smith" or "Chris Rock." It was the 14 minute mark before he even alluded to The Slap.
When the Best Documentary category came around — the point in the show last year when Smith shocked viewers by hitting Rock in the face — Kimmel asked the star-studded audience to "put your hands together and then keep them to yourself."
Kimmel and the Oscar organizers clearly read the room and saw that there was plenty of opportunity for uplifting moments Sunday night. Michelle Yeoh's expected win for Best Actress sawe a 60-year-old Asian woman proving that, if you wait long enough, it can happen all at once.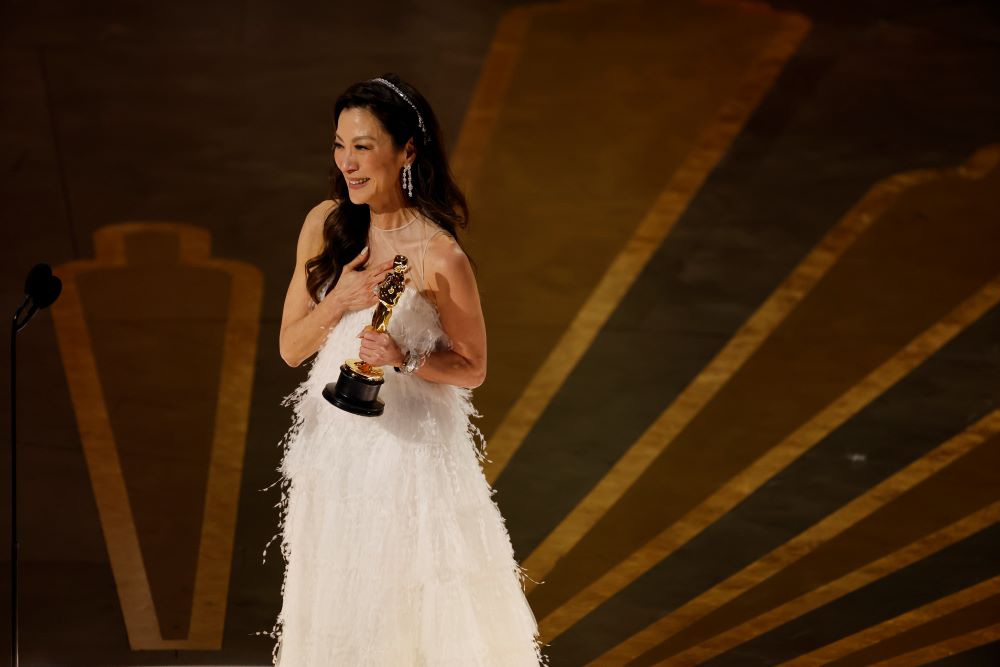 An earlier win by one of her co-stars, Ke Huy Quan in the Best Supporting Actor category, was also an emotional high point. The actor, who as a child star "shouted "Doctor Jones!" through one of the Indiana Jones movies, could not believe that his American dream had come true.
Later, one had to be made of stone not to be moved by the humility and graciousness of Best Actor Brendan Frasier, who came all the way back from oblivion to star in "The Whale." Then there was John Travolta, struggling to keep it together as he set up the In Memoriam segment, which honored, among others, his late "Grease" co-star, Olivia Newton John.
This was not a night to be passing out sandwiches or taking selfies from the stage. Kimmel, who came under fire just last week on Jimmy Kimmel Live for continuing to tell the truth about Donald Trump (and piling on about 40 nick names, including Mar-a-lardo and Tangerine Twitter Machine), steered clear of divisive political jabs but for one or two occasions.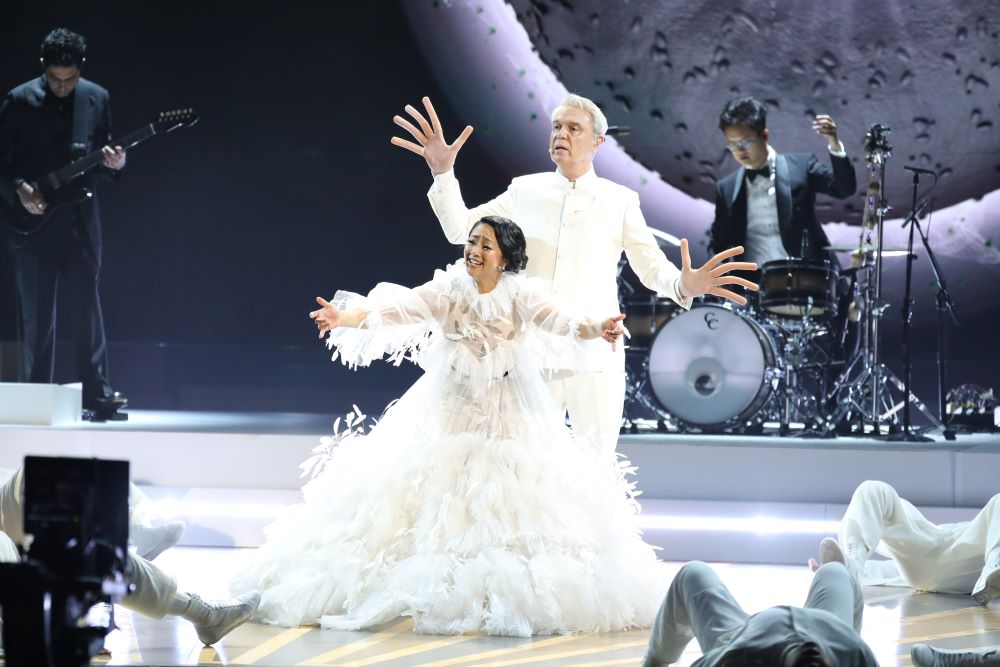 That actually made those jokes even more potent. In setting up the Best Editing presentation, for example, Kimmel remarked that the right editor could turn even a violent insurrection, "into a respectful sightseeing tour of the Capitol."
More often, Kimmel was there to make sure everybody was comfortable. "Are you having a good time?" he asked about halfway through. The answer was a resounding yes.
Other highpoints on the night came from surprising sources. M. M. Keeravani, one of the composers from the Indian film "RRR," beat out favourites such as Lady Gaga and Rihanna to win in the Best Song category. The gentleman then sang his acceptance speech to the tune of The Carpenters' hit "Top of the World." It was that kind of night, where The Carpenters not only didn't seem corny or tragic but just so right.
For her part, Lady Gaga also read the room, performing a powerful rendition of her song without a hint of makeup.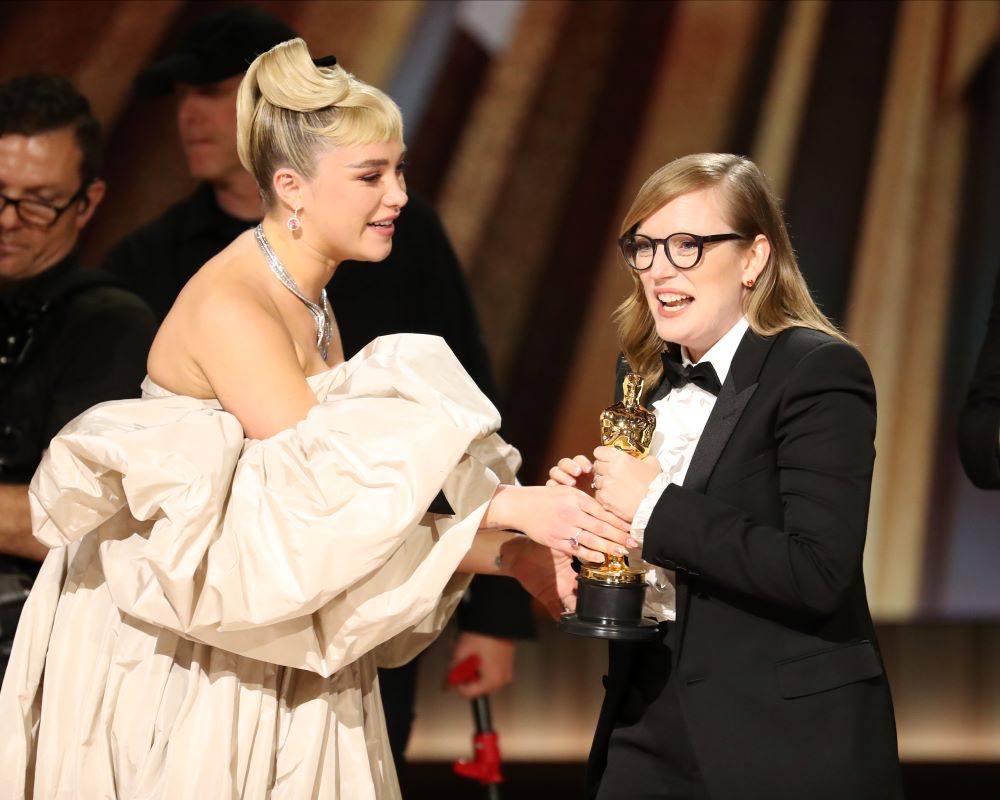 Canadians had wins to cheer on Sunday night, especially towards the end when tuxedoed Sarah Poley took home an Oscar for Best Adapted Screenplay for a film she also directed, "Women Talking." Quite a ride for the little girl who shone all those years ago in 1988's "The Adventures of Baron Munchausen."
All in all, a cathartic, healing night that did exactly what these award shows are meant to do — make you want to go to the movies.