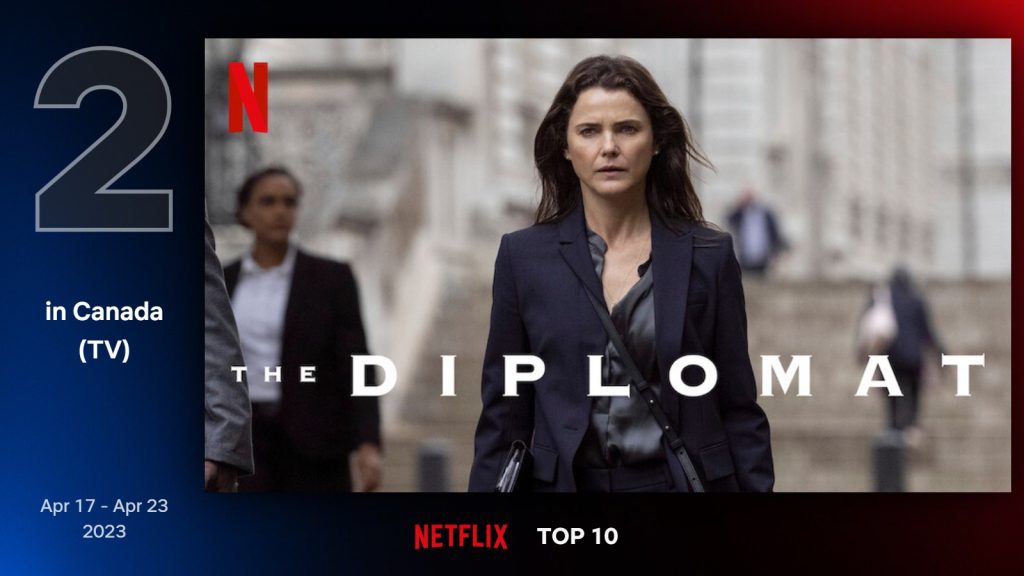 Keri Russell and Rufus Sewell's new drama The Diplomat opened in the No. 2 spot on the Netflix in Canada weekly Top-10 most-watched list. The series scored 57.48 million hours viewed worldwide and appeared in the Top 10 in 86 countries.
That still wasn't enough to dislodge the 4th season of Love is Blind from the No. 1 spot after five weeks. The highly anticipated reunion episode certainly helped keep Love in bloom for Netflix. BEEF and The Night Agent also remained solid draws for the streaming subscription service. Indian Matchmaking also snuck onto the Canadian list in the No. 9 position.
In movies, the 2021 dystopian sci-fi thriller "Chaos Walking," starring Daisy Ridley, Tom Holland and Mads Mikkelsen, was the unlikely top draw in its second week at Netflix. The international favourite "The Last Kingdom: Seven Kings Must Die" was in second spot.
Here is how the Top-10 TV shows in Canada for the week of April 17 to 23 played out on Netflix:
APRIL 17 – APRIL 23, 2023
| # | TVIN CANADA | WEEKS IN TOP 10 |
| --- | --- | --- |
| 1 | Love Is Blind: Season 4 | 5 |
| 2 | The Diplomat: Season 1 | 1 |
| 3 | BEEF: Season 1 | 3 |
| 4 | The Night Agent: Season 1 | 5 |
| 5 | Better Call Saul: Season 6 | 1 |
| 6 | Florida Man: Limited Series | 2 |
| 7 | How to Get Rich: Season 1 | 1 |
| 8 | American Manhunt: The Boston Marathon Bombing: Season 1 | 2 |
| 9 | Indian Matchmaking: Season 3 | 1 |
| 10 | The Marked Heart: Season 2 | 1 |