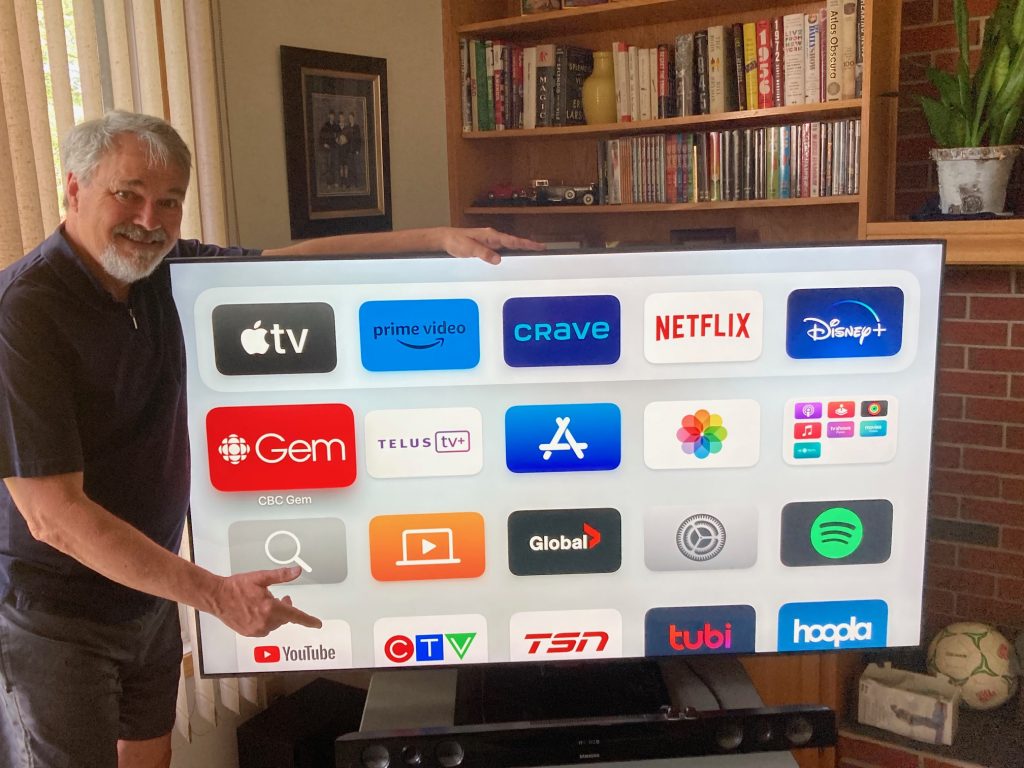 When we left off this TV purchasing epic, all the pieces were in place.
I had my TV – a 65-inch Samsung which came in an even larger box, and a ready-to-assemble TV stand to accommodate said TV.
Now all I needed was someone to help me put it all together. Who ya gonna call, or, who ya gonna call who's not going to charge you?
If you have sons, the answer is clear. This is why you have children.
Make no mistake: installing a new TV of this size is a two-person job.
We started with the stand, which was a relatively simple assembly. We did make one mistake, which was easily rectified. I've come to expect making at least one mistake in anything I've ever assembled. Many years ago, my dad bought our boys a foosball table for Christmas. It was my job to assemble it, in secret, in the basement. After hours of exhausting assembly, in the final stages I realized that I had all the players going in the wrong direction, and the only way to fix the problem was to disassemble everything I had assembled. It's a good thing I was doing this in secret; it's not a good thing for sons to see their father cry.
Once we got the stand assembled, it was time to unpack the TV. Although new TVs are remarkably light compared to behemoths of the past, it still requires another pair of steady hands. Taking it out of the box is a bit nerve-wracking. One slip, and your investment shatters. (By the way, save the box for 90 days in case you want or need to return it. Many stores allow returns only in the original box.)
After moving the old TV into semi-retirement in the basement, and after clearing off a centimeter or two of dust that had accumulated on the TV stand, we were ready for the big move. It went remarkably well. The TV fit easily onto the stand, and once the cable box, Apple TV and speaker connections were made, I was ready for the big reveal.
And it was … wow.
The picture was crystal clear, the colours movie-screen vivid. And it was BIG.
There is much more to new TVs than those even from a few years ago. Back in the prehistoric days of TV, about the only thing you had to adjust was the horizontal hold. (I tried to describe horizontal hold to one of my sons, and he looked at me like I was talking about the 1800s.) Set up for a new TVs is vastly more complex than just plugging it in. This, again, is why I have sons. I turned over the setup of the TV to a different son, who actually seems to enjoy doing the kind of stuff that I have no patience for.
Once the internet connection to the TV had been established, then it was play time.
You can choose many different picture modes: dynamic, standard, natural, movie, and something called filmmaker mode (being a film watcher and not a film maker, I haven't bothered with this one). Dynamic is very bright, standard a little more muted, natural not much different from standard. Movie is probably the softest. If you don't like any of those, you can go to 'expert settings', which includes things like brightness, contrast, sharpness and color. There are also picture clarity settings, which includes "judder reduction", which I assume is not a misspelling.
To be honest, it's all very confusing, and the very small Samsung remote, which includes 40 buttons, is not the most intuitive. It does have a couple of buttons for quick access to Netflix, Prime Video and something called Samsung TV, which is a free streaming channel which shows roughly 500 episodes of Top Gear and a bunch of other stuff I don't watch, and in many cases have never heard of.
The smart part of smart TV is that you can download apps, like Apple TV, Amazon Prime, Disney, etc. This is great, but I've stayed with my Apple TV box because I find its ease of use is superior to the Samsung setup. But if you don't have an Apple box (or Roku, or any of the others), then a smart TV allows you to enter the universe of streaming TV. But beware … you may never get out.
So, was it worth it? I won't even tell you about setting up the 4K digital box, which was a multi-hour fiasco. I won't tell you which provider I deal with, even if you say 'Tell Us, Tell Us". After all those weeks of dithering about whether I really needed a new TV, I couldn't help but think … what took me so long?
Maurice Tougas claims he was his family's "walking TV listing back in the three-channel universe." He's also a retired, award-winning journalist. I first encountered Maurice when he was editor of Alberta Prime Times. He asked me to contribute a TV column there; happy to continue our association here at brioux.tv.