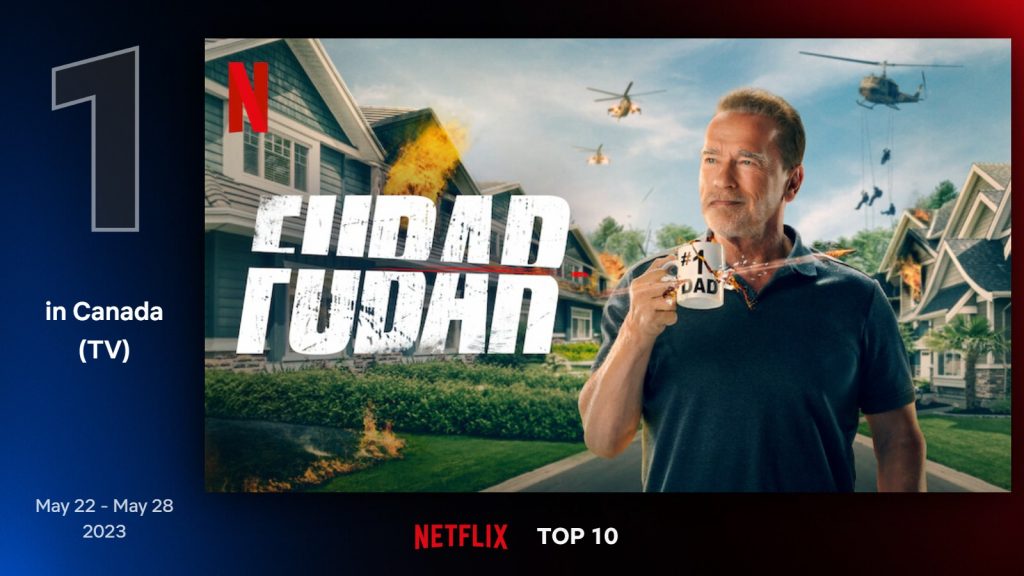 Despite some less than stellar reviews, Arnold Schwarzenegger's first-ever TV series, FURBAR, was the most-viewed offering last week on Netflix.
The 10-episode series kinda looks at what Schwarzenegger's agent character from "True Lies" might be doing now that he is nearing retirement age. In real life, Arnold is 75. Shot in Toronto, Mississauga and Oakville, there are plenty of Canadians in the supporting cast, including Jay Baruchel.
FURBAR is a worldwide hit, appearing on Netflix Top-10 lists in 90 countries. It was No. 1 on the streaming services English TV list with 88.94 million hours viewed.
Queen Charlotte: A Bridgerton Story slide down the list to fourth spot in its fourth week. Firefly Lane and The Night Agent both cling to the Top-10 after 10 weeks.
Here is how the entire Top-10 played out in Canada the week of May 22-28:
MAY 22 – MAY 28, 2023
| # | TVIN CANADA | WEEKS IN TOP 10 |
| --- | --- | --- |
| 1 | FUBAR: Season 1 | 1 |
| 2 | Selling Sunset: Season 6 | 2 |
| 3 | XO, Kitty: Season 1 | 2 |
| 4 | Queen Charlotte: A Bridgerton Story: Series | 4 |
| 5 | Muted: Season 1 | 2 |
| 6 | Firefly Lane: Season 2 | 10 |
| 7 | Maid: Limited Series | 13 |
| 8 | The Ultimatum: Queer Love: Season 1 | 1 |
| 9 | McGREGOR FOREVER: Limited Series | 2 |
| 10 | The Night Agent: Season 1 | 10 |