There was plenty to celebrate Thursday as Bell Media closed out a week of Toronto-based Upfronts with their annual ad orgy at the Meridian.
If you tally up the English and French-language output, Bell will have 96 titles and 1037 hours of original content in 2023/24. CTV remains, after 22 straight years, the most-watched broadcast network in Canada with a 44 per cent advantage vs. their closest competitor (Corus/Global). It helps, of course, that CTV has TV's single biggest night with The Super Bowl.
CTV also enjoyed a late season hit with Sullivan's Crossing — recently snatched up by The CW — the No. 1 new original of 2023.
They also had some very interesting innovations to announce at their Upfront. There will be a cheaper, ad-supported version of Crave available to Canadian subscribers later this summer. And Bell's marketing brainiacs have cracked the code on an innovation that will surely change how viewers buy and sell on broadcast. By harnessing first party data, "Addressable TV" will allow broadcasters to air different ads in different households. Looking to buy a car? Your neighbour wants to plan a trip? Now people on the same street will be watching different ads at the same time on the same show. It's billed as the power of TV meets the personalization of digital. It's coming this September, although I'm guessing this would only apply to households that subscribe to Bell TV as well as the company's phone plans.
Now if only there was some way to count heads across Canada to provide ratings that were no longer just estimates.
This year, I took part in Bell's well-organized morning press junket at 1 Hotel Toronto, where I spoke with Quincy Isaiah. He's the Michigan-native who shone last year as Magic Johnson in HBO/Crave's Lakers series Winning Time. Isaiah was in Toronto for the first time and happy to promote a second season of the series, which will go before the cameras this September, pending the outcome of the writer's strike. And, yes, he confirmed, acting opposite John C. Reilly (as Lakers' owner Jerry Buss) is a real blast.
I also had very pleasant conversations with homegrown stars Morgan Kohan from Sullivan's Crossing, Mary Berg (Cross Country Cake Off) and Sabrina Jalees (Roast Battle Canada).
After which I headed home and watched that afternoon's Bell Media upfront show on my home screen. Bell's live stage shows at the Meridian tend to run long. This year's clocked in at 90 minutes, but it seemed longer, as if a thousand of those 1037 new Canadian original hours were all part of Thursdays' Upfront sales pitch.
Memo to network execs: please, for the love of god, leave the acting to the professionals The shtick where you are "acting" opposite a scene featuring Nathan Fillion brings new meaning to the term "The Rookie."
There was a painfully scripted charts-and-graphs hard sell segment featuring the TSN sports desk team that was so offside it was icing. The data being presented was actually pretty astounding on its own, I would imagine, for the sales kids in the audience. Cut your reel and give the thirsty young buyers more time at the bar with James Duthie and Katie Beirness.
Berg, it was confirmed, will inherit the timeslot being vacated Friday by CTV's queen of daytime, Marilyn Denis. Launching in September, the new show will be called The Good Stuff with Mary Berg. She'll dive deeper into lifestyle programming, welcome special guests and, yes, whip up a few recipes.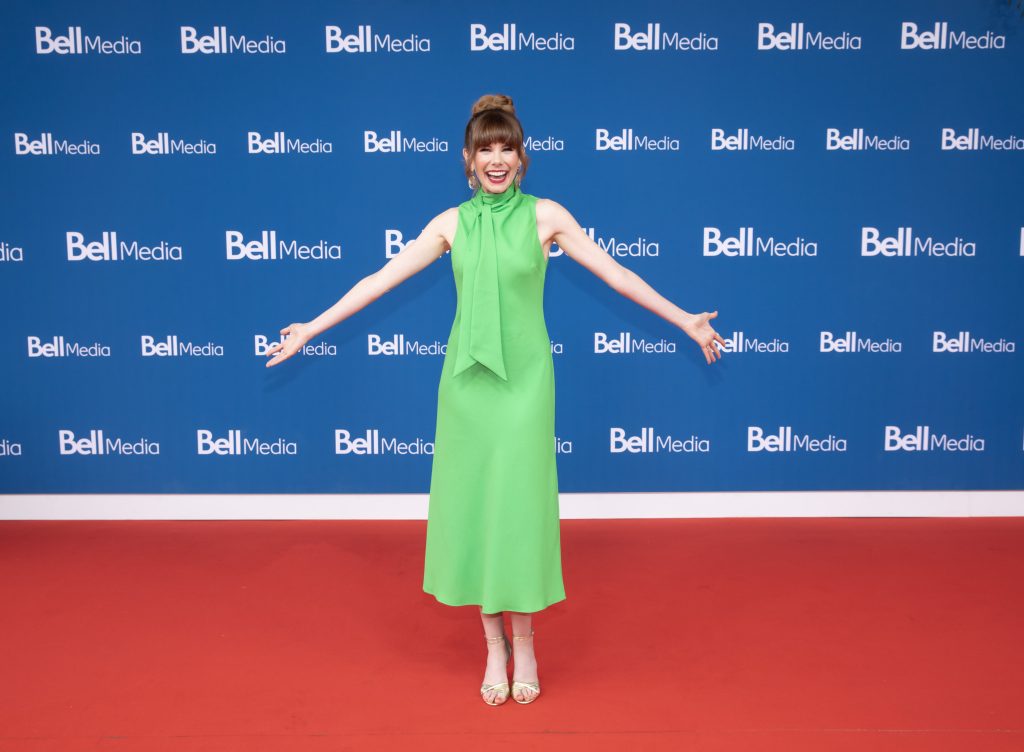 Denis, whose daytime talk series The Marylin Denis Show concludes Friday after 13 seasons, sat front row in the audience at the Bell Upfront.
As for new import acquisitions, Bell wins bonus points for not using the terms "most-coveted" or "buzzworthy" anywhere in their press releases. Well, okay, they did use, "highly anticipated."
I'm not sure any of these are even lightly anticipated, although Snake Oil, being a game show (and thus strike proof?) seems a savvy choice. David Spade hosts this mix of Shark Tank meets To Tell the Truth where contestants pitch business ventures to celebrities and the celebs have to tell which are fake and which are real. Will Arnett is among the producers.
Tracker is about a "reward seeker" played by Justin Hartley, who helps private citizens track down missing people. Back in the '70s he was known as 8-Tracker. Rescue: Hi-Surf is a Hawaiian lifeguard drama from hit-making showrunner John Wells. High Potential stars Kaitlin Olson (It's Always Sunny in Philadelphia) in a translation of a popular French series. Special Forces: World's Toughest Test is probably about military grunts having to work out really difficult math problems.
Bell's slate of Canadian originals planned for 2023-24 are spread out over several platforms. The luminous Karine Vanasse will host both French-language (on Bell's Noovo) and English (CTV) versions of The Traitors: Canada. The unscripted competition series tracks contestants engaged in a series of challenges. Some of these folks are traitors. Let the bilingual backstabbing begin.
Comedian Russell Peters will be profiled in an upcoming Crave documentary and will also host The RP4 Hosted by Russell Peters on CTV Comedy. Peters' Roast Battle colleague Sabrina Jalees will be back on that CTV Comedy series and will also return for a second season of her current CTV series Farming For Love. And, yes, she's glad the Canadian version of this international dating format series is not called Farmer Takes a Wife because some of the lady farmers looking for love in Canada are also damn fine catches.