Back in 1986, when I was based in Los Angeles while working for TV Guide Canada, I had the good fortune to interview Joe Barbera. I met the Hanna-Barbera Studio chief at his office on Ventura Boulevard.
The savvy TV producer/studio head was 75 at the time and had plenty to talk about. He was getting offers to make live-action feature films based on The Flintstones, The Jetsons and Jonny Quest. He had a new, animated Bible series to promote on Home Video. He insisted that ABC, CBS and NBC would stick with his main bread and butter, Saturday morning cartoon shows.
Behind his desk were shelves full of plush Flintstone, Smurf and Scooby-Doo dolls as well as one that immediately caught my eye — Peter Puck, a between intermission character Hanna-Barbera created in the early '70s for NHL hockey broadcasts.
Barbera must have been amused to have a Canadian reporter in his office. Nobody else had even noticed the Peter Puck plush doll before.
In searching through my old cassette tapes for more "From The Vault" conversations from the past, I spotted Barbera's name written across an old Radio Shack tape. I asked Marc Knez at Digital Treasures down in Etobicoke to try and work some magic in restoring it. While the sound quality is still nothing to Yabba-Dabba-Doo about, hearing Barbera's passion for what he and partner Bill Hanna had accomplished in pioneering the field of television animation is still definitely worth a listen. Wait till you hear his story of how he sold TV's first prime time animated series, The Flintstones.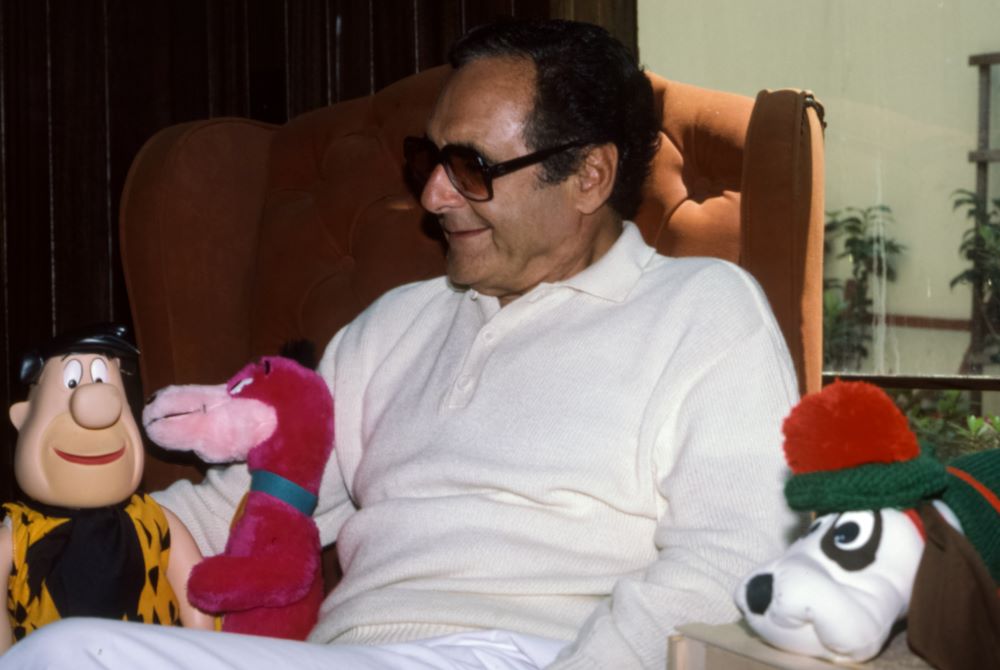 During the interview, Bill Hanna walked in and we were introduced. The two men maintained very separate roles at their studio, with Hanna much more focused on the business of animation and Barbera on running the studio and selling the next series to a network or a sponsor.
After the interview, Barbera called in an employee to give me a walking tour of the studio. The older gentleman patiently took me around, showing everything from the voice recordings to the new computer-assisted animation facilities.
Turned out the man was Harry Love, who, as an animator, worked on everything from Tom & Jerry to The Smurfs. When we got to his desk, there next to the phone was a portrait of his "sweetie" — none other than cartoon voice legend June Foray! Foray, who lived to be 99, had no shortage of sweeties among the animation community.
Another familiar face and voice around Hanna-Barbera, until his death at 69 in 1977, was Alan Reed — the voice of Fred Flintstone. This past Sunday would have marked his 116th birthday.
Barbera passed away at 95 in 2006. The studio he established has been sold several times and the cartoon programs are now part of the Warner Bros Discovery empire. Fred and Barney and George Jetson and Yogi Bear and Scooby-Doo and the Smurfs live on, however.
To listen in to this podcast, please click on the white arrow in the blue dot, above.