For years, CHML's Scott Thompson has called down to LA to get the scoop on the Summer TCA Press Tour. It did not surprise me that he seemed most keenly interested in a VH-1 show promoted Friday called Dating Naked. The premise is fairly simple: a dude and a lady strip down and go on a date. The kids in the clip headed to a beach and then a boat where they tried water skiing. The woman mastered her skiis quickly but the man just couldnt get it up. Try the veal I'm here all week.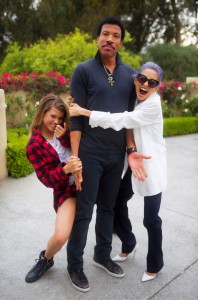 I told Scott about the new Nicole Richie reality show where she collects another cheque for getting followed by a camera crew. Eddie Cibrian and LeAnn Rimes were also at tour Friday trying to hide their shame for stooping to LeAnn & Eddie. Cibrian says the couple took the idea for the series to VH-1, not the other way around. His ex-wife can be seen on another one of these bottom feeders, The Real Housewives of Beverly Hills. Their two kids are kept off both shows, says Cibrian. Rimes joked that they're doing the show, "to wreck our marriage," which did not get a laugh.
Scott also asked about the Bell Media job losses and that touches off a rant. You can listen in here.