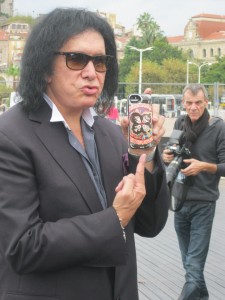 CANNES, France–Of course he's here.
Gene Simmons has been working MIPCOM harder than the guys out front of the Palais des Festivals selling umbrellas. The legendary KISS frontman is in his third day of press sessions here promoting Coliseum, a new music talent search show. The series has Simmons judging rock star wannabes.
Yes, just what the world needs, another star search series. Will Simmons' show be any different? Will he be hard on the contestants? "You can't sugarcoat shit," he told my colleague Etan Vlessing, currently typing next to me in the MIPCOM press building. Vlessing filed the story earlier this week for The Hollywood Reporter and is already hearing it from pissed-off KISS fans.
Simmons showed up again today at the press building, striding outside in his black leather cowboy boots for a photo session. It was held down by all the massive yachts in the harbour. "Gene! Gene!" yelled the local shooters as Simmons' put on a show, pointing at his boots, holding up his KISS iPhone, and, yes, sticking out his crazy long tongue, injuring four photographers.
Local seagulls circled overhead, hypnotised by his crazy mop of coal black mesh hair. A blond woman Simmons jokingly referred to as his "sister" approached at one point and the rock god posed for a few more shots.
Finally the great man strode off the boardwalk, leaving nothing but the mournful wail of the gulls in his wake.