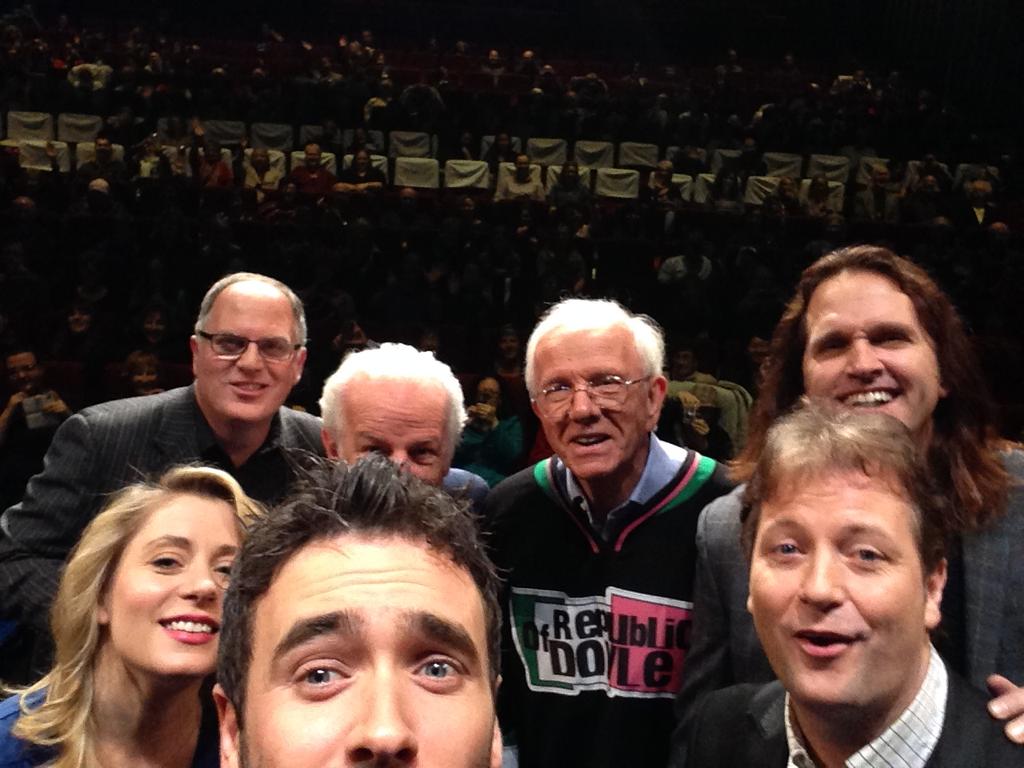 The Republic of Doyle ends its six-year run on CBC Dec. 10. What the 500 fans who attended Sunday's Canadian International Television Festival salute wanted to know was this: will there be any future Doyle TV-movies?
Star/executive producer Allan Hawco says he's game and that co-creator Perry Chafe already has one hell of a script.
Both were at Toronto's Bell Lightbox theatre Sunday along with fellow cast members Sean McGinley and Krystin Pellerin. They were joined by executive producers John Vatcher and Michael Levine. I had the pleasure of sharing the stage and leading the panel through an hour-long salute to the series.
The session started with a selfi with Hawco squeezing us all into a photo-op with the crowd in the background. The #doyletweets hashtage got a good workout on twitter.
Levine was wearing a Republic of Doyle hockey sweater, a cool look for a big shot lawyer. Talking to Levine is like enrolling in a master class in showbusiness, the guy knows everybody.
Young Krystin just shot an episode of Saving Hope and will be featured next season in Stratford. McGinley is back in Dublin and plays a bad guy opposite Gillian Anderson in the BBC crime drama The Fall.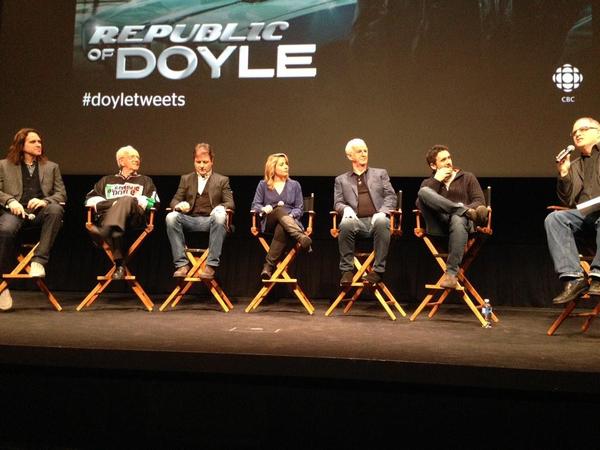 Hawco denied the rumour I tried to start that he will be performing dinner theatre in Brampton at the Rose. Silly rumour, really, everyone knows the ex-mayor has sucked every last dime out of the municipal coffers.
Instead he's featured next as a British officer and slave trader in CBC's upcoming miniseries The Book of Negroes. He also just dashed to Manitoba to shoot war scenes with his buddy Paul Gross for his upcoming feature Hyena Road. Then its on to about a zillion things in development.
The Take the Shot guys also have this cool little space 'toon they're working on, somebody please make that happen, it sounds ha-larious.
Nobody would spill the beans about the Doyle finale but Chafe hinted things might not end all neat and tidy for Jake and the gang. There is that TV-movie pitch dontcha know.
As for the beloved GTO, Hawco has his eye on one of the three vintage Pontiacs used on the series. He'd like to hang onto the beat up primer coloured one since him driving around St. John's in a blue GTO is pretty much asking for it.
The two-hour Republic of Doyle series finale airs Wednesday, Dec. 10 beginning at 8 p.m.
This Monday night at the Fest, I'll be back hosting a panel featuring cast and creators of the edgy APTN drama Blackstone. Session starts at 7 p.m., featuring a world premiere screening of episode two from the current Forth Season. Free tickets to the event, being held at the Bell Lightbox in Toronto, are still available here.