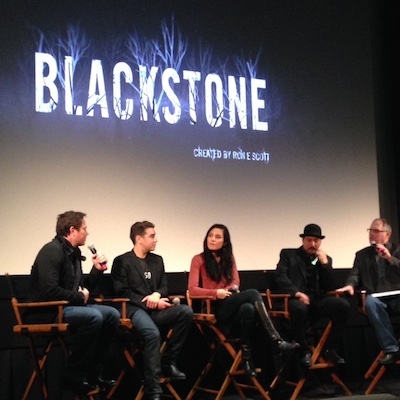 Two world premiere screenings held Monday night at the Canadian International Television Festival in Toronto offer proof Canadian drama can out edge anybody.
I had the pleasure of moderating a panel saluting Blackstone, the APTN aboriginal drama back for a fourth season. The second episode of the season was screened and it was a searing portrait of the ravages of alcoholism and addiction. The episode opened with a dream sequence set on a cloud-covered prairie field.  It looked David Lynch good on the big screen at the Bell Lightbox.
Creator/producer Ron E. Scott says the scene was originally supposed to take place indoors but once he spotted the vivid cloud cover he called an audible and moved his cast and cameras under that sky. Scott has been mining every resource in crafting the Alberta production, which boasts an astonishing 80-90 speaking parts this eight-episode season alone.
Joining Scott on the panel were actors Glen Gould, Jessica Matten and Ryan Cunningham. In his black bowler hat, Gould looks a little like the Scotiabank guy. Maybe he's richer than he thinks!
The series takes an unblinking look at life on an Alberta reservation. Much of Season Four revolves around life inside prison. Folks on the reservation aren't faring much better with Gail (Michelle Thrush) relapsing into a life of booze and pills. Another character can't lay off the on-line gambling.
Scott says he does get some push back from natives who object to such depictions of self destructive behavior. He's out for authenticity, however, and if that makes Canadians on or off the reservation uncomfortable, mission accomplished.
Also screened Monday was the second season premiere of the English language version of 19-2. The Montreal-lensed drama returns in early 2015 to Bravo. Executive Producer Jocelyn Deschênes and Executive Producer and Showrunner Bruce Smith were on-hand to take questions from moderator Amber Dowling and audience members.
The episode is a shocker. It closely follows the second season opener of the French language original, although the two series divert in key areas that will make the rest of the second season of the English version unique.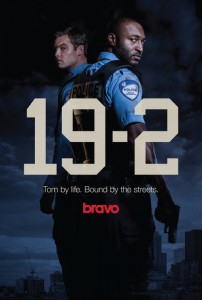 Police officers are shown facing the ultimate test. It is an emotional, heart-wrenching drama played out almost documentary style. Director Daniel ("Podz") Grou, who helms much of the French 19-2, got to re-do his own work here. The technical high point is a 13-minutes scene shot in one take that follows police officers responding to a terrifying crime scene. Smith said the tremendously complicated tracking scene (it took a week just to mike) had to be shot 13 times to get everything just right.
Audiences are thrown into the drama and holding their breaths along with the cops. Lead actors Adrian Holmes and Jared Keeso are outstanding. A tear shed on cue by Keeso towards the end caused Smith to re-think his entire ending. The episode deserves to garner plenty of attention at award season.
Deschenes was asked—and, after a brief hesitation, answered—how much each episode of his shows cost. He pegged the French original around $850,000/per and said the anglo edition soared closer to $1.5 million. If that is all they spent on this feature film-worthy second season opener, Deschenes and Co. should immediately be hired to handle finances for the rest of the country.