Good news for fans of classic TV. A new TV on Film Project screening has been scheduled.
Sunday, November 23 at 2 p.m., I'll be hosting 90 minutes of rare classics as part of the second annual Canadian International Television Festival. The Fest kicks off Friday Nov. 14 in Toronto and runs 10 days. All screenings are at the Bell Lightbox and free tickets can be obtained here.
Among the highlights will be a freshly-obtained 16mm gem newly transferred to digital to fill the TIFF Bell Lightbox screen: CBS's 1970-71 Fall Preview reel We've Got it All Together.
The No. 1 U.S. network at the time, CBS nevertheless had a tired schedule that needed revamping. One new show featured on this reel didn't start strong but it eventually helped launch a TV empire as well as what many consider the Golden Age of TV sitcoms: The Mary Tyler Moore Show.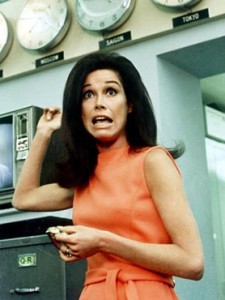 The clip shown as part of this Fall Preview reel is the early test reel for the series, shot before the pilot. This MTM segment was previously shown in Los Angeles as part of an earlier TV on Film Project screening, but this is the first time it is presented as part of the entire CBS fall package that year.
Fans of the series will recognize the dialogue from the famous, "You've got spunk!" scene in the MTM pilot. The office setting, however, is way different. So is Mare's over-sprayed and teased hair. Ed Asner's Lou Grant is a far nastier and more aggressive boss.The series would never have made it after all if James Brooks and Allan Burns hadn't tweaked their approach. (Brooks, in fact, has said in the past that they really didn't figure the show out until the third episode of the second season.)
This rest of CBS's Fall 1970 rookies were misfires, including The Tim Conway Comedy Hour, Storefront Lawyers and The Interns  There's also a clip here of the 1970 Andy Griffith misstep Headmaster. Griffith quit his long-running CBS comedy two years earlier and was lured back to play the head of a private school with Jerry Van Dyke as his football coach. Audiences wanted more Mayberry, and the premise of this series was completely scrapped over Christmas that year in favour of a reboot in a more rural setting. That flopped, too.
1970-71 also brought a CBS comedy I remember liking called Arnie. It starred Herschel Bernardi and had an ethnic, working class vibe that made it different. It might have worked slotted behind All in the Family, which premiered to little fanfare in January of 1971.
There'll be more out of vault at the TV on Film Project screening, including a shot-in-Toronto beer ad featuring a famous member of a movie comedy team. Details to come.
Stick around on the afternoon of the 23rd for more vintage gems as CITF presents a 50th anniversary screening of This Hour Has Seven Days. The CBC newsmagazine was created by Patrick Watson and Douglas Leiterman and featured Laurier LaPierre and Dinah Christie. Considered radical for its time, it woke up the Canadian news scene with its style and point of view and became a hot potato program at CBC.
Hart Pomerantz will be the special guest later that afternoon in a salute to The Hart & Lorne Terrific Hour. This is the CBC series Lorne Michaels did before Saturday Night Live and listen carefully to Howard Shore's theme for this series–it is the same theme as SNL's iconic little ditty, right down to the sax solo. The musicians playing it were from the Canadian rock band Lighthouse, which Shore belonged to at the time.
There's plenty more to see during the 10-day festival, including a Canadian premiere screening of the upcoming CBC miniseries The Book of Negroes, a sneak peak at Corner Gas: The Movie and a salute to the Alberta-lensed APTN series Blackstone. I'll be moderating a panel at that last one as well as the salute this Sunday to the final season of Republic of Doyle, with producer/star Allan Hawco and other cast members taking questions from the audience.
For a full schedule of CITF events, follow this link.