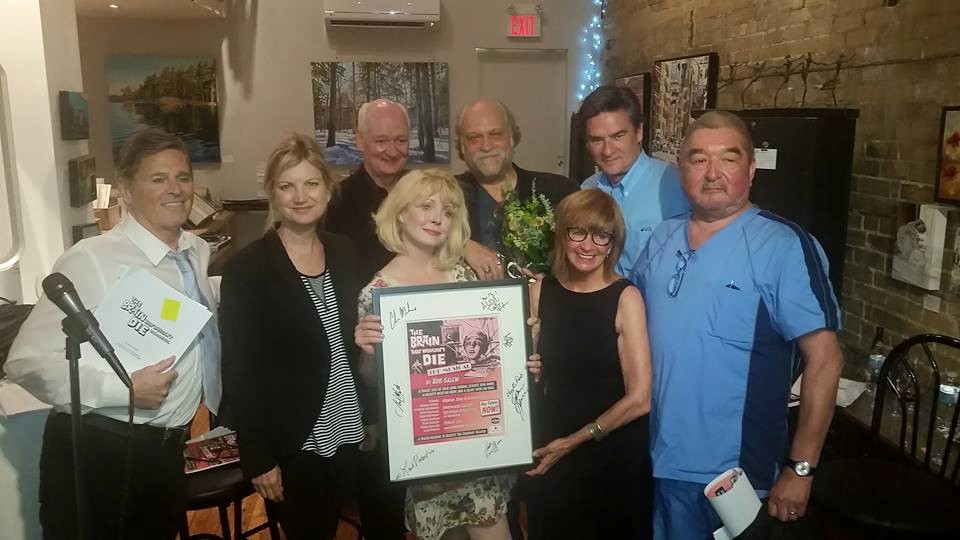 Congrats to former Toronto Star TV columnist Rob Salem who got to show off his brain Monday night in Toronto. Rather his script for The Brain That Wouldn't Die, Salem's fun and faithful adaptation of the uber creepy 1962 sci-fi/horror film written by Joseph Green and Rex Carlton.
A Who's Who of Toronto comedy players brought Salem's script to life at a reading at the Dimensions Customer Framing gallery on Queen St. East. CityNews anchor Gord Martineau nailed his role as, well, a TV a news anchor. Peter Keleghan invoked the spirit of Leslie Nielsen in playing his role of the mad doctor ridiculously straight throughout. Graham Greene seemed to be channeling Tim Allen as the monster in the closet but he claimed later that Allen stole all those grunting sounds from him. McGrath never lost her head. A super entertaining night for all crammed into the gallery.
Special kudos to Mochrie, who injected just the right note of pathos as lab assistant Kurt. Not since John Banner's Sgt. Schultz has Germany suffered such defeat.
Best character of all may have been the mysterious gent who smoked the fake electronic pipe with the sugary "Captain Crunch" cereal tobacco scent…wait a minute, that was Salem himself, pacing outside in front of the gallery.