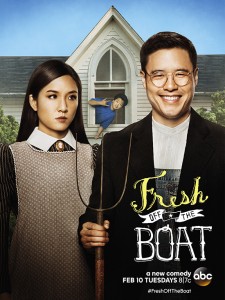 Election manipulator Stephen Harper's favourite streaming service–Netflix–is crushing it in Canada with over four million subscribers and counting. The big head start for the U.S.-based content hub has forced Rogers and Shaw to get more aggressive about selling their own little streaming upstart, Shomi.
Starting Tuesday, Sept., 1, Shomi will be available to all Canadians with an Internet hook-up, and not just to Rogers and Shaw cable subscribers. Not only that, new members will get the first month free, saving the usual $8.99 fee.
What's one of the most popular TV shows on Shomi this summer? It is Fresh Off The Boat, the ABC comedy about an Asian American family trying to adjust to life in Florida in the '90s.
I recently spoke to one of the stars, Randall Park (above right with Constance Wu), who plays the ever-cheery dad. The L.A.-native is on a roll, having survived his appearance as Korean dictator Kim Jong-un in "The Interview" (shot in Vancouver) and enjoying raves for playing a senator in HBO's Veep. He seems to have crammed in 20 other jobs this year, including appearances in Amy Schumer's "Trainwreck" and the new Wet Hot American Summer.
Read more about Park here in this feature I wrote for The Canadian Press.