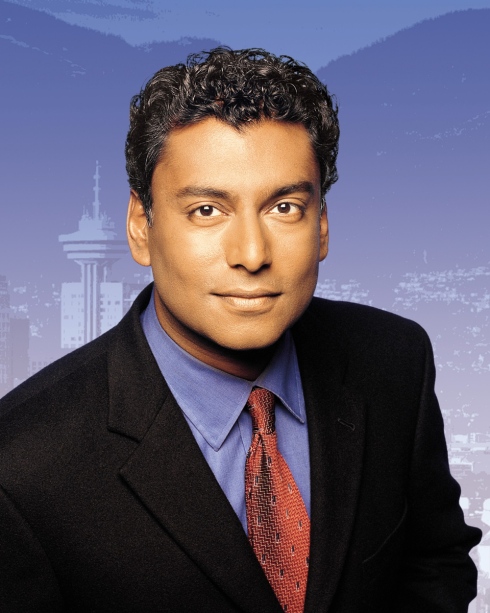 When I sat down to interview Ian Hanomansing late last May at the CBC Upfront in Toronto, I got straight into it.
"Mansbridge has already hinted he's leaving soon," I said. "You've been waiting longer than Price Charles for this top job. Should I put some money on it?"
Hanomansing waved me off, looked embarrassed and insisted he's never lobbied for the CBC's national anchor chair. He added that he really loves his current job (hosting his own series on CBC News Network), has enjoyed living in Vancouver these past 25 years and that there are plenty of other worthy candidates.
Plus, he added, "How old do you think I am? I'm 54!"
Well, he's 55 now but he still looks like the new guy. If he doesn't go for the anchor chair he should bottle and sell whatever it is he's been drinking.
I'm not the only one who sees him as the logical heir apparent. A few months earlier I had been to New York on the set of The Daily Show with Trevor Noah. One of the Comedy Central series' "special correspondents," Hasan Minhaj, had just returned from Ottawa where he interviewed prime Minister Justin Trudeau. Minhaj was on a Canadian high, gushing about the young prime minister.
He also caught Hanomansing on TV and was equally impressed with the news anchor. Hanomansing just seemed to epitomize this embrace of diversity and world culture sweeping Canada in the aftermath of the Syrian refugee outreach. Equally important, he saw in Hanomansing somebody who looks like he does. Given Minhaj's job of goofing on the news, he was heartened to see a Trinidad-Canadian rise to the top of an actual TV news organization. In America, as he sees it, diversity hires only happen on fake newscasts.
I spoke with Hanomansing again two weeks ago, this time on the phone. We had a very friendly chat about the CBC top anchor job now that Mansbridge has officially given notice. You can read more about that here at this article I wrote for The Canadian Press. With a July 1, 2017 departure date, CBC has another 10 months to find a successor — or revamp the news with more of a team approach.
We also talked about race and diversity. Hanomansing took me back 30  years to his first on-air job at CBC.
"When I started in this business in 1986, the executive  producer said at the time — and he was right — 'I'm going to put you on the air and for the first 30 seconds, no one is going to be paying attention to what you say.' And he was right."
Hanomansing knew that "for a guy who looked like me in Halifax in 1986 to be on the air was probably a pretty shocking thing." He recalls, too, the angry calls that came in to CBC's Toronto broadcast centre the first few times he filled in on The National.
He also feels there have been times when race and colour worked in his favour. Hanomansing has only ever wanted to earn a job on his credentials, not because, as he put it, a boss was "seeing a guy with a brown face."
He simply hopes it is no longer an issue.
"Ethnicity and race will matter to some people," he says. "I hope that in my case it is not a factor."
That it doesn't appear to be a factor in Canada was such a positive factor to Minhaj.