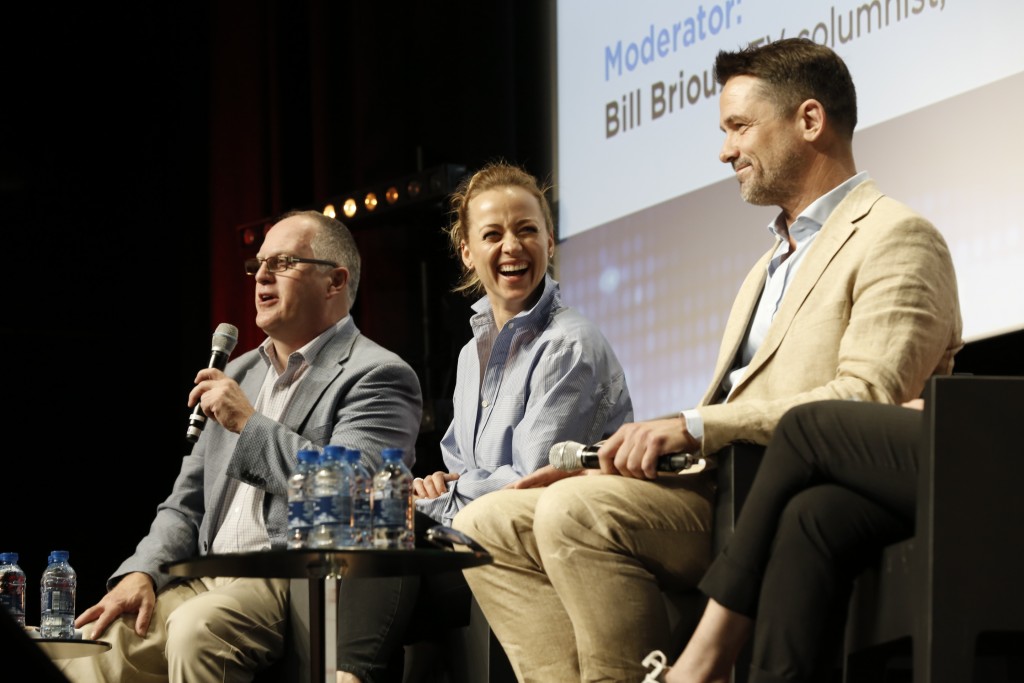 CANNES, France — Do "Talented Voices Drive International Appeal"?
That was the title of an all-Canadian panel I had the privilege of moderating this week at MIPCOM, the international TV marketplace.
Every year, Telefilm and the Canada Media Fund work to showcase worthy Canadian productions to industry buyers and sellers and network executives from around the world. This month, three series got the Telefilm/CMF treatment: Cardinal, a mystery drama due early next year on CTV, Fatale-Station, a thriller making its digital debut on Radio-Canada, and Versailles, the big-budget historical epic entering a second season.
The lavish, France-Canada-Germany co-production is off to a hot start on Ovation in the U.S., becoming the cable channel's highest-rated series ever. Season One reportedly cost US$40M, the biggest budget ever for a TV series from France.
It was a pleasure meeting Vancouver actor Tygh Runyan on the Versailles panel. It takes him a hour just to get wigged up to play Fabien Marchal on the series, part of the court of King Louis the 14th. Runyan praised the French equestrian team who prep the magnificent horses. Shooting on location at the real Palace of Versailles is a kick, he says, helping all the actors relate to the times and the story.
I introduced Ian Whitehead as King Louis, although he's really the head of production and development at Incendo. He explained the series began as a France-only endeavor but mounting these pricey historical epics really takes more than one country. (Think The Borgias, Vikings and The Book of Negroes, all Canada-European or African co-productions). Other countries see Canada as an ideal partner, says Whitehead, thanks to a deep talent pool (including directors on Versailles), post-production facilities and, yes, funding.
A clip was shown and besides the remarkable locations and scenery Versailles boasts plenty of sex and violence. Stir in scandal and political back-stabbing and Versailles does mirror the current U.S. election campaign.
Fatale-Station relies more on story and character than the grand visuals found in Versailles. Shot outside Montreal, the series stars Macha Limonchik as an outsider who is targeted by the uneasy locals after moving to a rural village. The series is written by Stéphane Bourguignon, the Quebec screenwriter responsible for several hit Radio-Canada series. Limonchik is his muse and frequent collaborator; she says he simply really knows how to write for women.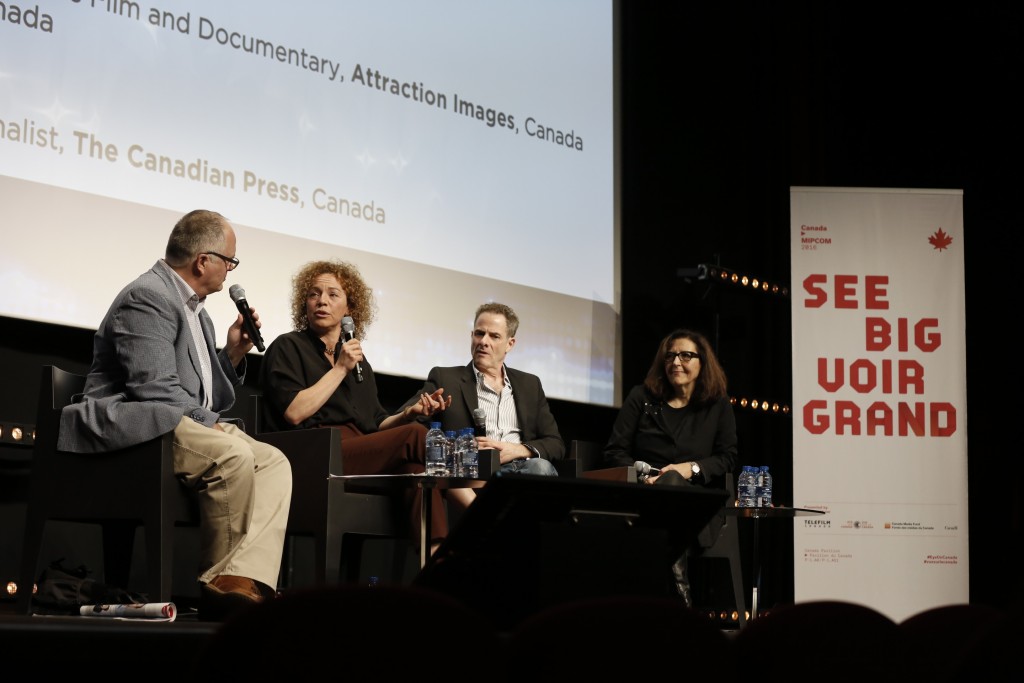 Her character fiercely protects herself and her turf in the clip shown at MIPCOM, wielding a rifle. Limonchik says she had never fired a gun before working on this series.
She also startled me on stage by stating her age: 46. She talked about how inspired she is by the kind of parts Helen Mirren gets to play. Limonchik is celebrated in Quebec but has a passion and a presence that would also be welcomed in more roles in English Canada. On a panel where the borderless business of television was being demonstrated and celebrated, the invisible wall between Quebec's TV culture and the rest of Canada provided an interesting subtext.
Bourguignon and Limonchik's long-time collaborator Louise Lantange, Vice-President of Fiction, Feature Film and Documentary at Attraction Images, was also on the panel.
The upcoming CTV drama Cardinal featured another Quebec-native on the panel: Karine Vanasse. She has been featured on such U.S. network fare as Pan Am and Revenge. She and co-star Billy Campbell play detectives on Cardinal, which was shot in chilly Sudbury, Ont. during the winter months.
You'd think that would be hard on Virginia-native Campbell but hell no. Campbell, whose success dates back to "The Rocketeer" and Once and Again, has enjoyed many a Canadian winter, albeit in relatively mild Vancouver where he still has a home.
While it was cold in Sudbury, Campbell said it wasn't cold enough for the insurer of the project, who nixed plans to shoot on a lake not quite frozen enough according to insurance company standards.
Campbell and his wife and their two-year-old son now live in Norway. The amiable Campbell pretty much embodies this no-border TV business, living it as well as acting it.
Julia Sereny of Sienna Films joined Campbell and Vanasse on the panel and explained the projects origins as a series of detective novels. The series will air in Canada on CTV and, in its French version, on the Super Écran channel. eOne will handle international sales.