I wasn't Denis McGrath's biggest fan. He had a talent for pushing buttons and getting under your skin. His advocacy sometimes bordered on bullying. He was Canadian by way of New York, and you could tell because the "sorry" reflex was missing.
He was principled, though, and had a big bullshit detector. If I wasn't honest about my view on him here and now, he'd call me on it, and make it sting.
Would that he could. Denis passed away Thursday in his 49th year.
I first encountered him on-line, at his blog Dead Things ON Sticks. He was funny and brash and adversarial. He wrote such long posts I wondered when he had time to write TV scripts, which is what he did for a living at that point after a production stint at CHUM-City and Space. He stopped blogging in 2010, referring to himself ever after as a "recovered blogger."
Before he shut things down, he got into this epic scrap on-line with Vancouver showrunner Chris Haddock. It was like a good old fashioned, sweater-over-the-head hockey fight. The comments went on for days. It was epic.
We were on a panel together out in Banff at the TV fest a decade or so ago. A few TV critic colleagues were also on the panel, including Bill Carter and John Doyle. One particular issue brought the pit-bull out in Denis and he would not let it go, making me wary of doing panels with him ever again.
But that's what he did, and if you were on his team, you loved him for it.
He wielded tremendous influence in the Canadian writing community as a colleague and union negotiator and was a friend and alumni of the Canadian Film Centre. Nobody ever had to wonder what side he was on. If he pissed off the head of the CRTC, he turned it into a St. Patrick's Day float.
He was proud of his colleagues and led the cheer for shows he worked on, such as The Border, Continuum or X Company, as well as for shows he admired, such as Orphan Black or Kim's Convenience.
He could use his power to do good. When the web site TV-eh? turned to crowd funding a few years ago McGrath went on-line and told everybody who ever made a hundred dollars in the Canadian TV industry to give ten to TV-eh. They did, and thousands more.
The last time we crossed paths was on radio. CBC's Brent Bambury invited me and Victoria Ahern from The Canadian Press on just before Christmas to talk holiday programming. When I got to the CBC Radio studios and was being miked up, Bambury mentioned we'd be joined by McGrath on the phone. "Denis is great, isn't he?" said Bambury. McGrath had something radio hosts and especially producers coveted: he was polarizing.
I bit my tongue but wasn't happy. Denis will take over and we won't get a word in edgewise, I thought. Bah, humbug.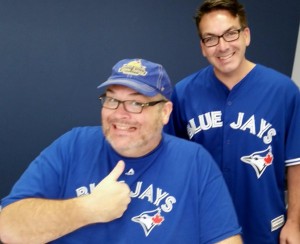 McGrath, however, was a pussycat. He spoke about how A Charlie Brown Christmas reduced him to a seven year old every December. He brought up the greatest Canadian holiday hour ever, the rarely-seen Dave Foley's The True Meaning of Christmas Specials.
He was that kid we all saw in those countless Blue Jays posts, dressed head-to-toe in Jays gear, waving the true north flag and spilling beer and popcorn. The radio show ended, and, like the Grinch, my heart grew two sizes that day.
I realized, or was reminded, that McGrath had at least one thing going for him I would always admire: he really, really, really, really, really loved television.
Sincere condolences to his wife, writer Kim Coghill, his many friends and colleagues and his family.