BANFF, Alta. — You know you're in Banff when an honest-to-God Mountie helps you find the hotel's business centre. That happened to me the other day here at the Fairmont Banff Springs Hotel, an incredible Scottish castle-like structure that looks as if Hogwarts was dropped between mountain ranges in a scenic wonderland.
The hotel is home to the Banff World Media Festival, an annual gathering of broadcasters, producers, policy makers and other industry professionals. They came Monday morning to hear Melanie Joly, the Minister of Heritage, who spoke here as a new minister exactly one year earlier. She's been provocative in the past, which makes for good copy, but this time she actually announced stuff, such as the formation of an Aboriginal film office. That venture will be funded by all the major broadcast partners and will facilitate content creation by and for members of Canada's First Nations.
She also gave a date for her long awaited vision and policy statement: September. Between trade missions to China, Los Angeles and other places, Joly has been criss-crossing Canada gathering opinions on how to proceed with a new Broadcast Act, among other things such as updating some of the older production treaty deals Canada has with around 55 other countries.
What a lot of people in the room wanted to hear was exactly how Joly and the government might extend their jurisdiction over Netflix, the streaming service that has ignored CRTC pleas to provide viewership data and which does not contribute to the various content funds every Canadian media company has been required to give to in return for a licence to broadcast. A Netflix "tax" or other ways to pry funds from the service — along the lines of what's being imposed in the EU, is also on a lot of attendees wish list.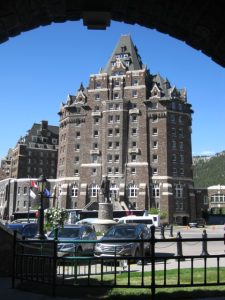 Joly hinted something was in the works, but also wondered aloud if whatever they came up with could be enforced, which sent a wee chill through the room.
The Minister also mentioned she'd like to see an even, Canada-wide system of tax incentives, a note that got a fair amount of applause in the room. She noted that crews were already pretty much stretched thin from sea to sea, with the country's film and TV production infrastructure fully booked right now.
She acknowledged that "disruption is happening" in the media biz but suggested folks look for the opportunities. Canada is looking at China, where the government there seeks to grow their culture businesses by 1% GDP by the end of the year. That's a pretty big market for Canadians to enter.
Besides attending sessions, I'm here in Banff to moderate panels. I've got two today, Tuesday the 13th: one on "Innovations and Strategies in Virtual Reality" beginning at 9 a.m. MT, and the other on the "Revitalization of Canadian Comedy" with Catherine Reitman and Letterkenny producer Mark Montefiore on the panel. If you're here in Banff, come on down.