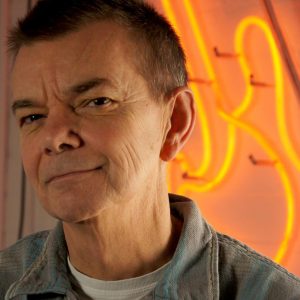 "Hello, I'm Kim," said the wiry, friendly fellow sitting next to me yesterday in the muffin-filled CHCH green room.
Took me a sec but I placed him: Kim Clarke Champniss, one of the first VJs back when MuchMusic truly was Canada's Music Station.
Champniss waved off my suggestion that he was a MM Day Oner. That was JD Roberts, he said. His stint began a few months after the CHUM/City specialty channel launched around this date in 1984.
He was guesting on CHCH's Morning Live Thursday to promote his new book "Skinheads, Fur Traders and DJs: An Adventure Through the 1970s" (Dundurn). Before he began interviewing the likes of Tina Turner and Barry Gibb, Champniss worked for the Hudson's Bay Company. Not behind the perfume counter — Champniss arrived from the punk scene in London and was quickly dispatched to the Northwest Territories to become a sub-Arctic fur trader. True!
We talked a bit about his celebrity encounters at the station, including the day George Harrison arrived, sans entourage. "Very down-to-earth," was Champniss' assessment.
Haven't read the book yet but let's hope there's a chapter on his infamous run-in with The Bee Gees. Champniss boldly slagged them off to their faces, which didn't sit well with brother Maurice. He stormed off the show, live, on-air.
There's a launch for the paperback edition of the book Sunday, Sept. 10, in Toronto at the Rivoli on Queen Street West. Champniss will be rockin' and DJ-ing, of course. Find more on the book here.