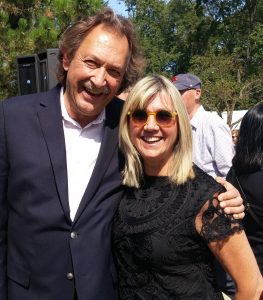 The Canadian Film Centre held its annual Toronto International Film Festival BBQ Sunday on a glorious, sunny day at its historic Windfields estate campus.  On hand as always was the centre's founder, Norman Jewison, still full of vim and vigor at 91. He can't believe that these TIFF schmooze-fests have been gate-crashed for 29 years already.
This year, an impressive 71 CFC grads are involved with films at the festival. Director Clement Virgo's redemption drama "Rude" screens tonight at 10 p.m. at the TIFF Bell Lightbox, for example. "Public Schooled," screens tonight and Sept. 16 and hails from Kyle Rideout and Josh Epstein.
Tassie Cameron, the showrunner behind the fall's best new US network drama, Ten Days in the Valley, is also a CFC alumni.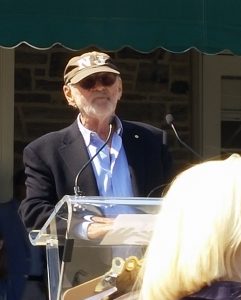 The BBQ drew a record industry crowd Sunday, at least it seemed that way over the years I've attended. Caught up with producer/showrunner pal Peter Mohan who was sporting the most colourful shirt at the event (perennial winner in this category, David Kines, was absent).
New Metric Media boss Mark Montefiore reported that he survived a screening of his upcoming true-life mob opus Bad Blood the other night, despite a surprise attendee to the screening — a representative of the notorious Rissuto crime family from Montreal.  Mark scrambled to explain that he was, uh, just one of several producers on the project… Bad Blood, which stars Kim Coates, Anthony LasPaglia, Paul Sorvino, Tony Nappo and Enrico Colantoni, premieres Sept. 21 on City.