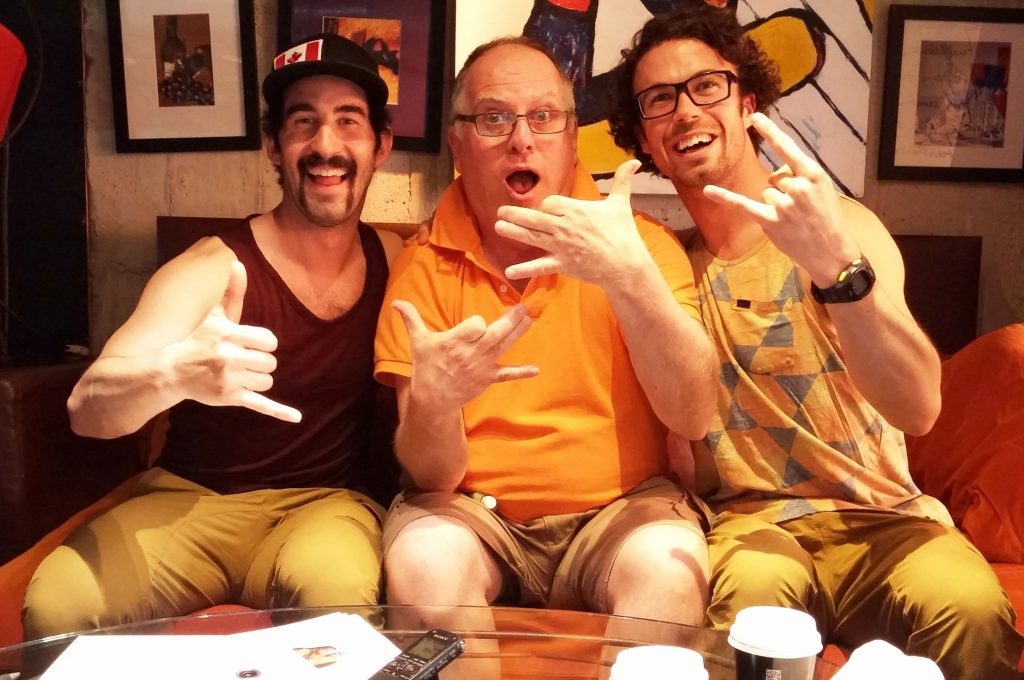 First thing first: I was embedded on two legs of this season's run of The Amazing Race Canada. That was back in May, when the teams competed in Beijing and in Bangkok. I knew who won those legs of the race, but, like viewers, I have no idea who wins tonight's fifth edition of Canada's No. 1 summer series.
So if it appears I am tipping anything by running the photo, above, of me kidding around with Team Give'r (Kenneth McAlpine and Ryan Lachappelle), it just isn't so. It was just fun kidding around with these good-natured goofballs.
Besides, it is almost impossible to predict the outcome of this series. So much depends on sheer luck. That being said, I'm not surprised that these are the three teams still in the hunt, although I might have picked brother and sister Adam and Andrea from Montreal — eliminated two weeks ago — to also make the finals.
What everybody knows, heading into Tuesday night's Season 5 finale, is that there are three teams left, and they are all from southern Ontario. Quebec City will be the final race location. At stake is the $250,000 grand prize, a trip for two around the world plus a 2018 Chevrolet Equinox for each winning team member.
Here is a breakdown of teams heading into the final lap: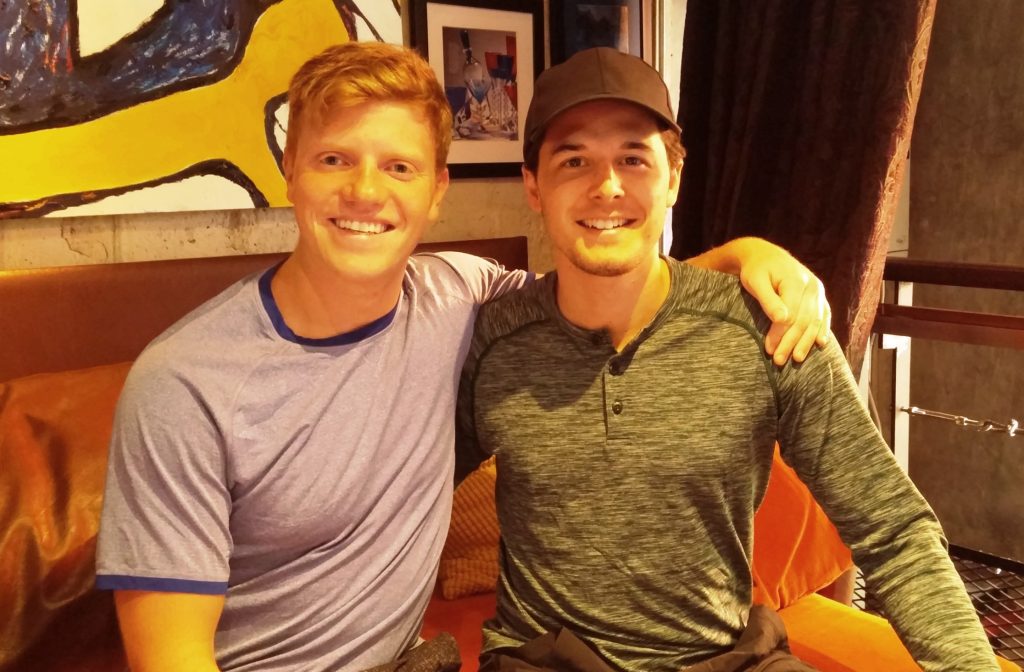 Sam Lambert and Paul Mitskopoulos
Boyfriends Sam and Paul have been killing it down the stretch, winning the last four legs and five out of 10, scoring trips to Cape Town, Costa Rica, New Orleans, Rio de Janeiro and China. In some ways, they've already won the Amazing Race.
Smart, fit and highly competitive, these two were a big threat from the very beginning. Sam worked 5 roadblocks, Paul 4.
Sam, 25, is a med student from Oakville, Ont.; Paul, 24, is a Toronto account manager. The two met at a 2015 concert.
Korey Sam and Ivana Krunic
Friends and co-workers Kory and Ivana have been under the radar most of the race, never winning a leg. They finished 2nd three times, however, including on last week's episode. They barely survived Week 2, coming in eighth out of nine teams.
Kory, 31, is a personal trainer at a downtown Toronto Goodlife FItness centre and has also worked as a bouncer on the side. Ivana, 31, is originally from Bosnia and is both a supply teacher and also a personal trainer. The two met ten years ago at the gym and claim to be "just friends."
The fittest team in the race, they split the hard stuff, with Kory working 4 roadblocks and Ivana 5.
Kenneth McAlpine and Ryan Lachappelle
If there were points awarded for being good-natured and positive, these two would have won several weeks ago. Originally from Collingwood, Ont., Kenneth has worked as a chef near the Blue Mountain resort; Ryan, another Collingwood lad, is an events coordinator at Red Mountain resort.
Both 25, these two had traveled extensively together before this series, often with their ski or surf gear. Their "Give'r" motto is all about giving 100%.
They won a trip to Barcelona right out of the gate but have had to settle for three straight 2nd place finishes before landing 3rd last week.  Like Sam and Paul, however, they may be ultimately seen as the big winners; Executive producer John Brunton expects the Give'r twins to wind up with their own TV series.
As it has been most of this summer, The Amazing Race Canada was the No. 1 show in total viewers in the latest Numeris survey (Aug. 28-Sept. 3), drawing 1,701,000 2+ viewers from coast-to-coast. The hour-long finale airs Tues., Sept. 12 at 8 p.m. ET/PT on CTV, followed by an "After the Race" special hosted by Jon Montgomery.