Talk about convenience: CBC's hit series Kim's Convenience now delivers!
The corner store comedy returns Tuesday, Sept. 26 for a second season. To promote the return, CBC has booked the six main cast members — Paul Sun-Hyung Lee ('Appa'), Jean Yoon ('Umma'), Simu Liu (estranged son Jung), Andrea Bang (daughter Janet), Andrew Phung (Jung's pal Kimchee) and Nicole Power (Handy Car Rental manager Shannon) — on a live event tour across Canada.
The tour, which also includes  writer/show runners Ins Choi and Kevin White as well as executive producer Ivan Fecan, begins next Tuesday, Sept. 19, in Vancouver before heading to Calgary (Thurs., Sept. 21), Ottawa (Sept. 26), Montreal (Oct. 1) and St. John's (Oct. 3). For more details, go here to the show's CBC.ca/ontheroad site.
"Hats off to the CBC," says Fecan, who I caught up with a few weeks ago in downtown Toronto on the set of the series. The former head of all things CTV (and the chief CBC programmer in an even earlier incarnation), Fecan has eased nicely into his role on the other side of the TV fence as an executive producer. He's let his hair down, literally, growing his white locks to Dumbledore proportions. He shrugs off a recent appointment as CEO of Thunderbird, the Vancouver-based production house behind Kim's, as an interim thing; he has no desire, as he puts it, "to put on a suit again."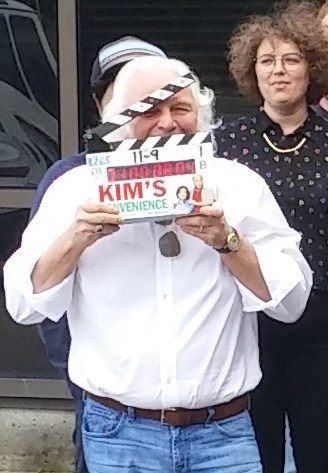 Fecan is pleased Kim's emerged as the No. 1 Canadian comedy on any channel in its first season, outdrawing the likes of Schitt's Creek and 22 Minutes. He feels, however, that there's still room to grow the audience.
"The tour comes out of the research and comes out of the idea that [Kim's attracts viewers in] the big urban centres really well, but a lot of the other places don't yet know the show. This will help connect the fans up with the cast."
A familiar complaint among the Canadian acting community is that this country simply does not have any kind of a star system. There's no late night talk show for actors to be themselves. Dwindling entertainment pages in national newspapers isn't helping.
Fecan sees an opportunity with live events to bring the stars directly to Canadians. It certainly works in the United States, where The Paley Centre hosts live, well-attended cast meet-and-greets on a regular basis in New York and Los Angeles.
I've been asked to moderate a few similar live events in Canada, and can tell you tickets to meet the cast from shows such as Murdoch Mysteries get snapped up in minutes.
Thanks to a strong promotion push from CBC — and some savvy, last-minute scheduling moves last October to avoid a Blue Jays' playoff broadcast — Kim's Convenience got off to a solid start in it's first season. With the show gaining traction on Twitter and Facebook, Fecan feels the time is now to take the stars to the fans.
The competition remains fierce, he points out, with "Bull" on Global and "This Is Us" on CTV — the top two rookie  imports on Canadian TV last season — battling Kim's for Tuesday night viewers.
Fecan had CBC's research department "take a deep dive on the show" numbers last season. The series had an average minute audience of close to 900,000 viewers a week. Here's what else he learned: the series skews young and urban — beyond CBC's usual reach.
Season 2, he says, "breathes better. People are just a little more sure of their characters, they're a little more playful. The sharpness is still there, it just breathes better."
In terms of plot developments, Fecan says daughter Janet moves out gets more of a life of her own. More time is spent at the Handy Car Rental. Appa and Umma learn to be empty nesters. Plus some of the secondary characters in the store show up a little more often.
Read more about the second season of Kim's Convenience and the cross-Canada live cast tour here at this feature I wrote for The Canadian Press.