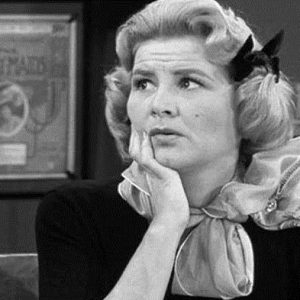 Rose Marie died over a week ago on Dec. 28, and I've been searching for my cassette tape of our interview ever since.
The interview, over the phone, occurred probably 14 years ago at the time The Dick Van Dyke Show Revisited — Carl Reiner's coda to his classic '60s sitcom — aired on CBS.
I remember her being generous with her time and recollections, but not so much with her affections for co-star Mary Tyler Moore. For the longest time, in fact, Rose Marie simply did not like Moore.
That surprised me on the phone and is why I'll keep looking for the tape. (Is there a media student out there who wants to take on the digital archiving of 20 years of analogue interview recording?)
I do recall the basic reason Marie had a hate-on for MTM. For one thing, she never saw her coming. The creator of The Dick Van Dyke Show, Carl Reiner, made Marie his first hire after Van Dyke (largely on the recommendation of fellow executive producer Sheldon Leonard). Moore was a last minute addition to the series and her speedy comedy learning curve probably robbed and rubbed Marie the wrong way.
Marie was more specific with me on the phone, however, as to the source of the conflict. She told me about the cast taking a bow at a TV Land Awards salute and how Moore's remark from the podium — "If only Rhoda was here!" — really rubbed Marie the wrong way. "What the hell," Marie asked, "did that character have to do with our show?"
That Marie and Moore patched things up before the younger actress passed away one year ago was referenced not that long ago on Twitter. Marie, whose remarkable career spanned from vaudeville to Twitter, delighted followers in the last months of her life by connecting with fans 142 characters at a time.
Marie's final, happy, curtain call came thanks to "Wait for Your Laugh," a documentary released just weeks before she died. That movie reveals to modern audiences that the lady born Rose Marie Mazetta was an enormously successful child star in the '20s.
"The minute she was four," says Tim Conway in 'Wait for your Laugh,' "the doctor slapped her and she started singing."
Billed as "Baby Rose Marie," she toured the States to prove to audiences that this  really was a child who was singing.
She was in her late thirties when she won the role of comedy writer Sally Rogers on The Dick Van Dyke Show (1961 – 66). Wise-cracking, tough-as-nails, Rogers was not just a career woman in the black and white television era but "one-of-the-guys"in a profession where women are still fighting for equal opportunities.
There were, in fact, several very talented women writing for television in the '50s and '60s, including Lucille Kallen and Selma Diamond who both wrote for Sid Caesar's brilliant sketch hours. Reiner of course, was a writer and second banana on both.
Marie famously said, "What's a Dick Van Dyke?" when she was offered the part. She suggested her life-long friend Morey Amsterdam to play writing room partner Buddy Sorrell and a classic sitcom side team was born.
One of the few awkward parts of the Dick Van Dyke Show today are the few episodes where man-crazy Sally is craving for a date with anybody but her perpetual suitor, Herman Glimscher. Marie nursed her own heartbreak when her trumpeter husband, Bobby Guy, passed away in 1964.
I met and interviewed Rose Marie on several occasions. The first was at a Walt Disney World studio theme park opening back in the late '80s during my TV Guide days. The park invited some of TV's pioneering stars to ride vintage cars down the main street of what was then called the Disney/MGM theme park; later, the celebrities stuck their hands in cement for a Hollywood-like wall of fame. Marie and Amsterdam (Buddy and Sally) were there, along with Buffalo Bob Smith (from Howdy Doody), Alan Young (Mister Ed), Art Linkletter (People are Funny), Amy Adams (Ernie Kovaks' widow), David Nelson (Ozzie & Harriet) and others.
Amsterdam, who died in 1996 at 87 (same age as Marie at her passing), was still lobbying for a Buddy and Sally spin-off at the Disney gathering. Marie went on to play a supporting role on The Doris Day Show (1969 -'72) and showcased her ability to nail a punch line as a semi-regular on the celebrity game show Hollywood Squares. Through both of these shows, as well as in personal appearances, Marie always sported her trademark black hair bow.
In 2005, Marie was one of the Pioneers of Television assembled at a Television Critics Association gathering in Los Angeles. Marie, at that point, had to be wheeled to the stage, as did Caesar. Reiner (the only one who survives) and William Asher (director on I Love Lucy and Bewitched) were also in the house, but the two who stole the show were Mickey Rooney and Red Buttons.
Rooney, in particular, went on and on at the memorable session. It went on so long that Rose Marie blurted the line of the day: "I was a young girl when this panel started."
Marie had nothing but praise and warm memories on that phone interview for Reiner, Amsterdam, Leonard, fellow co-star Richard Deacon and especially Van Dyke, who she always claimed had no idea just how funny and talented he was. I'll keep looking for that cassette tape; when I find it, look for more from that conversation here.