Do you follow God on Twitter? On Wednesday, @TheTweetofGod tweeted: "Please remember to phrase your prayers in the form of a question."
God, and many, many others judging by the outpouring on social media, was thinking of Alex Trebek. As seen above, the 78-year-old Sudbury native chose another social media option — YouTube — to deliver the tough news that he has been diagnosed with Stage 4 pancreatic cancer.
That's a tough one. You never want to hear the words "Stage 4" and "cancer" in the same sentence. People I know, however, have survived both and enjoyed quality of life for a decade plus. Progress is continuingly being made. Pancreatic cancer, however, is deadly. Twenty-eight years ago, it took Michael Landon's life mere months after his diagnosis. Treatment has improved since then, but, according to the American Cancer Society, for all stages of pancreatic cancer combined, the one-year relative survival rate is 20%, and the five-year rate is 7%.
Trebek told fans Wednesday he's going to beat the odds, so keep forming those prayers in the form of a question. He's a tough old bird from Sudbury, a guy who has survived heart attacks, brain surgery, and the worst set design on television.
He's also got a strange sense of humour, always welcome whenever I had the pleasure of speaking with him. He would wave off those heart scares with a joke, the same way he goofed at the end of his YouTube address that he had to stick around because his Jeopardy! contract doesn't expire until 2022.
One motivator for that YouTube hit was to get out in front of tabloids ready to pounce with their "Deadly Disease Leaves Trebek Minutes to Live" headlines. You don't screw with the Man from Sudbury.
Back when being a Canadian TV celebrity in America was a much smaller club, I remember seeing Trebek skating with Alan Thicke and a few others at a charity hockey game held at the old Maple Leaf Gardens. These two guys, one from Sudbury, one from Kirkland Lake, beat long odds just getting to where they got.
Trebek, despite his dual citizenship, has never forgotten his roots. He has donated millions to his old alma mater, The University of Ottawa, as well as several other worthy causes. He's also the dean of Canadian-born game show hosts, a stellar list that includes Thicke, Monty Hall, Jim Paulsen, Robin Ward and Howie Mandel.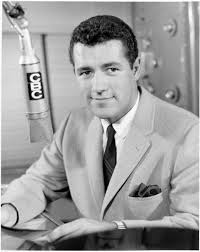 His precise diction was honed many years ago hosting Reach for the Top and other Canadian game shows back when TV was black and white. Concentration, To Tell the Truth and High Rollers were other shows he hosted over the years in America. When Merv Griffin offered him the Jeopardy! job in 1984, he worried that fans of that show might dismiss him as no Art Fleming, the original host back in the black and white days. Now, nobody remembers Fleming.
Five years ago, Trebek passed Bob Barker as the longest-serving game show host, on the same series, in North American history, topping 6,829 hours. He's now held the job 35 years.
During that time, he's shown up on dozens of sitcoms and even feature films, usually in his role as Jeopardy! host. The funniest was probably on Cheers, when know-it-all Cliff Clavin (John Ratzenberger) was a contestant. Trebek pulled the same stunt in "Rain Man," "White Men Can't Jump," "Groundhog Day," The Larry Sanders Show, Seinfeld and as 'toon Trebek on The Simpsons and Family Guy.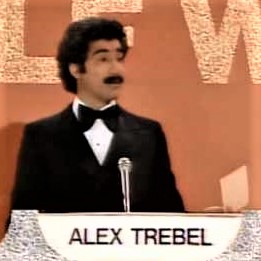 He's been ribbed by the best, most notably Will Ferrell on Saturday Night Live and Eugene Levy on SCTV. Best of all, in interviews, he's always been totally in on the joke.
Trebek has to know he's had a pretty good life. He's not done yet. He's lived with Jeopardy almost half his life and he's not ready to go. Put it all on the Daily Double Alex, we're rooting for you.