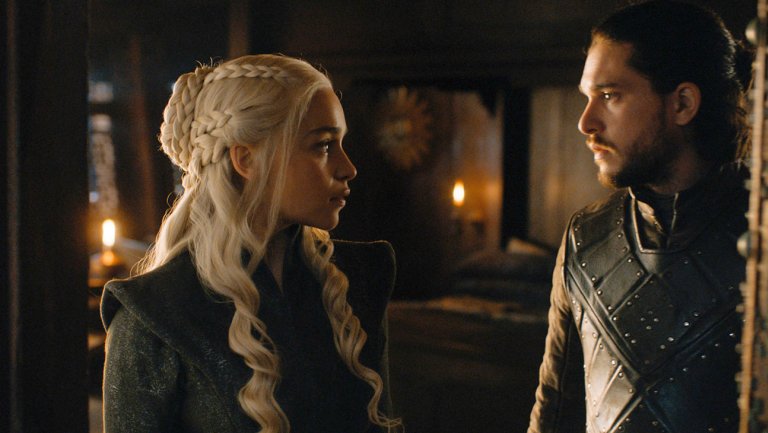 Good news, Gamers. After an extra long wait, the final season of Game of Thrones premieres this Sunday on HBO, HBO Canada and Crave.
Six final episodes of the big-budget fantasy/epic will go beyond the books and will eventually crown a new leader. Will it be Daenerys (Emilia Clarke), John Snow (Kit Harrington) or perhaps grizzled old Navy SEAL Rudy from Survivor?
These episodes were produced, mainly in Northern Ireland, way back in October 2017 through July 2018. The end of the seventh season saw the series soar to over 12 million HBO viewers a week. The fact that GoT is also the most-pirated TV show in the world doesn't seem to dent its subscriber-based popularity.
The folks at CTV News Channel in Toronto asked me to weigh in on the final season of Game of Thrones Friday via FaceTime. Why, asks daytime news anchor Marcia MacMillan, has the series remained such a phenomenal success? I suggest that, in some ways (in later seasons at least), the multi-million dollar fantasy has become the ultimate escape from Trump-era news headlines. Adult audiences seeking escape from bewildering news realities have found it in wintery Westeros. Then there's the shock at seeing favourite characters tossed out castle windows or beheaded.
Left unsaid is the fact that Game of Thrones became the perfect show to watch and respond to on social media. So many WTF moments were tailor made to be shared on Facebook, Twitter and Instagram. The army of viewers couldn't stop tweeting about the army of the dead, winged dragons, red weddings and other dazzling highlights.
Follow this link to my short video summary of the series for CTV News Channel.