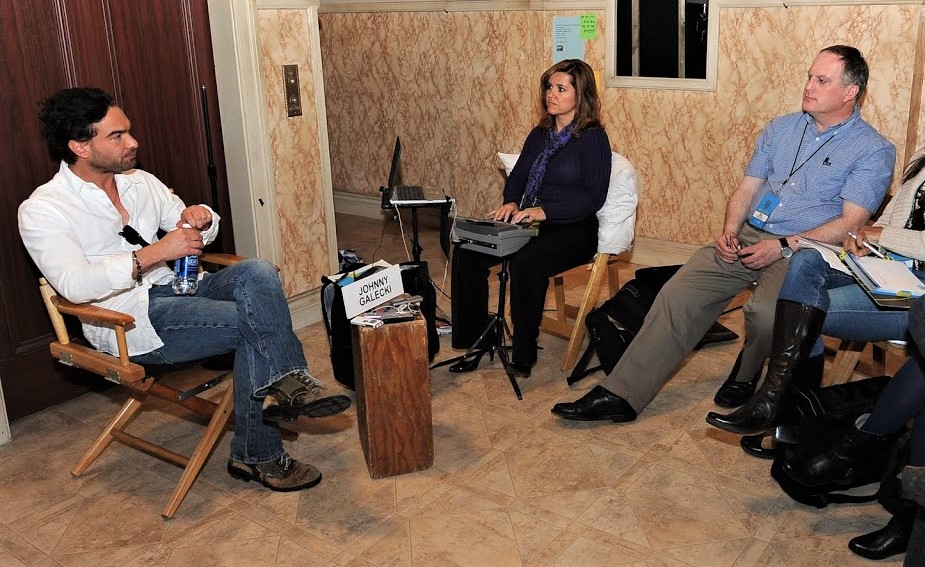 It's long forgotten now but The Big Bang Theory didn't explode right out of the gate. CBS opened it in a Monday night timeslot, ran it for seven or eight episodes and then a writers' strike created havoc for network schedulers. In Canada, CTV had such little faith in it they originally booted it over to their newly-acquired Barrie, Ontario affiliate, then simply branded "A." (Now CTV Two).
By Season 3 you could feel that the series was surging. A large billboard had the spot of honour on the side CBS Television City facing S. Fairfax Ave. The series went from ranking 68th for the first season to 40th in Season Two to No. 12 after three Seasons.
Part of the jolt came when CBS moved it behind the most popular sitcom at the time, Chuck Lorre's Two and a Half Men. When it eventually got moved to Thursday nights, a new "Must See" night of television was born.
Warners invited international reporters , including a few of us from Canada, to the set midway through that third season. There Johnny Galecki, Kaley Couco and Jim Parsons sat casually at various corners of the set and took questions. It was a nice window on the series right before the show was launched into syndication and the stars all became zillionaires. Among the [edited] Q&A highlights:
JOHNNY GALECKI
QUESTION: You're often referred to as the straight man on the show. Do you ever wish you could get more gags?
JOHNNY GALECKI: No. I try to just serve in the best way I can the story or the joke or the moment or whatever it is.
I've said this before, but it's the only way that — comedy is like hockey in that you get a lot of credit for assists, and I like that.
I mean, it's not that they don't write my character jokes at all. But I feel I can go and mine other things that aren't necessarily written jokes with a setup and a punch line. And those are the moments that I'm most proud of. You can find comedy in the word "Hello." And those are the things that really excite me.
QUESTION: Your hockey analogy. I'm a Canadian.
JOHNNY GALECKI: That's why I only got the laugh from you.
QUESTION: Who are some of your acting heroes?
JOHNNY GALECKI: Well, for this one, I'll tell you I love actors. It's hard to boil it down. For this show, I watched every episode of Taxi that they did for Judd Hirsch. Not that I wanted to do a Judd Hirsch impersonation, because I can't do impersonations. I knew after the first table read that it was a great ensemble, and I … felt like [Hirsh was] a really good anchor to a fantastic comedic ensemble,and I don't know if any of it rubbed off or not, but that was — hopefully I was influenced a little bit by that for this gig.
JIM PARSONS
QUESTION: Was there somebody that influenced you growing up, a television actor, who you admired who had that kind of a knack?
JIM PARSONS: I liked watching sitcoms a lot very young, reruns after school, the lineup on primetime. Always the one that comes to mind, because I was such a junkie of "Three's Company" was John Ritter. I want to say I loved him, and I did. It's more looking back that I realize how much I looked at him. At the time I was just watching a show and I thought it was fun, but I would have to list that. I was a huge into, like, "Family Ties," and not a specific person, you know. It would be easy to say Michael J. Fox, and I loved Michael J. Fox, but the whole family.
QUESTION: Great timing.
JIM PARSONS: Wonderful timing. But Meredith Baxter-Birney I loved, and she's completely different from Michael J. Fox. It was just, you know — and this ties into what, I think, all of our writers and Chuck Lorre, very specifically, understands this format so well, or at least a version of that format. I've said it before, but it's so true. I have never met anybody, and I don't know that I ever will, who so readily knows what to do with 22 minutes of television the way he does. And to me, most of the time, the rhythms of the scripts that they deliver are so evident to my ear because there's just an execution. I think it's part of why they're fun to watch more than once. It reminds me of good pop music. You know the song — you still love to listen to it.
KALEY COUCO
Prior to The Big Bang Theory, Cuoco co-starred on 8 Simple Rules with former Three's Company lead John Ritter. The actor died of a heart attack in 2005.
QUESTION: Is there anybody that you've worked with along the way that kind of has helped you have that attitude that you kind of looked up to as a kid?
KALEY CUOCO: It was John Ritter. He just cared so much. He was like — he was awesome. That's why people wanted to know more, because he didn't talk about it. He was so cool. You just already loved him. The people that stayed under the radar like that that know they're good, they're fine with it, they want to see that more than anything. They don't want to hear you talk about it.
QUESTION: [Your character] is really the voice of reasoning in this madhouse. It must be a lot of fun to sort of be that foil.
KALEY CUOCO: She is the eyes of everyone else. She sees that strangeness of what's going on, and she's a very patient person. She's really learned how to deal with each one of these guys separately. And she loves them to death. I mean, she just loves them, and I think that's why the relationship is believable. I think it's believable that she hangs out with them because she also gives it right back to them. She doesn't let Sheldon walk all over her. She puts Wallace in his place. She is right there with them. I think the whole thing is completely realistic that she would be hanging out with these people.
Around this time, Cuoco and Galecki's characters, Penny and Leonard, were getting romantic. Not known at the time was that they were also briefly a couple in real life.
QUESTION: What's it like kissing Leonard? Johnny?
KALEY CUOCO: It's good. I like kissing Leonard. Yeah. We kiss well. I like kissing him.