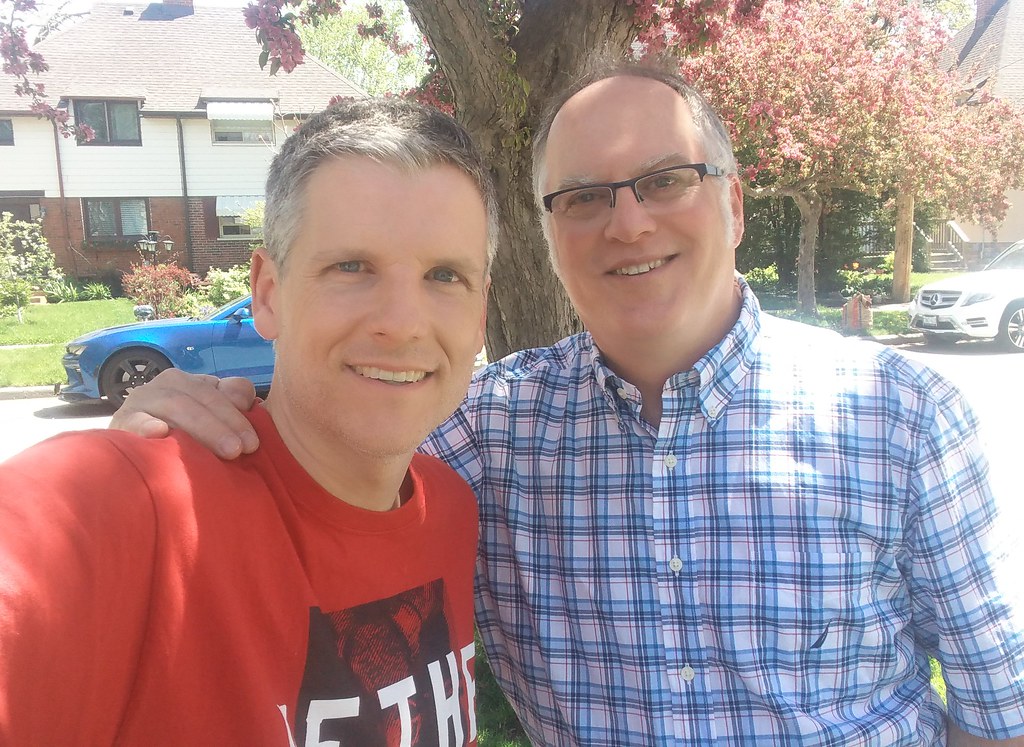 Podcaster Mike Boon, a.k.a. "Toronto Mike," invited me back on his show Monday to "kick out the jams."
Mike, a fellow Michael Power grad, who, as he liked to point out, graduated from that high school many years after I did, invites all manner of media types over to his basement studio and quizzes us on several subjects, including our favourite all-time tunes. He has a friendly knack of getting us shy and humble media folks to open up and talk about our favourite subjects — ourselves. Plus he has the best sponsors, paying us off in beer and frozen lasagnas.
Lately he's been on quite a roll with big-name guests, including Raptors' broadcaster and former NBA player Leo Rautins, Toronto radio morning show co-host Maureen Holloway, former MuchMusic host Master T, ex-Blue Jays announcer Jerry Howarth and Canadian singer-songwriters Murray McLaughlan and Gino Vannelli.
That all-star momentum went off the rails Monday with my return to the show in Boon's 469th podcast. Instead of the usual Top-30 song selections, we decided to switch things up as I presented my Top 15 all-time TV theme songs.
My list is very retro heavy, with several picks dating back to my childhood. They include one Canadian kiddle show classic on harp and recorder, a few gems from prolific Mike Post, two themes from the retro ABC Live special recently presented by Jimmy Kimmel and a western stumper with a stylishly animated intro (see below).
There's also a rousing theme from Britain in the swingin' '60s that for me still has plenty of "M" appeal. When I hear people mention The Avengers I still think only of this tongue-firmly-in-cheek British drama (see below). In putting this list together for Mike, I found I leaned hard into these full-orchestral, sophisticated numbers that put you in the spirit of the show before it even began. They tended to be long — one reason you don't hear or see too many of them in today's ad-heavy network time slots. You also had to be in place to catch them at the start of every hour back in the days when we were all slave to network schedules. Miss seeing Emma Peel (Diana Rogg) brush away a lock of her hair? Watching The Avengers theme made me want to hurry up and grow up.
Henri Mancini makes my list, as does Nilsson. The most recent tune is still over 25-year old — mainly because TV theme songs are down to one or two notes these days. As I tell Mike, I think Amazon Prime Video's Fleabag is sensational — especially the new second season — but if it has a theme song, I still haven't heard it.
The podcast even has a surprise interruption — ashocker to us anyway as a power shortage in Etobicoke shut us down around the hour-nineteen mark. Think of it as our tribute to the final episode of The Sopranos. If the last 20 minutes sounds like it was recorded in a well, it's just me calling it in later via "Duo."
If you can whistle along with The Andy Griffith Show theme or know which Bill Cosby opener really was the best (and, no, it wasn't his monster hit from the '80s), check out the TV jams here on Toronto Mike.