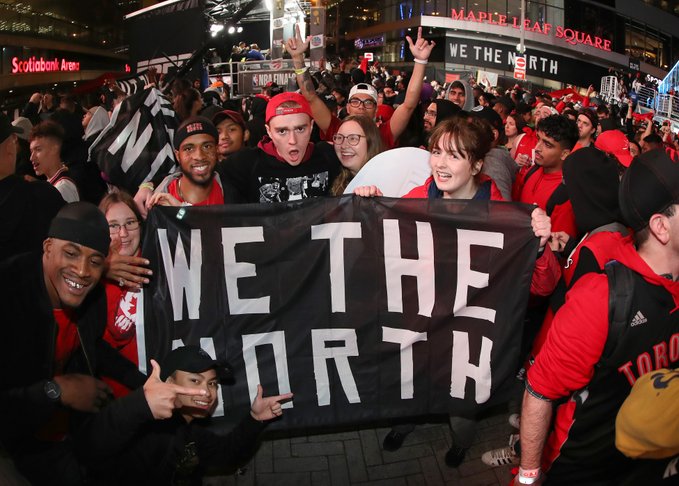 Wednesday, Bell Media announced that the 6th game of the NBA finals between the Toronto Raptors and the Golden State Warriors will be carried on the main CTV network as well as on TSN.
This follows Rogers' decision to broadcast Monday's Game 5, one-point win by the Warriors on not just their Sportsnet stations but also on their main Citytv network. The result, according to overnight estimates, was an enormous ratings bonanza for Rogers as 1,789,000 viewers found the game on Citytv to go with the 3,843,000 who watxhed on Sportsnet National and the additional 783,000 on Sportsnet One+ for an English Canada TV total of 6,415,000. In addition to that, another 338,000 in French Canada watched the game on RDS bringing the grand total to over 6.7 million Canadian viewers.
That made it the most-watched program in Rogers Media history as well as the most-watched program of the year in Canada. Last month's much anticipated Big Bang Theory finale, in comparison, drew 5,765,000 viewers.
Bell's decision to carry Thursday's Game 6 in Oakland on CTV and TSN could possibly top 7 million.
That's a shocker in what has, until this spring, always been a hockey-mad country. In the people meters era of data collecting, the all-time biggest TV audience for a Stanley Cup NHL hockey game dates back to June of 2011. That's when the Boston Bruins defeated the Vancouver Canucks in the 7th and deciding game of the finals to bring the cup back to Boston for the first time in 39 years. CBC was the big winner that day, netting 8.76 million TV viewers across Canada.
CTV, which has more affiliate stations than Citytv, could get close to the hockey summit. So far these NBA playoffs, Sportsnet has had the luck of the every-other-game draw, landing the four-bounce finale of the Raptors-76ers game as well as the round 3 finale between Toronto and Milwaukee — both NBA high points in Canada at the time. The finals will have to go to a seventh and deciding game back in Toronto before Sportsnet gets the ball again. Thursday is TSN/CTV's last chance to get the all-time NBA record and clearly they are going for it.
Not that the shows they're shelving to make room for the Raptors will be missed. Shoved aside for the game on CTV will be Big Bang Theory reruns, a repeat of a Law & Order SVU episode and the usual newscasts.