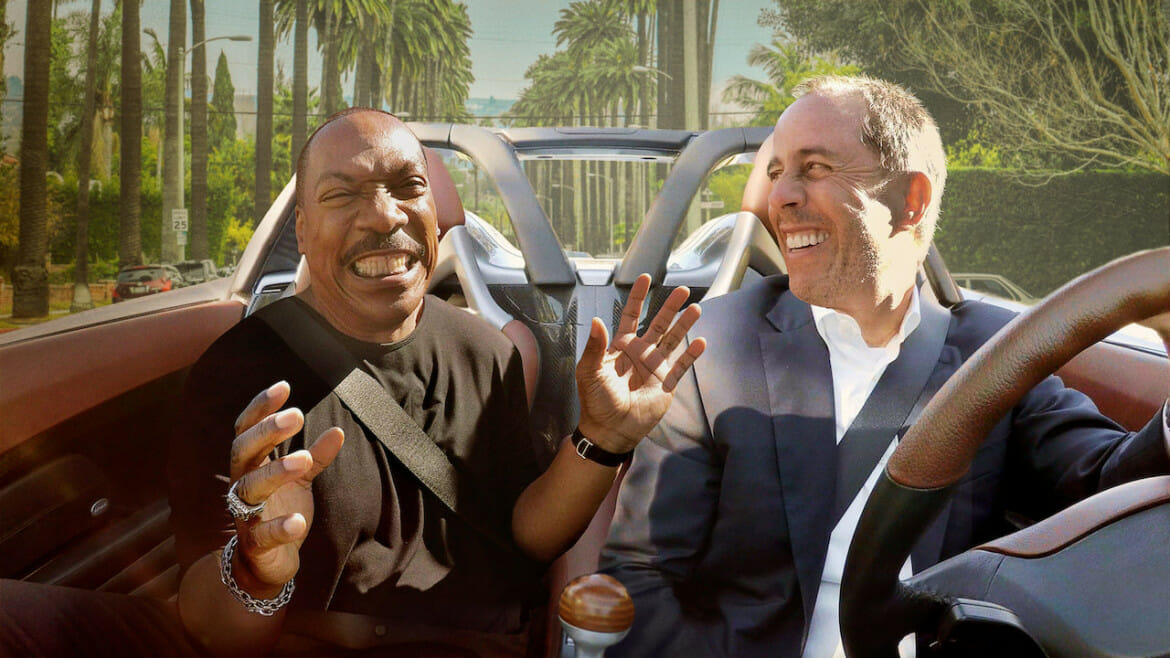 Ever since Jerry Seinfeld pulled out of his driveway with this idea in 2012, I've been a big fan of Comedians in Cars Getting Coffee. The notion of getting to hitch a ride with Jerry and one of his comedy pals and then be a fly on the wall while they talk shop in a cafe is always a big yes for me.
A new season of celebrities riding shotgun dropped last Friday on Netflix. While it is still a bingeable delight, the series is starting to get a little stale. After 82 of these 10 to 15 minute segments, it might be time to pull into a garage and change the oil, rotate the tires and do a filter check.
One danger sign: Seinfeld started having people back for a second ride last season with Alec Baldwin and ther late, great Bob Einstein so honoured. The new batch features return trips for four passengers: Sebastian Maniscalco and Ricky Gervais plus Seinfeld's comedy pals Barry Marder and Mario Joyner.
Now, that in itself is not a problem; Seinfeld could pick up Letterman or Stern every year and I'd watch. Just bring us up to date or do something different with them.
With Maniscalco, the two don helmets and putt-putt around on cool Italian Vespa's. There was no mention, however, of Maniscalco's career taking off or Gervais' intriguing new Netflix comedy After Life. Instead, much of the Gervais visit centred around Seinfeld stooping to a cheap ethnic joke. Gervais admitted he thought it but didn't say it; and there was a lot "should we keep it in?" banter.
Just to recap: Gervais held back on blurting something offensive and Seinfeld went for it. This only added to the general unease of some recent episode where you get the impression that Seinfeld feels he can say and do whatever he pleases and to hell with what anyone thinks. Part of that is refreshing in this age of professional over-sensitivity. Part of it comes down to Seinfeld's whole M.O. that only the joke matters. At least he's not conflicted, but that does tend to make him appear like a smug comedy billionaire — not that there's anything wrong with that.
At least it gave that segment some edge. There was a bit more in Seinfeld's conversation with this season's big "get" — Eddie Murphy. This is especially true when the former SNL star started getting into his feud with Bill Cosby. Overall, however, the once live & dangerous comedian stayed as unplugged and subdued as he's been in recent years.
There was a lot of, "You're great." "No, YOU'RE great," as the two men tooled around in a 2004 Porsche Carrera GT. A stop at LA's The Improv was fun, but less evocative than when Jerry and Garry Shandling pulled into the Comedy Store.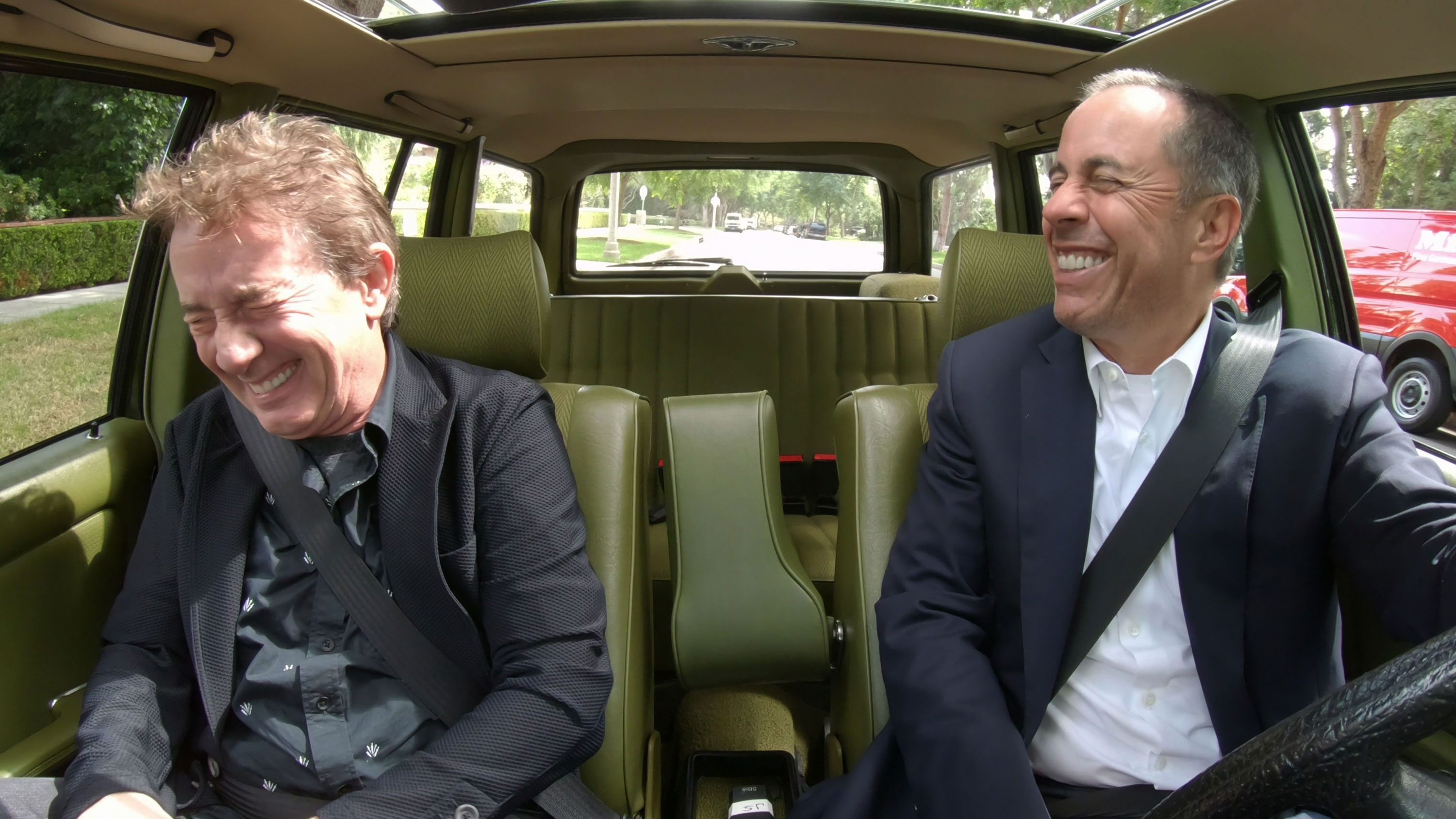 Seinfeld seemed to pull more out of Martin Short, although, as the host suggested, funny stories just tumble out of the former SCTV legend.
Several of the new segments seem too short. With Maniscalco, the two bikes thing cut out any car talk (which was most of the Gervais episode thanks to a traffic jam). An episode with stand up comedian Bridget Everett did little to introduce her to viewers who may not have encountered her yet.
That episode did feature a very rare example of Seinfeld losing it. One of Everett's friends and mentors is Bobcat Goldthwait, who produced a very edgy and, I thought, outrageously hilarious pilot she did two years ago for Amazon, Love You More. When Everett referenced Goldthwait, Seinfeld exploded, dismissing him as a no talent bum with a one trick voice. The animosity stems back to some unkind comments Goldthwait has directed at Seinfeld over the years, taking a shot, among other things, at his pre-marriage penchant for dating younger women.
Can we get Seinfeld and Goldthwait in the same car next season? Comedians in Seperate Cars Hating Each Other?
The new season also features Seth Rogan, who seems to sweat out the meat sandwich he orders at Canters. More of a delight was SNL player Melissa Villasenor, who looked like she was on the best date ever.
Another quibble: maybe it's just me, but the cars didn't seem to be as fun this season. Gervais got to ride in a brand new Rolls, which was classy for him but boring for us. Short's icky green 1983 Mercedes-Benz 300D station wagon may have been handy for hauling around tripods and camera equipment, but he deserved a kickier ride. On the other hand, Everett's '61 Caddy convertible was retro cool.
Suggestion for next season: a driverless car. Gotta do it. Also: hurry up and take Bob Newhart for a ride. Eric Idle? John Cleese? Pick them up in London cabs. Tommy Smothers? Again, put it in gear. Bill Cosby? Seinfeld's childhood idol is in the slammer, so the series will have to last another three to 10 years.