TV viewers have been asking one question ever since this frightening pandemic took over: WWLDD?
As in "What Would Larry David Do?"
The 10th season of his partially-improvised comedy series Curb Your Enthusiasm is winding down already (the final new episode airs Sunday). I'm recommending it as my fifth Pandemic Programming Pick. If you haven't been watching, check it out. When it comes to making the argument for social distancing, nobody does it better than Larry David.
Last week's episode saw the opening of David's so-called spite store, "Latte Larry's." To make a long story short, he's at war with his strip mall neighbour, the owner of Mocha Joe's (played by Saverio Guerra). At Larry's place, the coffee beans are even better, but more importantly all the table are dead-on level, defecating in the washrooms is forbidden and everywhere there is plenty of hand sanitizer.
After taking the previous six seasons off, Curb returned in 2017 with what many critics, myself included, considered a sub-part ninth season. Season 10, which premiered in January after a three year hiatus, is a strong return to form. Greatly missed, however, is Bob Einstein (Super Dave Osborne), who played Larry's friend and golfing buddy Marty Funkhouser. Einstein died in 2019.
Somewhat subbing for Marty Funkhouser (said to be off vacationing in Season 10) is the guest actor playing his son Freddy: Vince Vaughn. He's funny, but he's no Einstein.
More so perhaps than in the past, Season 10 is loaded with celebrity guest stars, including Timothy Oliphant, Isla Fisher, Clive Owen (playing a shattered version of himself), Fred Armisen, Greg Germann, Chris Martin of Coldplay, Nick Kroll, Jane Krakowski, Jon Hamm (hilariously shadowing Larry for a part) and Kaitlin Olson.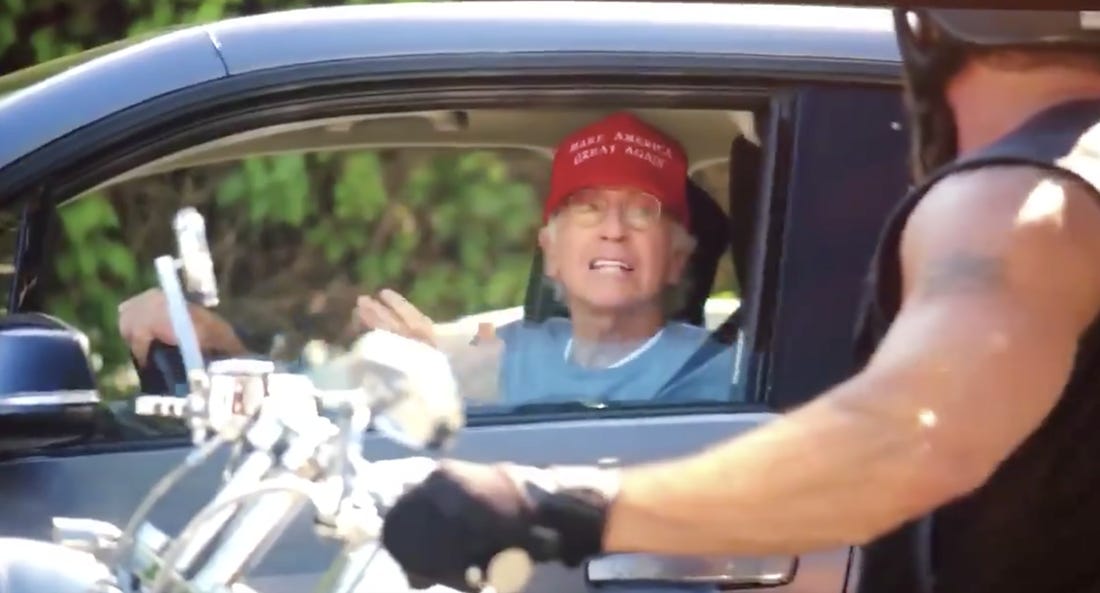 The 10th season's first episode is especially rich, with Larry discovering the perfect thing to make others keep their distance — the donning of a red "Make America Great Again" cap. It is like civilian repellent: no one will sit near him. It has the reverse effect, too, getting Larry out of a potentially nasty red light jam.
Another episode has Larry starring down a snarling German Shepherd named Adolph. It features the best Hitler joke since Fawlty Towers.
This Sunday's final episode, "The Spite Store," promises a doozy of a stand off involving semi-regular Ted Danson, scene stealer JB Smoove, Jeff Garlin, Cheryl Hines, Susie Essman and other cast favourites. Larry's obsessions, confrontational bent and endless uncomfortable behaviour will surely drive everyone into isolation if they're not there already.
Including some viewers, who may find it all a bit much in these trying times. For me, however, bring on the madness. There is even a Three Stooges homage in one of the early Season 10 episodes which is downright Curly, Larry and Moe. Is that really where we're at folks? Sointenly!
Curb Your Enthusiasm, Season 10, is currently streaming on demand on HB0, Crave and HBO Canada.