By now, almost everybody in Canada should be isolating at home by now. How has that affected TV ratings?
The assumption would be that, during the current pandemic, news channel numbers must be up year-to-year. In addition, with every major sports leagues sitting out the COVID-19 virus, TSN and Sportsnet channel ratings must be way down.
As they say in the TV ads, "Thank you, Captain Obvious." The question is, however, how "up" and how "down"? Here's one sample recently shared from a trusted source, based on information collected by a national data service. While it's not the whole story and not independently verified, at the very least, it should be a reliable indicator.
The English Canada sample compares Average Minute Audience (AMA's), across all day parts (24 hours), viewers ages 25-54 (the demo most used by advertisers). The Monday to Sunday, year-to-year sampling compares March 18 – 24, 2019 numbers with the week of March 16 – 22, 2020. This is Live data, a.k.a. "overnights."
As one might expect, AMA viewership at all the major networks, save Citytv, are up over one year ago. A major factor are the national newscasts. While the entire CBC numbers year-to-year show only a slight bump, The National, according to separate data, is way up, helping even out declines among entertainment shows in prime and other day parts. CTV's very robust gains in both their local evening newscasts and their CTV National News grew from an AMA of 89,190 in 2019 to 117,790 in 2020 during matching weeks in March, with Global next highest overall in English Canada with similar percentile jumps.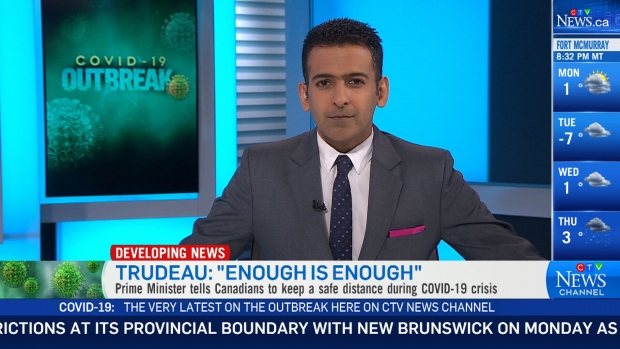 As for the news channels: CBC News Network made huge gains over the same period, going from an AMA of less than 10,000 viewers in 2019 to 53,450 in 2020. CP24 (from 23.51 to 48.3 in AMAs) and CTV News Channel (7.35 to 26.43) have also seen big lifts in viewership. So has BNN Bloomberg Canada, almost tripling in AMA count from 1.07 to 2.97 (000).
It's an opposite score on the sports channels: TSN's AMA dropped from 46.19 in 2019 to 9.53 in 2020. TSN1 dropped from 13.19 to 2.92. Rogers' Sportsnet went from an AMA of 39.16 down to 7.82 year-to-year. Other loses at Sportsnet 360 (8.99 to 6.69) and Sportsnet Ontario (15.25 to 3.87) showed the impact of no Leafs, Canucks, Raptors and Blue Jays games, etc. At least rights to things such as "Picklebll" tourneys don't cost as much.
On the other hand, Most movie networks seem to be getting a boost from the new stay at home audiences, although a free window currently being offered by many carriers during the crisis hasn't hurt either. Hollywood Suite has seen its AMAs jump four fold from 1.05 to 4.01 (000). MovieTime went from 3.53 to 4.91. Crave 1&4 are up from 5.03 to 5.9, down slightly at Crave's 2 and 3. Surprisingly, AMAs were down at HBO Canada from 4.1 to 3.3. Unfortunately, no data is available on how TCM is doing. Gaining I'd guess.
As usual with streaming services, no data is available on how much viewership has changed at Netflix, Amazon Prime Video, Disney+ or other OTT's, but the guess is it has gone up. With kids home from school, family channel has spiked from 3.23 to 9.07; the children's channels likely show an even bigger jump broken down to morning and afternoon day parts.