It's official — brioux.tv: the podcast has gone to the dogs. Make that one dog in particular: Diesel vom Burginwald, the handsome German Shepherd who stars on Citytv's Hudson & Rex.
In the above video, Diesel's Dog Master, Sherri Davis, reveals that her prized pooch is a big fan of this very web site. And why not? His masters voice can be heard starting today on the latest installment of brioux.tv: the podcast.
Listen in as Davis talks about the challenges of returning to work in the midst of a pandemic. Hudson & Rex was one of the first scripted shows in Canada to go back before the cameras after the first wave of the COVID-19 coronavirus shut down TV and film sets around the world. The cast and crew are currently working on a third season of 16 new episodes.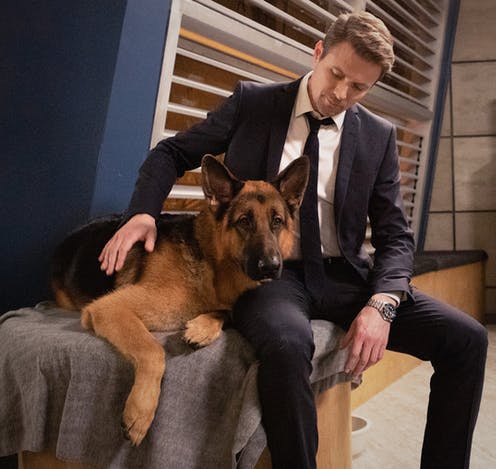 Hard enough for series lead John Reardon or any of the other two-legged cast members to get their heads around the new manuals and daily health and safety updates. Davis talks about how all this mask wearing affects a dog who relies more than you might think on facial expressions when trying to fetch his next cue.
She also talks about how she because a dog lover, her entry into the TV business and her favourite doggie TV series as a child. Then there are the other animal acts she's brought to film and TV sets. Sherri has trained other dogs, cats, rats and even a lynx to perform on everything from Murdoch Mysteries, Flashpoint, Lost Girl, Rick Mercer Report and even American Gods.
There's no doubt Sherri has a gift when it comes to talking to the animals. She's darn good at communicating with podcast hosts too. Hear a few of her best shaggy dog stories on a funny, fascinating episode, available now for free at Soundcloud, Spotify, Google and Apple podcasts. Fetch it here now at this link.