It's always a good day to attend a TCA FX Networks press tour session — even if it is strictly a virtual, on-line experience.
That was the case Wednesday as TV critics logged into three show panels as well as the always welcome executive session master class conducted by "The Mayor of Television," FX Chairman John Landgraf.
Over 16 seasons, 15 since being named President, Landgraf has worked FX into a brand rivaled only by HBO in terms of consistent, creative quality. In case we forget that, he reminds us with a killer clip reel, and then, with chart and graphs. What's the best way to get chart and graphs in front of journalists? A virtual TCA session. There they are, full screen, right in front of our noses. It's Christmas for Landgraf.
This was a fun chart (above). Landgraf is always prepared to point out how Netflix ascent up the award show ranks has been largely fueled by pure volume. Who but FX would use data to assemble a chart that shows the "batting average" of competing networks and streamers in terms of critical mentions? The point: Netflix has hits, sure, but look at the number of at bats. Now look at how many critical notices FX/Hulu scores with way fewer plate appearances. Steeeerike One!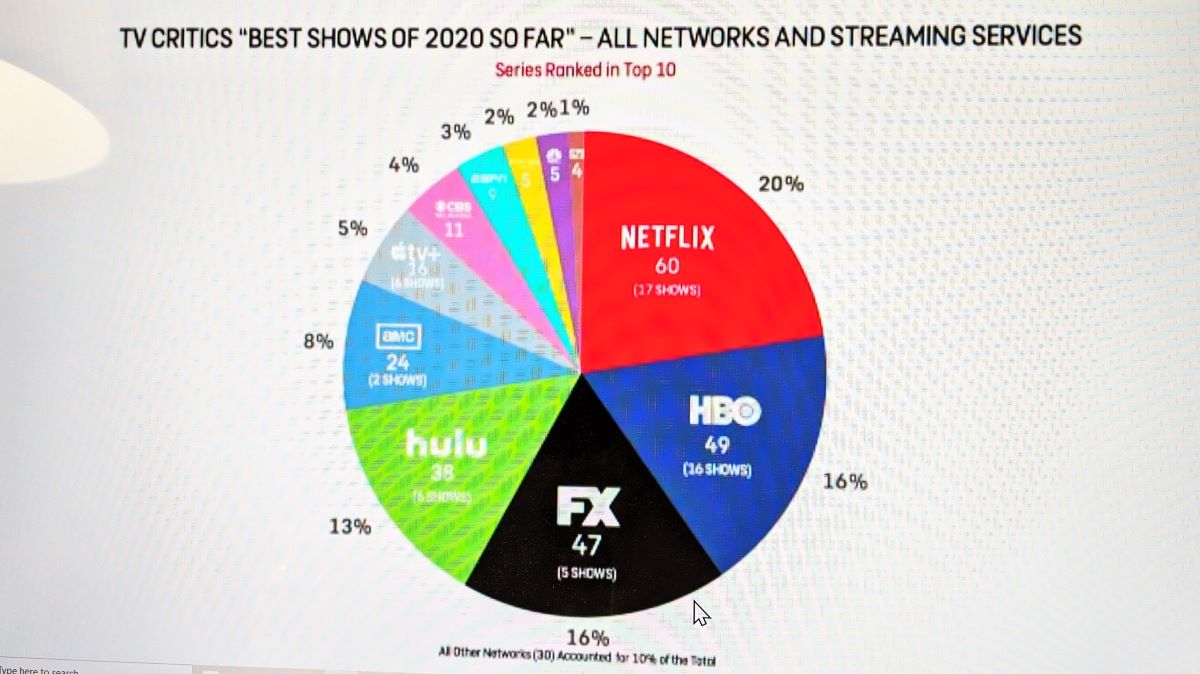 Another chart (above) shows how FX punches above its weight in terms of shows landing on critics' "Best so far in 2020" lists. FX ties HBO for second place in terms of percentage, and does it with just five shows. HBO had to crank out 16 to stay even; Netflix had to swarm with 60 to edge ahead. What the chart also shows: In 2020, as far as critics are concerned, CBS might as well be the Dumont network.
More impressive to me was Landgraf's numbers when it comes to diversity. In 2016 he started committing to more diversity hires among directors, writers and other talent. The effort has been an unqualified success, with tremendous strides in the number of women and people of colour who now work for and at the network. Think about it: according to a recent report, 60 per cent of the people in FX writers rooms are not white males.
In terms of series regulars in front of the camera, the network has already achieved a 50/50 gender split. Landgraf sees talent, intellect, ambition and other qualities as equally distributed. "We started looking for talent everywhere, in every segment of the population," he said, "and our shows got better."
Years ago, Landgraf remarked how he'd never seen so many indie film writers and producers coming through his doors. In an era when creatives have never had so many doors on which to knock, Landgraf has simply widened the way into FX. Smart.
The executive also talked about the challenges of making TV shows in COVID times. He talked about social distancing on sets and used Fargo as an example. That series, based in Chicago for Season Four, was halted with two episodes still left unfilmed. They returned with 25 production days still scheduled and got the job done, wrapping for the season Tuesday. This was a massive effort, he said, with 500 cast and crew members, including two directors, stars Chris Rock and Jason Schwartzman and creator Noah Hawley, all sticking to the health and safety rules in order to get the job done.
Fargo returns Sept. 27 on FX and Sept. 28 on Hulu. More on the session for that series in the next post. But first, a note on the virtual TCA press tour sessions themselves. They aren't perfect, but generally I'm impressed with the access to talent and the ease of taking part.
Part of the fun in doing these virtual Zoom TCA conferences these past few weeks has been peeking in on how social isolation has impacted press tour colleagues. It's not just me growing a Santa beard; others have gone grey and skipped the barber chair. Good to see everybody let their hair down.
Beyond that, it is also heartening to hear so many folks who I've know for years and years still asking such smart questions. On the Fargo session, 73-year-old Glynn Turman (How to Get Away with Murder, A Different World), took one of them and talked about how much he still likes what he does, which is acting and directing. Turman, who has credits reaching back 50 years to shows such as Room 222 and Julia, said he recently talked career longevity and good fortune over with Cicely Tyson. She's 95!
"We still really love doing what we do," says Turman. "It's a career path we don't really choose… it kinda came to us."
It still comes to Turman, who plays Doctor Senator on the fourth season of Fargo and was recently seen on Black-ish, Claws and Power.
And it still comes to several old friends on the reporter side of things seen and heard on Wednesday's TCA call.