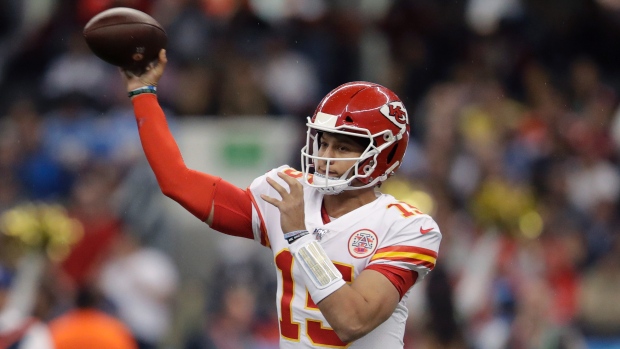 It's been a strange year. Nothing is like it usually is.
No surprise, therefore, to see NFL numbers on the downside as the last of the big American team sports ramps up for another season.
All there is to go on so far is last Thursday. That's when CTV and TSN aired the season opener between the Houston Texans and Super Bowl champions Kansas City Chiefs.
In Canada, in overnight estimates, the game played out this way: CTV drew an average minute audience of 462,000 for the three hour broadcast. TSN pulled another 441,000. That adds up to 903,000 who watched Kansas City romp to victory. Pretty good number on broadcast these days, but less than a million for a sport that many might have been curious about — if just to see how the game would be played under COVID conditions.
On Global, opposite the game, 868,000 was the overnight estimate for Big Brother. Otherwise there was very little competition Thursday night.
The NHL Stanley Cup Playoffs comtinues to limp along. Games being played in bubble zone arenas five months later than usual are being largely ignored by TV viewers, especially now that all Canadian teams have been eliminated.
Thursday's Stanley Cup Round 3, Game 3 tilt between Vegas and Dallas drew an AMA in overnight estimates of 372,000, by far the highest rated offering on CBC that night. The exact same total of 372,000 (really, Numeris?) watched the same game on Sportsnet National, bringing the combined total for the NHL playoff game to 744,000 viewers. That's far less than the NFL opener, but, given the teams involved and the general errosion of hockey viewing this late into summer, not a surprise.
Given the soft summer of network viewing, however, the hockey numbers look astronomical. In prime time, across the nation, Citytv drew just 90,000 people to The Bachelor: The Greatest Seasons — Ever! These corny clip show in the face of COVID-19 just aren't working. The same night, CTV2 managed 116,000 for Love Island.
In specialty, CTV Sci-Fi beamed up an overnight, estimated 261,000 for the new animated series Star Trek: Lower Decks. Showcase peaked at 332,000 for a repeat of FBI. History's high point was an episode of Counting Cars (202,000). W Network hit 146,000 for an episode of The Good Fight. On Sportsnet One, the NBA playoff game between the Lakers and the Rockets drew 119,000.
Not known: how many Canadians watch Netflix, Prime Video, Crave and other streaming services.
Today, Sept. 13, is the first Sunday of NFL coverage across CBS, Fox, NBC, CTV and TSN. Look for football numbers to bounce much higher, especially for the Sunday late afternoon game introducing Patriot great Tom Brady in his new Tampa Bay uniform; he'll be facing off against fellow 40-something Drew Brees of New Orleans.