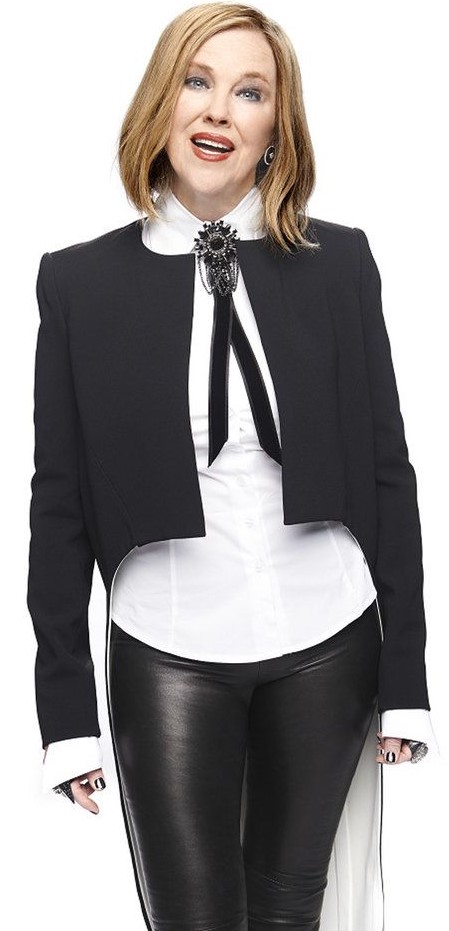 Holy Schitt's! Canada swept the comedy categories this year at the 36th annual Television Critics Association Awards.
It was announced Monday that the CBC/Pop-TV sitcom Schitt's Creek, for Outstanding Achievement in Comedy, and Catherine O'Hara, for Individual Achievement in Comedy (playing Creek's richly eccentric Moira Rose), were the tops in their categories as deemed by the 250 TCA members across North America.
This is the first time in TCA history that a Canadian series and/or a Canadian actor has won this recognition.
O'Hara's victory was also the first TCA Awards win for somebody who went to Our Lady of Peace Grade School in Etobicoke.*
A third Canadian winner, Sudbury, Ont., native and long-time Jeopardy! host Alex Trebek, was voted the Career Achievement Honoree. The 80-year-old TV legend continues to bravely defy cancer.
Normally, the awards are presented in August at the Beverly Hilton in Los Angeles during the summer portion of the semi-annual TCA press tour. As with most other awards shows in 2020, the live celebration was canceled due to the pandemic.
HBO's dystopian drama Watchmen, based on a graphic novel and created by Damon Lindelof, captured four of the 13 awards, including Program of the Year. Here are the complete list of 2020 TCA Award winners:
Individual Achievement In Drama: Regina King (Watchmen, HBO)
Individual Achievement In Comedy: Catherine O'Hara (Schitt's Creek, CBC and Pop TV)
Outstanding Achievement In News and Information: The Last Dance, (ESPN)
Outstanding Achievement In Reality Programming: Cheer (Netflix)
Outstanding Achievement In Youth Programming: Molly of Denali (PBS Kids)
Outstanding Achievement In Sketch/Variety Shows: A Black Lady Sketch Show (HBO)
Outstanding New Program: Watchmen (HBO)
Outstanding Achievement In Movie, Miniseries, Or Special: Watchmen (HBO)
Outstanding Achievement In Drama: Succession (HBO)
Outstanding Achievement In Comedy: Schitt's Creek (CBC and Pop TV)
Program of the Year: Watchmen (HBO)
Career Achievement Honoree: Alex Trebek
Heritage Award: Star Trek (CBS)
The award to the original Star Trek series comes 54 years after it boldly cracked NBC's schedule way back in 1966.
* The author also attended Our Lady of Peace grade school, where he got the strap three times.