Life imitated art last month as Dan Levy, Bette Midler, Issa Rae, Kaitlyn Dever and Sarah Paulson all took part in a virtual press session for the socially distanced comedy Coastal Elites. The special premieres Saturday on HBO and Crave.
The virtual press day was hosted by Warner's Media, part of the cable/streaming portion of this summer's TCA.
Coastal Elites features monologues from various characters coping with politics and the pandemic. It has been written by playwright and screenwriter Paul Rudnick and directed by Jay Roach (the "Austin Powers" films). Levy plays Mark Hesterman, a young actor in West Hollywood videoconferencing with his therapist at a moment of peak career and personal stress.
The part is not a stretch. These are joyously stressful times for Levy. The 37-year-old has been nominated for his first Emmy, with Schitt's Creek up for 15 awards, including best TV comedy. There are acting nominations for all the leads, including his dad Eugene Levy, Catherine O'Hara and Annie Murphy.
Levy told reporters at the virtual session that doing Coastal Elites was "a huge, exciting challenge. I had never done monologue work outside of high school theatre, so thank you to Jay for seeing something in me." Levy felt akin to his character, having "walked into many a casting session being told to kind of up the gay, if you will. So, it was really significant for me to sort of go through that as an actor, because it was having to kind of mine my own experiences, in order to sort of bring them into his."
Like all of the actors, Levy's scenes were shot from home, which, he said, "was certainly helpful."
"It was nice and convenient," agreed Dever (known for Last Man Standing and Netflix's Unbelievable), "but we weren't looking for Zoom work, necessarily."
Levy, who besides having played son David Rose on Schitt's Creek also produced, wrote and occasionally even directed on that series, said it was nice to simply "walk into someone else's world and just focus on that one thing."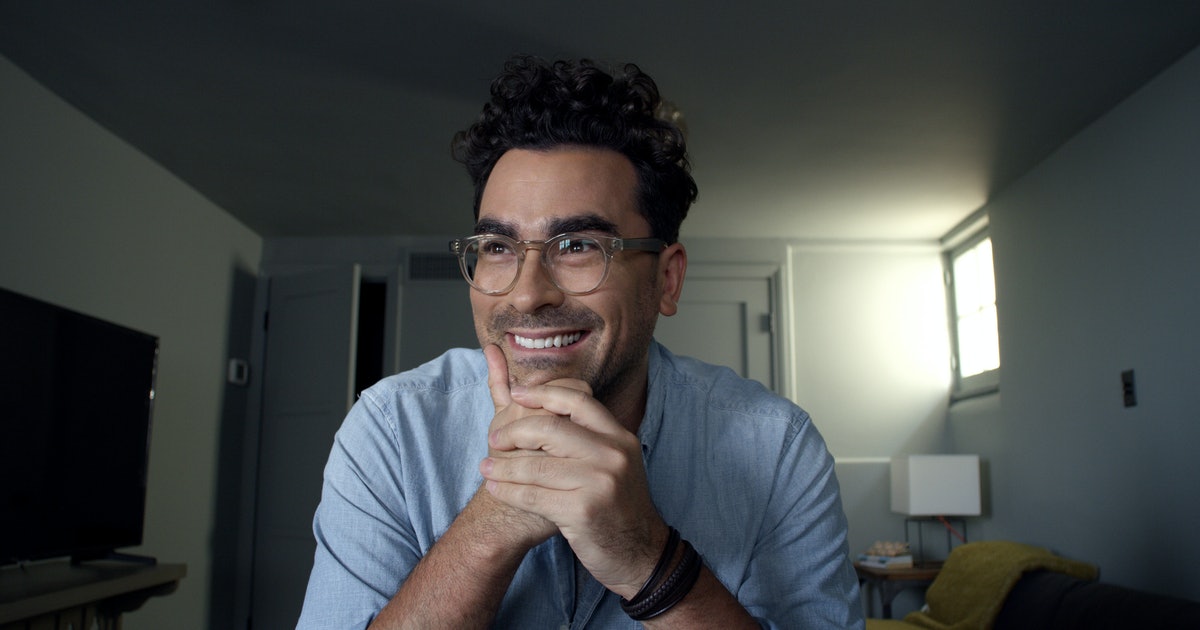 Paulson was asked if she found the process of filming in isolation under quarantine freeing. Not at all, answered the busy Emmy- and Golden Globe award-winner.
"I didn't find anything about it freeing … for me, the connection with the other actor is the thing I'm usually the most interested in and inspired by. And not having that and having Jay and Paul on a screen and a monitor and far away, and camera equipment in my backyard, and mitts of Clorox that I'd be wearing to open every door. And it was strange and because it had happened deep enough into this time, I felt very — my paranoia level was high already, and there were all of a sudden seven people in my backyard. And that was more people than I had seen in an area in several months and they were at my house. So it was a little frightening."
Midler found  the process unsettling as well, although she felt her character, a New York City public school teacher, was a perfect fit.
"I felt almost as if Paul had written it for me, because he knows how nuts I am on the subject of the current inhabitants of the White House. So, for me, it was cathartic… Unfortunately, not cathartic enough because I'm still in a state of rage and anxiety."
She was asked if recording her part in isolation before remote cameras came naturally after all her years in recording booths making music.
"No, I wouldn't say so," she answered. "I mean, usually when you go to a recording studio, there've been plenty of people and lots of food. And in this case, there were no people and a lot of equipment and no food.
"I did get a free COVID test out of it," she added, "so it was win-win all around."
Several members of the cast, including Midler, Rae (for Insecure) and Levy, are nominated for Emmy awards; the ceremony, which will also be virtual this year, takes place a week from Sunday (Sept. 20).
"I can't even wrap my head around it," said Midler of the virtual awards ceremony. "I mean, I'm very gratified for the nomination [for Outstanding Guest Actress in a Comedy series for her star turn in The Politician], but I can't imagine. And I can't imagine what the room is like where people are trying to figure it out. I mean, the Zoom call where people are trying to figure it out, I sure am glad I'm not on that call."
Levy feels it somehow makes sense that all the nominations for his CBC/Pop TV sitcom Schitt's Creek are coming in the middle of a pandemic.
"It does feel very in line with something we would write for our characters, having a wonderful, award recognition and never being able to do anything about it."
One way or the other, the Levys plan to celebrate the event.
"I think my dad is saying we might just put a tent up in our backyard in Toronto and have some people over, and you know, be six feet apart, and share a toast or something. I don't know, it all sounds very wild."