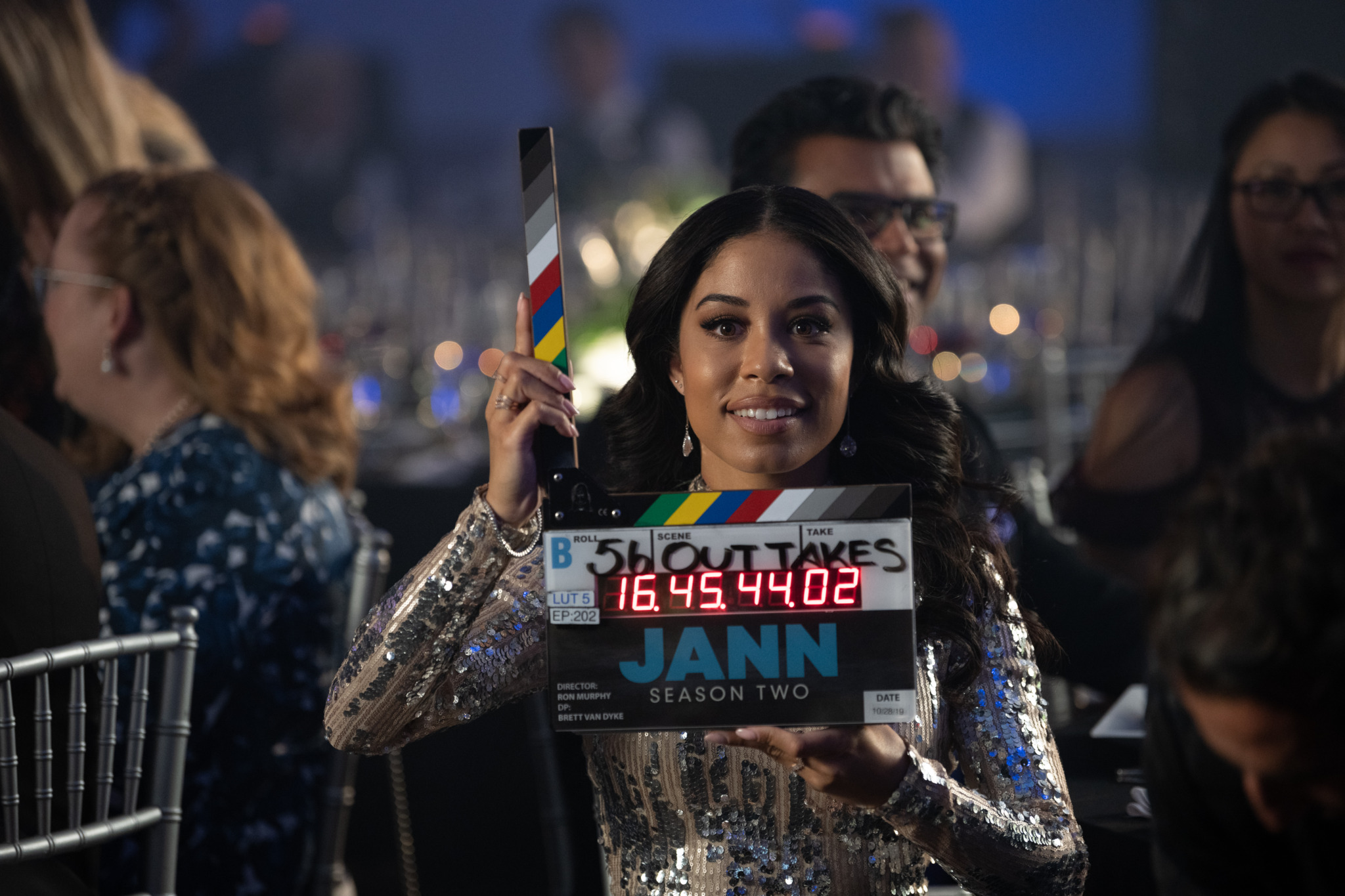 As the clipboard above indicates, Keshia Chanté guest stars tonight on the comedy JANN. "Last Straws," the second episode of Season Two, airs at 8/7c on CTV.
She plays a young, up-and-coming pop star who runs into Jann Arden's character at a charity event.
"She's so brilliant," says Arden, who raves about the singer this week on brioux.tv: the podcast. "She's an excellent singer and an excellent actress and she's just so beautiful and friendly and kind to be around."
High praise considering Keshia's character, upon meeting the veteran performer, asks if she's been retired long. As fans know by now, Arden's somewhat down-on-her-luck character is ribbed mercilessly on the series.
Chanté, who I spoke with last week on the phone from Hollywood, returned all the compliments Arden's way. "She is kind and funny and warm and charismatic and she's always been that way for me since I was a teen."
The 32-year-old has been a star now more than half her life. The Juno Award-winner had a record deal at 14 and R&B hits such as "Unpredictable" and "Bad Boys" at 15 and 16. She came up around the same time as Drake and the two were teen crushes for awhile; she's even referenced in some of his lyrics.
Later in her career she co-hosted her own show on the US cable network BET, 106 & Park. While there, she interviewed the likes of Michelle Obama, Arnold Schwarzenegger and Robert De Niro.
That last one got my attention. De Niro used to clam up next to experienced TV hosts such as David Letterman and Johnny Carson. Isn't he a challenge to interview?
"He's so funny," says Chanté. "We had rap songs playing and he was like, 'What is this? Can I find it on iTunes?' Kevin Hart was there too, they were making fun of him for it."
Chanté was even invited to The White House back when the Obamas were in charge. Sometimes, she says, she really does have to pinch herself. "I was born in Ottawa, raised in Toronto and I'm from Brampton — sometimes it seems insane that I've been to the White House. I'm so grateful."
He career took off back before it was "cool" to come from Toronto. What was it like living through that change?
"It was fun because it was a challenge," she says. "I remember my video premiering on 106 & Park and flying to New York to do press and people thinking we lived in Igloos. Grateful to have lived through that era but I am loving now how familiar people are with such a wonderful city that I am proud to call home."
Chanté has one thing even Drake does not have: her own star on the Brampton Walk of Fame.
"I'm always worried it's getting dirty and stepped on up there," she joked on the phone. I live in Brampton and told her I'd head over to the Four Banks with a mop and some Vim.
Besides her guest star stint on JANN, She appears this season on the Global series Private Eyes.
"That character is a little bit older, a bit more mature," says Chanté, who will have a recurring role when the series returns. She enjoys acting opposite stars Jason Priestley and Cindy Sampson. Priestley also directed her on the series. "He calls me Kiki and I call him J-Preez. We had so much fun on set, such a joy. I plan to see them again for another season soon."
Working since she was 14, Chanté admits she is driven when it comes to her career. Prior to the COVID 19 pandemic, she was "training, going to school, doing three different shows." Even now she and her producers have figured out ways for her to continue remotely contributing to both Entertainment Tonight Canada and Big Brother.
"Then COVID hit and I'm already a germaphobe. This was like a really scary time. I went into full blown lockdown in LA."
Chanté started meditating and working on her music. Then the George Floyd murder and the subsequent Black Lives Matter riots in LA led to more shutdowns. "It was an uncomfortable time," she says.
She's excited that the BLM conversation is happening and is optimistic, noting that "it's a good time for all of us to learn.
"In quarantine, our need to be connected to one another is heightened," she says. "We miss each other; we miss the hugs; we miss connecting. Now that we're appreciating other humans, we're realizing that we're all going through battles we don't know about, pains we don't know about. All of it is sad, people are dying, it's a scary time, but at the same time there is a light at the end of the tunnel, and I am absolutely optimistic."
As for her music career, new safety guidelines have recently made it possible for singers such as Chanté to return to the studio. "I just recorded a bunch of records," she says. "So we're finding our way. When you're passionate about something, you make it work."