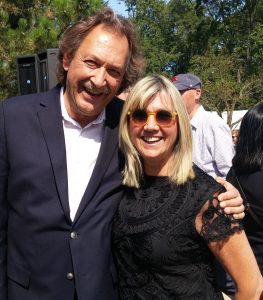 Congratulations to my ol' pal Slawko Klymkiw (left with CFC chair Christina Jennings) who announced Thursday that he is retiring next spring as CEO of the Canadian Film Centre. In 15 years of impecable leadership, Klymkiw greatly bolstered the house that Norman Jewison built in terms of fundraising and reputation, overseeing the introduction of valued television training initiatives as well as raising many millions in funding from a wide variety of sources. The former CBC programming boss hinted he was thinking along these lines about a month ago on the phone, a move that, in retrospect, was clearly designed to prepare my own resume to fill his CFC vacancy next spring. Seriously though, Slawko, a true gentleman, will be missed by many in the Canadian television and film community as he embraces his family and friends in well-deserved retirement.
A release headlined, "CBS Unveils Newly Evolved Brand Identity Across All Divisions and Platforms" isn't exactly, well, sexy — unless you're a total TV nerd. Me? I open those much faster than, "Meet the new Big Brother castmembers." The network once known as Tiffany unveiled their new look Thursday, which really isn't that much of a departure. Consumers won't notice; it's more of an industry move as Viacom unifies brands. CBS Television Studios, for example, will now be known simply as CBS Studios. The Eye logo is still there, but the mid-century Bodoni typeface has given wat to something more modern. Check below to see how they've sizzled it with a graphic spin.
It's no mystery who now has the most listeners ever at brioux.tv the podcast. In one day, Murdoch Mysteries main man Yannick Bisson shattered all previous records to top the listeners total on Soundcloud, Spotify, Google and Apple podcasts. Follow this link to find out what all the fuss is about in a charming and candid interview.