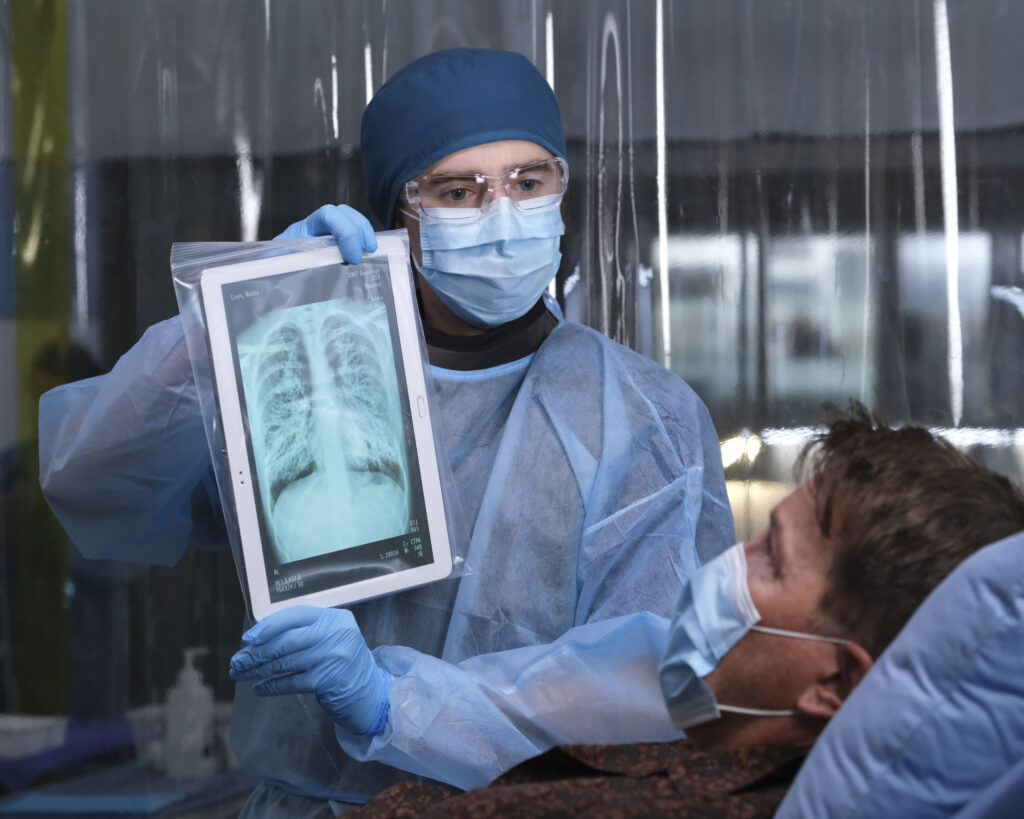 The first week of November saw the US presidential election impact ratings and schedules in Canada, not just for one night, but for an entire week of cliffhanger coverage.
Add to that the return of a few US imports delayed due to COVID safety measures and you've got seven days worth of upheaval.
The week's No. 1 show in English Canada, according to Numeris, was the return of The Good Doctor on CTV. The Bell Media network dominated the Top 10 in ways reminiscent of year's past, with nine of the Top 10 shows on the Numeris list. Another import, the Chuck Lorre CBS sitcom Young Sheldon, roared back with a Top 3 finish drawing more than 1.7 million total viewers.
The data company, however, does not factor CNN into their weekly reports. Once you do, the Atlanta-based cable news network's main election night block (a six hour stretch running from 8 p.m. to 2 am) emerges as the week's fourth most-watched show in Canada. If you added up all the hours spread throughout the week, CNN election anchor Wolf Blitzer and magic map wizard John King were easily the most-watched TV stars of the week in Canada.
Right behind in 5th spot was the Saturday Night Live broadcast the weekend after the election. Airing as news broke that Joe Biden was officially declared the winner, it drew 1,509,000 in late night on Global.
Here is a list of English Canada's ten most-watched TV shows among viewers 2+ the week of Nov. 2 to 8:
The Good Doctor (CTV) Mon 2,415,000
The Masked Singer (CTV) Wed 2,034,000
Young Sheldon (CTV) Thurs 1,740,000
Election Day in America (CNN) Tues 1,546,000*
The CTV Evening News (CTV) MTWTF 1,510,000
Saturday Night Live (Global) Sat 1,509,000
CTV Evening News Weekend (CTV) Sat 1,427,000
The Conners (CTV) Wed 1,316,000
The Amazing Race (CTV) Wed 1,304,000
CTV National News (CTV) MTWTFSS 1,193,000
Just missing the Top 10 was the premiere of Lorre's latest Thursday night CBS entry, B Positive. The sitcom, co-starring Canadian Thomas Middleditch (Silicon Valley) as a guy who needs a kidney, places 11th with 1,050,000 viewers.
The Canadian original Departure starring Christopher Plummer was right behind in 12th spot with 1,048,000 viewers on Global. The return of US import NCIS: Los Angeles Sunday on Global drew a thousand less at 1,047,000.
W Network jumped half way up the list with "One Royal Holiday" as Hallmark movies begin to crowd schedules. Numeris counted 1,028,000 viewers, with about 20 per cent PVRing and watching later.
Sunday afternoon NFL games drew 1,016,000 (late) and 911,000 (early) over two or more CTV networks.
The Global original Private Eyes returned for a fourth season to 911,000 viewers. No matter how often it is delayed or on what night it returns, the Jason Priestley – Cindy Sampson detective drama always pulls close to a million.
One US network import already canceled, the Kim Cattrall series Filthy Rich, sneaked into the Canadian Top 20 with 828,000 viewers.
Reality import Dancing with the Stars, at No. 24, was the only Citytv entry at 762,000 total viewers. Once again, there were no CBC shows in the English Canadian Numeris weekly Top 30.