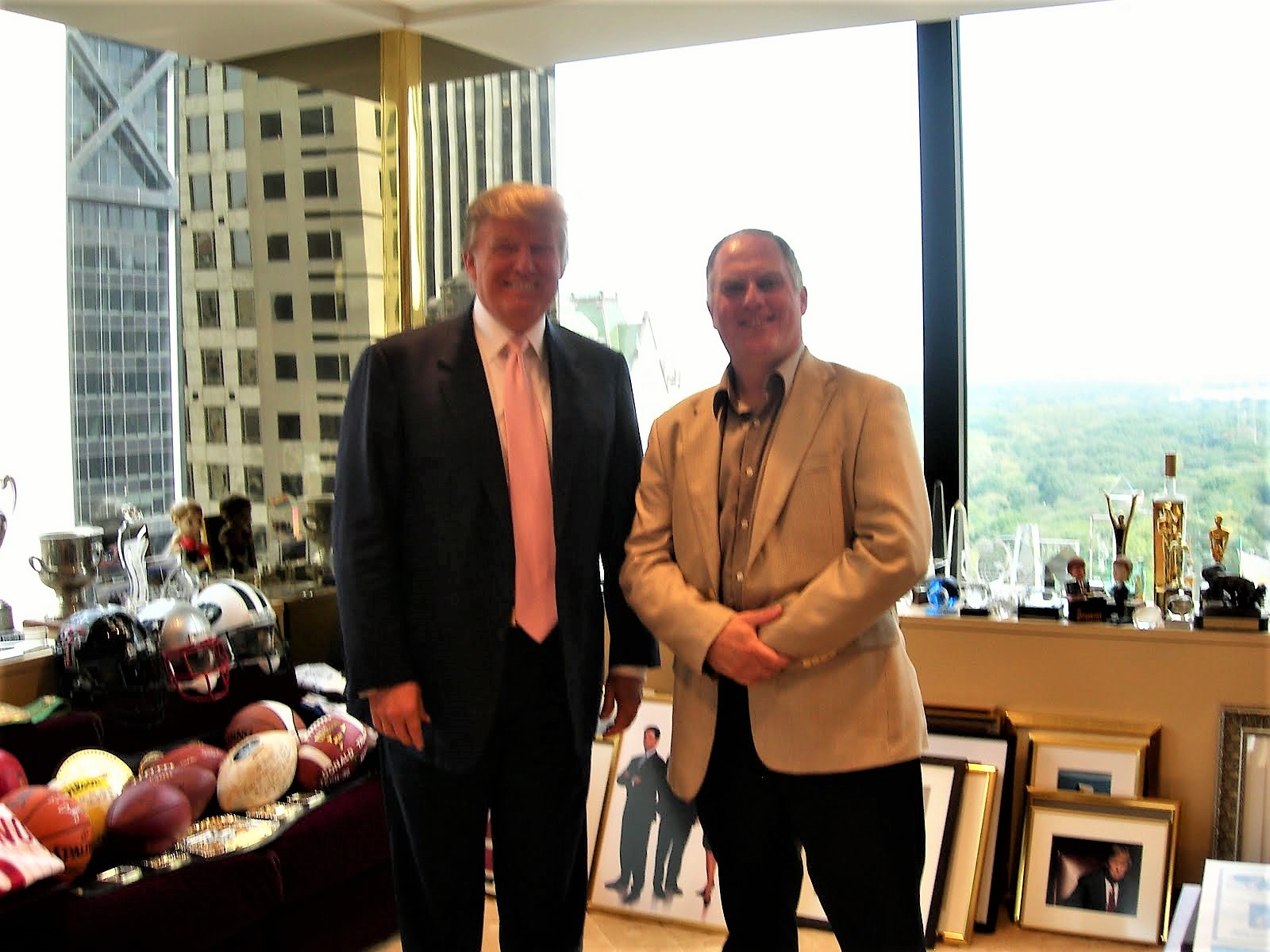 He leaves Washington today in disgrace, but there was a time when a one-on-one interview with Donald Trump was a pretty good "get."
That was back when the real estate tycoon was best known as the host of The Apprentice. The NBC reality series was a ratings hit when it began in 2004. It remained a strong player for NBC for two or three seasons, but tailed off after that, despite Trump showing up at various Television Critics Association press tours claiming it was still No. 1.
It wasn't, and we knew he was lying, but lying about ratings was not that big a deal at press tours. It wasn't as if the guy was president or anything.
The series slipped from a seasonal average of over 20 million in 2004 to 7.5 million in 2007. It was revived in 2010, and that's when I was invited to interview Trump one-on-one in Manhattan.
I was already in mid-town interviewing the hosts of the real estate reality series Selling New York. After that early-morning eye-opener, I had a day to kill, and suggested to the Canadian network publicists who were paying for my trip that I'd be happy to work another story while I was in the Big Apple.
A call came back: make your way to the Trump Tower; the host of The Apprentice will see you at 10:30 a.m.
I was surprised. Isn't this billionaire big shot too busy for a TV reporter from Canada? Still, when Trump says come on over, you jump.
When you enter the Fifth Avenue landmark, there's a line of uniformed security personnel inside who check you out like you're going through customs. I was waved through and told to head for the 26th floor. Emerging from the elevator, I was politely told to take a seat in a waiting area. The first thing you notice is that everything inside is plated in what looks like gold. It reminded me of some of the disco ballrooms-turned-comedy clubs I worked with Pat Bullock when we were doing stand-up in the '80s.
The second is the spectacular view out the window looking past the majestic Plaza Hotel and north over beautiful Central Park. The landlord had a breathtaking view of Manhattan.
Longtime secretary Rhona Graff, seen on The Apprentice, ushered me into his office. It was a large, messy room with photos, dozens of signed footballs and XFL helmets plus various trophies and other celebrity mementos. They were spread all over the floors along the big window walls. It looked like he was getting ready for a gaudy garage sale.
Trump was his usual tall, tanned, robust self, 64 at the time and looking a decade younger. He went directly into his charm offensive, saying he had checked me out with his friends at NBC and they told him if he spoke with one reporter from Canada, I was the guy.
You know you're being played, but still you're amazed he'd even go to that trouble. You feel, as Norman Mailer once wrote about being flattered by Muhammad Ali, like a dog that has just been petted by his master and immediately has to pee.
Trump sat behind his large wooden desk with his back to the window. I sat way down in one of three red chairs facing him. They seemed a foot shorter than his perch.
He drew me in with chatty, off-the-record banter. He asked me questions.
Then came the hard sell. The new season of The Apprentice was going to be "Yooge." This was not that long after the deep recession of 2008 and the focus was more aspirational, more about the contestants raising funds for charity. Trump promised bigger names when the next celebrity edition aired early in 2011.
Times were tough, Trump told me, but don't expect him to get soft with contestants. He still fires people and he still makes them earn it. Tough times call for tough people, he said.
He had heard things were better in Canada where mortgage lending was more strenuously regulated. He said Trump Tower in Toronto — subject to later lawsuits from unhappy tenants and eventually sold and re-branded — was "on course" and then quickly changed the subject. We talked about the late Joan Rivers, one of his show's biggest winners ("she's tough"), David Letterman ("great guy") and the war in Afghanistan ("a mess").
He had already been making noises about running for president. Few took him seriously, certainly not me. He felt China was playing the United States for suckers and was already ranting about building a wall between The U.S. and Mexico.
What about a wall between Canada and the U.S., I asked. "We don't need it," he answered. "We like you people."
My 15 minutes were up. Trump cheerfully posed for a photo; I felt I needed proof that this really happened. Graff snapped the shot, which turned out to be about as focused as our conversation.
I said goodbye and headed down the elevator and onto the street. It was there I realized I had left my recorder running on his desk.
Back I went, through security, up to the 26th floor. The executive assistant waved me in. Trump had two guys in the red chairs and I was interrupting a meeting.
"That old trick," chided Trump," who grinned and handed me the still running recorder.
I went back down to the lobby and out onto the street. I ducked into a doorway, held the recorder up to my ear and pressed play. I was hoping to hear Trump ordering a hit on some business associate or discussing a tax dodge with his evil accountants. I thought I had something "Yooge."
Instead it was, "How is your wife Betty? And the kids? Please give them all my regards." It was the most banal, harmless banter ever.
The series returned that fall to its lowest ratings ever, averaging just 4.7 million for the season and drawing just 4.5 million for the finale. I was unable to sell my exclusive interview with Trump to The Canadian Press, The Toronto Star or anywhere else. Editors felt the guy was played out. While Celebrity Apprentice chugged along for a few more years, this was the final season of the original series.
Trump never publicly acknowledged his show was anything but a monster hit for NBC. The guy never concedes anything, thought TV critics, who moved on to other distractions.
Did I think he could ever lie his way into the White House? Not in a million years.
Early in 2016, the year Trump began his successful presidential bid, I was at another TCA press event. It was at an NBC executive session, and the network was taking heat from reporters for inviting presidential aspirant Trump to host Saturday Night Live. After all, the nework has already publicly distanced themselves from Trump after he started agitating about the need for a southern border wall and made derogitory racial comments.
Paul Telegdy, then an NBC programming executive, defended the SNL decision. Why shouldn't the network be able to put such a public newsmaker on their network? Why can't they cover somebody so central to the entertainment scene?
Telegdy stepped back slightly in the after scrum, acknowledging he knew where the room was going, but took sharp exception to my suggestion that Bill Cosby is newsy and entertaining, too, yet you won't see him anywhere on NBC again.
"Are you suggesting Mr. Trump has engaged in criminal activities?" said Telegdy.
Later in that same TCA press tour held early in 2016, I found myself standing next to former CBS news anchor Dan Rather. The broadcast legend also did not see Trump winning the presidency. He felt that the Manhattan tycoon's goal was simply to be in the final televised presidential debates, that he wants to stand opposite Hillary Clinton in prime time.
Why is that his goal, I asked Rather. His one word answer: "Ego."