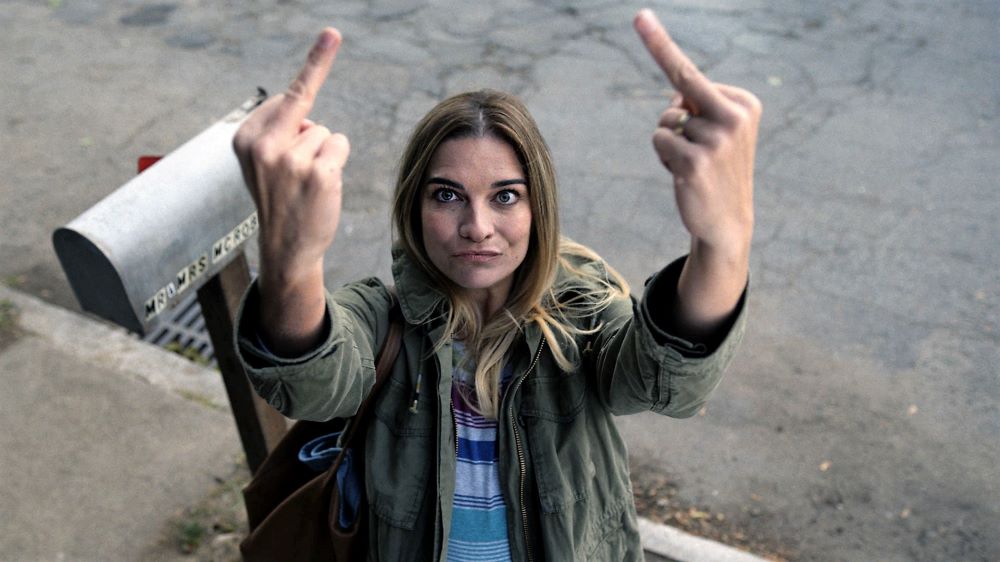 Kevin Can F**k Himself premiered June 13 on the streaming service AMC+ and just this past Sunday, June 20, on regular AMC. For me, this was a bit of a return to a US cable network which soared with shows such as Breaking Bad, Mad Men and Better Call Saul but which has been all but ignored lately as the streaming tsunami overwhelmed the cable and broadcast landscape.
All of which is to say that there is something odd about watching a series such as Kevin Can F**k Himself on AMC. It is very much like watching a streaming show on a cable network. First of all, you don't expect to watch something with F**k in the title, no matter how many asterisks, on AMC. Then there are the commercial breaks, which fall in between scenes that don't seem designed around breaks. This is a channel you have to watch remote in hand, fast forward button at the ready.
Kevin Can F**k Himself is, like Disney+'s WandaVision, a new series intent on f**king with sitcom conventions. Here, Annie Murphy, so good on Schitt's Creek, steps into a traaditional, three- or four-camera sitcom world as a housewife named Allison. She's in a "perfect" marriage to a doltish, boorish, Man-Child of a hubby named Kevin (played by Eric Petersen). His idiot friends are similarly afflicted.
Creator/executive producer Valerie Armstrong's basic idea was what if a classic sitcom wife actually hated her TV husband the second she stepped off the set. She was thinking of the horrible Kevin James sitcom Kevin Can Wait at the time. If you recall, the producers of that 2016-2018 series tossed the actress originally cast as the wife aside in order to shoehorn back in the actress who played his wife in his more successful series, The King of Queens. They literally killed off the new wife to try to fix the show with the former wife.
Translation: Kevin Can Wait? No, Kevin Can F***k Himself.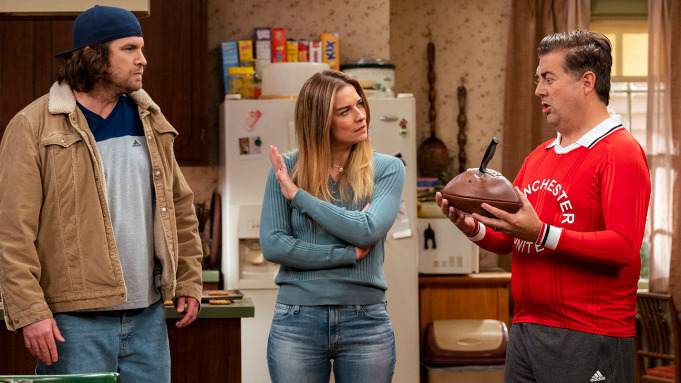 The sitcom scenes hit all the right notes. A well-cranked laugh track. A familiar set. (It looks a lot, in fact, like the Bunkers' old living room from All in the Family). It's all very, "Hi Honey, I'm home." The husband character is a manipulative weasel; irredeemable and, sadly, overly-familiar in art and in life.
Murphy hits her marks in the sitcom scenes like an appropriately passive trooper, but once out the door, the scene shifts to a dark, modern, one-camera drama. The chilling effect is that Allison simply is not going to take any more of Kevin's Schitt, s**t or however you want to spell it. She has murder on her mind and she explores several ways to make that happen.'
Things get a little dangerous, but while there's darkness on the edge of TV town, the really frightening world is the one inside the sitcom set walls. That's the brilliance of Kevin Can F**k Himself; the female gaze quickly deconstructs the happy marriage tropes of sitcoms past, and sets up a brave new world where women are the heroes.
This is where Murphy, who earned that Emmy Award for Schitt's Creek, truly soars. She is note-perfect in two extreme versions of the same character. You feel her anger and frustration and power as she steps well past the bounds of the happily-ever-after TV marriage. Men will root for her to take down this a**hole, even if it forces some of us to take a hard look in the mirror.
Allison is really a toxic avenger, and the toxicity burnished through decades of male-female domestic TV relationships are her main targets.
Kevin Can F**k Himself isn't perfect. There is an odd stillness to some AMC series (think Rubicon, Halt and Catch Fire, Lodge 49) that can play a little dull at times. Also, Petersen's Kevin is howlingly offensive, at least in the first two episodes that I have seen. That helps viewers root for Allison, but tilts the table a bit too far to one side.
The series, however, is a triumph for Murphy, and you cannot take your eyes off her whether she's being tracked by one camera or four. It's a f**king brilliant performance.
Rashida Jones, Will McCormack and Craig DiGregorio are also among the executive producers. The eight-episode series airs Sunday nights on AMC and AMC+.