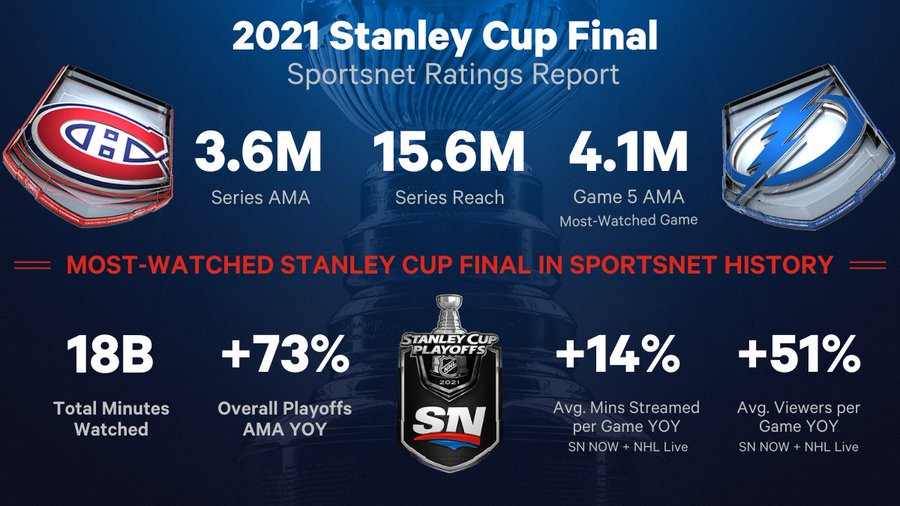 Sportsnet is reporting that Tampa Bay Lightning's cup-clinching, Game Five victory over the Montreal Canadiens on Wednesday night drew an average minute audience of 4.1 million viewers.
The 1-0 victory was the most-watched game of the fourth and final round of the Stanley Cup playoffs. The five final round games drew an average minute audience of 3.6 million viewers on Sportsnet National and on CBC.
That apparently makes it the most-watched Stanley Cup final in Sportsnet history. NHL rights holders since the start of the 2014-15 season, the Rogers-owned sports network has been plagued in the past with all-American team finals and even semi-finals, including last year's truncated tournament.
Further diluting interest in 2020 was the fact that the NHL playoffs were pushed back into late summer and played in a "bubble" due to the pandemic. Those hazy, lazy days of August and September, plus the fake fan reaction piped into empty areas like a sitcom laugh track, slammed hockey ratings into the boards. This year, having Montreal there at the end — a Cinderella team and big underdog — helped rally rooting interest across Canada.
Overall, according to Rogers' PR team, the 2021 Stanley Cup Playoffs reached 26 million viewers across Sportsnet, CBC & TVA Sports – an overall playoffs AMA year-over-year increase of 70 per cent. Rogers also saw gains on their NHL LIve digital app viewership and on other streaming platforms.
Montreal helped boost ratings (especially in Quebec), but had the Leafs managed to escape elimination in the First Round and made it to the end, it is not hard to imagine another two or three million viewers tuning in. When Toronto was eliminated at the end of May, losing to Montreal in the first round, over 4.8 million watched that final game on Sportsnet andf CBC.