The first official — and virtual — session of the Television Critics Association's annual summer press tour kicked off Thursday. FX was the host broadcaster, and there on critic's home screens was our pal John Solberg at the FX podium.
The veteran press boss stood on the stage of the Beverly Hilton's grand ballroom — home to many a TCA summer tour back in pre-COVID days — and introduced a panel from Reservation Dogs. The playful and humourous series premieres Monday, August 9 on FX on Hulu.
Based on the first few episodes, i's the kind of next-level, original, progressive show critics have come to expect from FX. The half-hour comedy, filmed on location in Okmulgee, Oklahoma, follows four indigenous teenagers from that part of rural America who are determined to beg, borrow, and steal in order to get to the promised land of California. It was the dream of a fifth member of their "Reservation Dogs" posse, Daniel. He died a year earlier, and the other four are determined to see it through.
There are many other exccentric characters sprinkled throughout, including a ghost-like First Nation's character on horseback (played by Dallas Goldtooth), a wise warrior who undercuts war woops with a coughing fit. He smacks of Hollywood stereotypes and knocks that image off its horse at the same time. There are also a hilarious pair of rappin' gang dudes (billed as Lil Mike and FunnyBone) on banana seat bicycles.
In short, Reservation Dogs is Letterkenny on the Rez.
Here's the very now, incredible thing about this breath-of-fresh-air series: every writer, director and series regular on the show is Indigenous.
That includes D'Pharaoh Woon-A-Tai, a 19-year-old Oji-Cree First Nations actor born and raised in Toronto. He made a big impression last year at the Toronto International Film Festival in "Beans," a film about the bitter, 1990 land dispute crisis in the town of Oka, Quebec.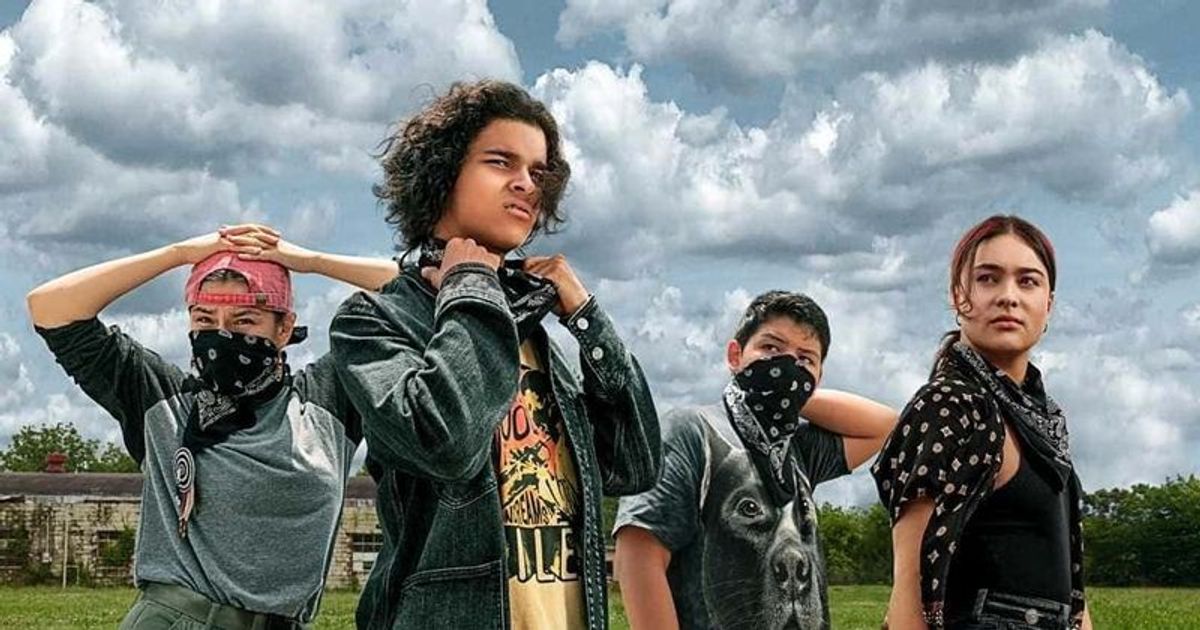 Woon-A-Tai told reporter Rob Owen on the zoom call that he related to his character, "Bear Smallhill," and the other "Dogs" in their desire to leave their hometown and set out for the wonderland that – in their minds anyway – is California.
"Other communities see Toronto the way these characters see California," he said. "A lot of that stuff compares."
The series hails from co-creators and executive producers Sterlin Harjo and "Jojo Rabbit" Oscar winner Taika Waititi, who did most of the talking at the session.
Harjo, who has directed the Sundance Film Festival favourites "Barking Water" and "Four Sheets to the Wind," based much of Reservation Dogs on his own experiences growing up in Oklahoma. He wanted the series to be real and true but "we're also just trying to entertain you and tell a good story."
"There are a lot of universal truths," he says. "Not just Native Peoples can identify with the show."
Among the young stars on the series are another Canadian, Devery Jacobs as Elora Danan, the true leader of the group. She lists Mohawk Girls among her credits. There is also Paulina Alexis as "Willie Jack," the street-smart tough girl; and Lane Factor as "Cheese," the quieter crew member.
Other Canadians in supporting roles include Tamara Podemski (Coroner) and veteran actor Gary Farmer ("Smoke Signals").
As for the oft-heard argument that you just can't find enough great indigenous talent for a TV series, nonsense, says Waititi, a very in-demand New Zealand film and TV director and one of the production forces behind What We Do in the Shadows.
"You have to search deeper to find talent."
Harjo agrees. "Hollywood makes a western every few years where native actors get to come and get killed in front of a camp. They're not that thrilled with those parts. You have to go to the communities," he suggests. "The talent is there it just doesn't happen to be on Hollywood Boulevard."
You have to feel for people who put a lot of time and effort into CBC's Trickster last fall only to see that series implode in a production controversy. That wasn't what really killed it however. It just was not getting watched.
Reservation Dogs does not rely on one or two indigenous voices on which to hang its authenticity. It's real, and more importantly, it's funny, entertaining and does not take itself too seriously.
The series starts Monday on FX on Hulu. In Canada, you'll have to wait a few weeks longer; it is scheduled to premiere on Star on Disney+ starting September 1.