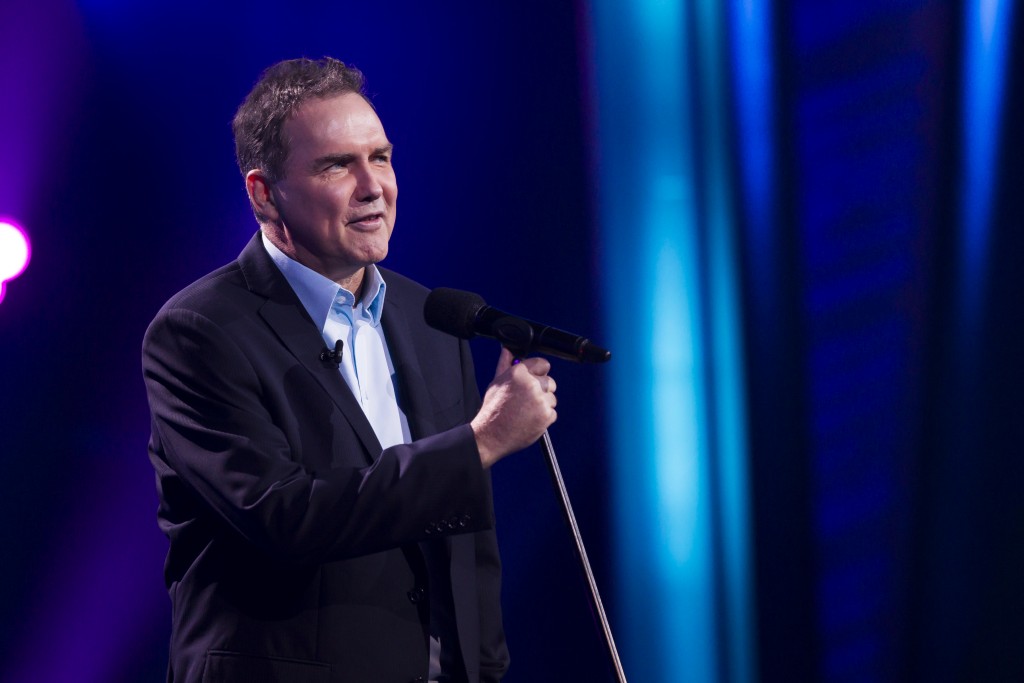 "I can't stand stuck-up bodies of water. It's like, get over yourself, Lake Superior."
In 2018, in one of his last high profile TV efforts, Norm Macdonald had Jane Fonda read that joke on Norm Macdonald Has a Show. The 10-episode Netflix series was so stripped down it was barely more than a podcast, but that was the beauty of it. There was no studio audience, just a crew and, by the sounds of it, a few friends in the studio. There was no band, just Norm and his actual podcast partner, Adam Eget, standing and singing Wayne & Shuster's old goodbye music at the end.
It was, like his jokes, pared right down to the essentials. You either loved it or hated it but if you loved it, you loved it like Jane Fonda loved Norm Macdonald for that moment on that crazy night.
Macdonald kissed Fonda towards the end of the show, an on-air, fabulous kiss, the kind of chance you take if you know you're going to die soon anyway.
He took chances like that a lot, like the time he won half a million dollars on Who Wants to Be a Millionaire, then tried to final answer his way into the million before Regis Philbin talked him out of it, reminded him he could lose all that money he had already won for Paul Newman's Hole in the Wall charity camp. The kids got their half-million, but you knew that Macdonald, and Newman, wanted that moment back.
As he wrote in the final chapter of his sort-of memoir, 2016's Based on a True Story, "If you're at the table and you're rolling them bones then there's no money in playing it safe."
Macdonald's luck finally ran out for good this week. He died Tuesday, September 14, from cancer. He apparently kept his diagnosis secret for nine years. Macdonald, the road warrior who some years clocked 300 club dates, was not going to play a string of sad rooms. He was 61.
I first met him in 1996, in New York, in his spare yet messy office at Rockefeller Plaza. He was still punching out jokes for his "Weekend Update" segment for Saturday Night Live, a job he held for nearly five years where he delivered his own brand of "fake news" with a glint and a stare. On that day, he looked like he'd been pulled through a keyhole. Other comics would say that the camera loved Norm Macdonald, that he looked best on-camera. Not helping was the fact he kind of was being pulled through the keyhole of NBC's executive offices at the time.
His job each week seemed to be this game of chicken he played to see if his boss, NBC West Coast president Don Ohlmeyer, ol' cocktails and cufflinks Ohlmeyer as David Letterman used to call him, would finally fire him for one too many jokes about O.J. Simpson. Ohlmeyer and The Juice were friends, so the relentless drip, drip, water torture jokes about Simpson's murder trial was a sore point.
Don't believe me? Go on YouTube and click on "35 Minutes of Why Norm Macdonald Got Fired."
When Saturday Night Live returned for a new season in 1995, a few days after Simpson's innocent verdict, Macdonald opened with, "Well, it's finally official; murder is legal in the state of California."
I interviewed both Norm and his older brother Neil around this time for a newspaper feature. Neil, a long-time CBC news correspondent who for years was based in Washington, joked about how awkward Norm was back when he first stumbled into Ottawa comedy clubs. He goofed around with accents in an attempt to create a stage persona. Neil insisted he was actually the funny one in the family. Norm agreed.
Macdonald, fortunately, kept right on working after Saturday Night Live showed the Quebec City native the door in 1998. The next year, he starred in the ABC sitcom The Norm Show which co-starred Laurie Metcalf, Artie Lang (who also appears in Macdonald's 1998 feature "Work") and Ian Gomez. Metcalf he knew from one of his first jobs in TV, writing for Roseanne. I asked him if his character, Norm Henderson, was a nod to Toronto Maple Leafs linemates from the '70s Norm Ulman and Paul Henderson. "Hey, that's exactly right, you got it," said Macdonald.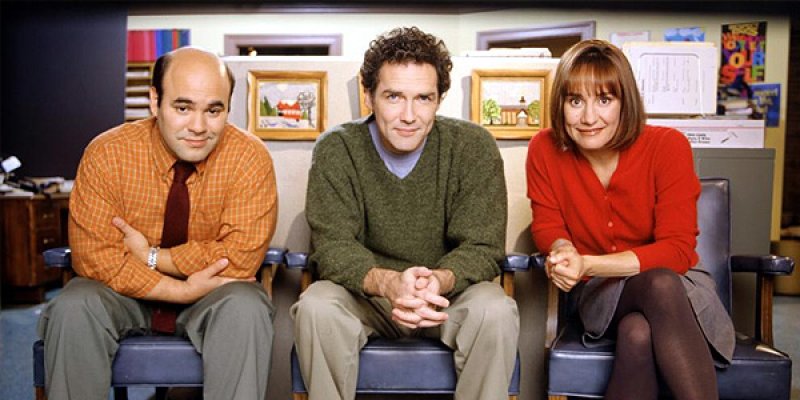 That series lasted three seasons. He followed it up with the Fox sitcom, A Minute with Stan Hooper, a quirky show co-starring Penelope Ann Miller and the great Fred Willard that was a take off on the Andy Rooney segments on 60 Minutes. It made me laugh but was, like many of Macdonald's Weekend Update jokes, a bit out there and too awkward for the masses.
Around this time I found out from Macdonald that he was a big fan of Stompin' Tom Connors, the Canadian singer famed for his barhopping, board bashing music. I tracked down Connor's record company and arranged for them to ship a life-size, carboard cut out of the singer to Macdonald. When I last interviewed Macdonald at Just for Laughs in Montreal in 2015 he still had and prized the cardboard Connors.
Macdonald spent many years cementing his legend as one of the best talk show guests ever. He killed on Conan, piling on an already embarrassed Courtney Thorne-Smith, and, on another memorable occasion, telling a four-minute joke about a moth.
I am absolutely devastated about Norm Macdonald. Norm had the most unique comedic voice I have ever encountered and he was so relentlessly and uncompromisingly funny. I will never laugh that hard again. I'm so sad for all of us today.

— Conan O'Brien (@ConanOBrien) September 14, 2021
David Letterman also expressed his admiration on Twitter:
In every important way, in the world of stand-up, Norm was the best. An opinion shared by me and all peers. Always up to something, never certain, until his matter-of-fact delivery leveled you.

— David Letterman (@Letterman) September 14, 2021
Macdonald did all sorts of TV, heard if not seen in several animated projects such as Seth McFarlane's Family Guy and even as the voice of a pot-smoking pigeon on Mike Tyson Mysteries.
He could also be heard on the Citytv comedy gem Sunnyside. Macdonald played the voice in a hole in the road where all the townspeople holler down questions—sort of a sewer search engine. "I loved the pitch," said Macdonald, a big fan of co-creator Dan Redican dating back to Redican's days with the Canadian comedy quartet The Frantics.
"He was one of the first guys I was into in comedy," Macdonald told me, recalling a Frantics' sketch about rival gangs in Mississauga. "I liked Dan Redican the best." So when he was asked to provide the voice of the hole in the street for the series, "I was really happy. It's a funny idea."
There was another thing about the gig that pleased him: "Anytime I can do a voice-over I'm happy. No makeup."
When he wasn't doing TV or stand-up, he did plenty of sit-down humour, especially in front of his laptop. He became a storytelling sensation on Twitter, amassing 1.1 million followers.
The remarkable thing about his tweets is how much depth and sensitivity he could cram into 140 characters. When he tweeted about the death of Robin Williams and what "The Funniest Man in the World" meant to him, some of us wept.
Same with his touching Twitter reports on the Letterman finale. Macdonald didn't just tweet jokes, he told stories. He was the Mark Twain of Twitter.
He also, through a dozen or so tweets, let followers in on a meal he once shared with the great Bob Dylan. Those tweets were up and down in a matter of minutes. When I asked Macdonald if Dylan had called and told him to yank them, he stammered out a "perhaps."
I interviewed him again when his book, "Based on a True Story," came out in 2016. He was candid about the writing process, about how the book took occasional detours into novelization.
He even changed voices at times, with short chapters in italics as if penned by a ghost writer Random House hired to really write Macdonald's book. "I was a fan of his back in the nineties and was curious as to what had befallen the man." The ghostwriter finds Macdonald repugnant and even a bit racist. "Mr. Macdonald appalled me. The way a harmful child appalls me."
There's a whole, twisted plot involving a road trip to Vegas and a mad plan to win a million dollars or die. It sounded preposterous but was probably uncomfortably close to the truth. Macdonald was ever candid about his gambling addiction. When Louis C.K. writes in the introduction — "Please buy this book. He probably needs the cash. He's really bad with money" — he meant it.
It's interesting to note that Macdonald's passing has had a ripple effect on Twitter. Names such as O.J. Simpson, Bob Dole and Burt Reynolds started trending even higher than Macdonald's own name. His impersonations were like the rest of his act; devastating but not precise, just pared down to the essentials. Macdonald called his Burt Reynolds character on those SNL Jeopardy parodies with Will Farrell, "Turd Ferguson." As some remarked on Twitter, his Burt Reynolds was more convincing at times than the real Burt Reynolds.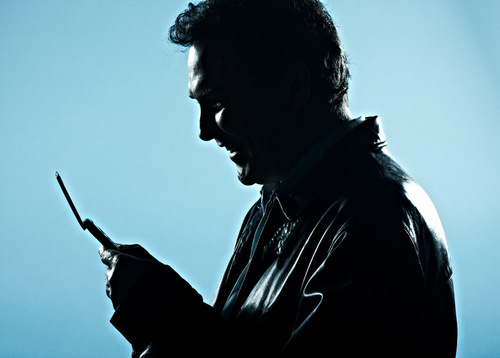 My favourite Macdonald tweet? I'd post it here, but you have to wade back over thousands of golf and football tweets to get to it, Macdonald could and did tweet every putt and drive during an Open golf championship or even a Stanley Cup playoff. His hockey tweets, ending last July with the Canadiens in the final, were among his last.
This was the one that surprised me. After I interviewed him at Just for Laughs, he tweeted, "I'd like to thank @BillBriouxTV for a fine and finely-written article on me. A real journalist working in entertainment. Outstanding!!!— (@normmacdonald) August 7, 2015."
As the last comedian to do a set on Letterman, Macdonald's final appearance occurred 25 years to the week from the date he made his national TV debut on Letterman's NBC series. The comedian did his usual hilarious set and then got serious at the end, tearing up as he talked about seeing Letterman perform, in Toronto, when Macdonald was just 13. (Letterman, Ferguson told me later, was a guest on a low budget daytime series called Luncheon Date with Elwood Glover).
Macdonald repeated a joke Letterman told on that occasion, and closed with a sincere and emotional, "I love you" to the retiring CBS host. Howard Stern, who watched it all at home, later told Macdonald how much that moment surprised and moved him.
Macdonald got it. "Stand-up is false by nature," he said, pausing, and then explaining, "He was my father figure."
Cue, therefore, the Wayne & Shuster exit music. CBC officials, when I checked anyway, did not know Macdonald had snuck it onto his Netflix show. He just took it, sang it and made it his own. Stand on guard Canada, and one more time for Norm, let it rip:
Well, I see by the clock on the wall
That it's time to bid you one and all
Goodbye (Goodbye) So long (So long)
Farewell (Farewell) Adieu (Adieu)
Be good (Stay well) Bye-bye (Keep warm)
Relax (At ease) Take care (Stay loose)
Adieu, mon vieux (A la prochaine)
Good-bye 'til when we meet again