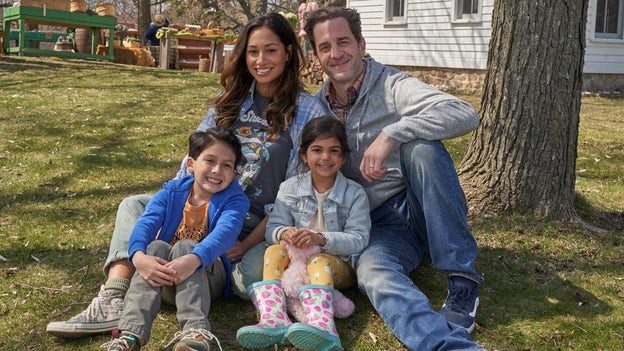 Schitt's Creek proved you can go for it when it comes to a TV title. Children Ruin Everything, for example, is snappy and straight to the point. The series premieres Wednesday at 8 p.m. on CTV.
The eight-episode season stars Meaghan Rath and Aaron Abrams as Astrid and James, a young couple raising two young children in the big city. The one camera comedy is shot in Toronto and Hamilton, Ont., and was created by BC native Kurt Smeaton. In the past, the executive producer has written some very funny episodes of Schitt's Creek, Kim's Convenience and Mr. d.
The series is part Bundys, part Modern Family and makes a compelling arguement for birth control.
Playing the children who ruin everything are Logan Nicholson and Mikayla SwamiNathan as Felix and Viv, the couple's seven- and four-year-old little darlings. According to the press release, they are "sucking the life out of their parents, one tantrum at a time."
Now, to use a phrase these parents should be invoking more often, time out. There will be some who watch this show and utter, perhaps under their breath, "Idiot parents ruin everything."
These children do not seem to face any consequences for being hellions, especially at the dinner table. In Wednesday's opening episode, where the parents are trying to celebrate mom's return to the work force, the toddlers keep toasting with delicate wine glasses filled with orange juice. Every parent watching knows this will end in tragedy. Soon there are shards of glass all over everybody's dinner. Sippy cups, people, until they're at least old enough to drive.
"I will be the first to admit that children are naturally jerks," mom narrates. Some might argue it is learned behaviour. Dad later tells his work friend (played by always reliable Ennis Esmer) that his kids are "going through a sabotage phase." Fine, be glib Mr. Walk-All-Over-Me. The next morning dad is awakened by Junior repeatedly smacking pater in the puss with a stiff cardboard paper towel roll.
Now, full disclosure. My kids are 31 and, as of tomorrow, 29. Time takes care of many tantrums, but I don't remember getting my face smacked with a cardboard roll more than once. I get that a show called "Children are Little Angels," would bore even Doctor Spock (the childcare guru Boomers obeyed, not the Star Trek Vulcan).
Today's parents, I concede, have a lot more to deal with, and they may relate completely with Astrid and James. I'm thinking of a TCA colleague with young children who shares some of her toddlers' shenanigans on social media. She could sue the makers of Children Ruin Everything for intellectual property theft.
If you buy into this world then, you'll get the self-deprecating dialogue. Episode two, which I liked better, has more of a Modern Family vibe. It deals in part with moms, as her kids put it, "pee problems." There is plenty of pelvic floor talk and jokes about, well, uh, changes to her "junk." Lying on the bed, Astrid clench's away, colourfully explaining her new exercise routine to her hubby as like "picking up pearls with her urethra." His reply: "You'd make a terrible jewel thief."
Kids, we are also told, are career killers. The storyline at work finds James getting shamed by his friend and his ruthless boss (Lisa Codrington) for dressing like a dad. See? Shaming is an effective learning tool, dad, try it on the kids. They'll have to deal with it sooner or later.
The COVID pandemic is referenced, which I was happy to see. These shows have to shoot through strict safety protocols. If you're going to show life in Hell, go for the low hanging fruit.
Nazneen Contractor also stars as Astrid's pretentious sister Dawn, needling her sibling on the home front. Sean Cullen makes the most of a guest role as an important businessman in episode two.
The series takes a very iPhone visual approach with pop up graphics adding stats and labels. It makes sense with Astrid being a data analyst. This adds a layer of jokes and anxiety so millennials can follow along.
I guess it would have been too Modern Family to have framed this series as being recorded by a hidden documentary crew. The pop-ups and occasional narrations seem to take viewers halfway there and it might have been funnier to lean all the way into it.
Rath finds a sympathetic side to Astrid, mooning over babies in the park and elsewhere (to the strains of "I Only Have Eyes for You") and not-so-secretly yearning for Child Number 3. Young moms may quietly, exhaustedly, nod along.
The catchy reggae theme song at the end should snap them out if it: "I love my kids but kids ruin everything."
Produced by New Metric Media, the series premieres Wednesday at 8 on CTV and will also be seen stateside on the Roku Channel.